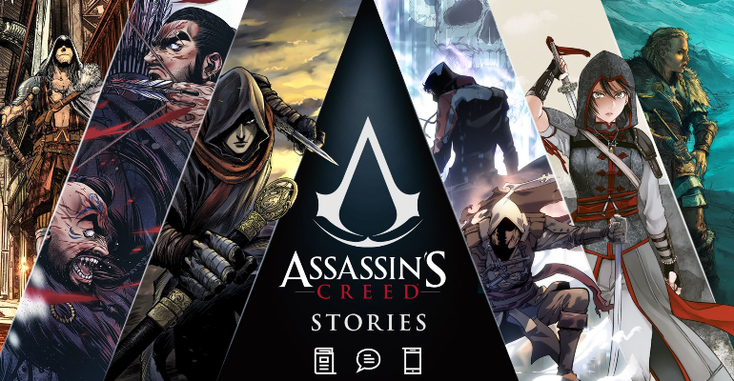 Ubisoft has announced collaborations with a host of publishers, authors and illustrators to continue expanding the "Assassin's Creed: universe to new forms of media later this year.
Upcoming "Assassin's Creed" launches include new novels, graphic novels, Chinese manhua comics, webtoons and a series of podcasts.
"With a license as rich as "Assassin's Creed," many creators are excited to offer their vision of the franchise," says Aymar Azaïzia, transmedia director, Ubisoft Montreal. "It's a great creative opportunity to publish a work that is relevant to the genre in question and produced by authors or illustrators who are recognized in their field."
Ubisoft is currently working with a network of publishing partners to further develop the "Assassin's Creed" universe. Aconyte Books, Editis and Starfish are creating original novels in their respective English, French, and Chinese languages. On the comics and graphic novels front, Glenat will publish original French graphic novels. At the same
time, Dark Horse Comics has released an "Assassin's Creed" comics mini-series in English and Ulab has developed original Chinese manhua comics. On the digital side, Chinese partner Ximalaya is about to launch its first "Assassin's Creed" narrative podcast, while Korean studio Redice will produce the very first "Assassin's Creed" webtoon.
Ubisoft is creating three labels that will help fans to choose their next read:
•         Classics: direct adaptations based on stories from the video games;
•         Chronicles: new adventures featuring favorite Assassins; and
•         Originals: new narratives featuring new protagonists and time periods.
"We are all consumers of stories," says Etienne Bouvier, publishing content manager, Ubisoft. "With this global vision and local approach, we seek to offer our fans new content in formats they are familiar with and with stories that are rooted in their cultural background and their history."
Some of the newest transmedia creations this year come from collaborations with Asian authors and artists, notably in China, Japan and Korea, with several manhuas or webtoons currently in development.
"With so many creators from all over Asia delivering innovative content, a priority for Ubisoft has been to forge new relationships with talented partners in the region," says Julien Fabre, associate director, publishing, Ubisoft.
To find out more about "Assassin's Creed" expansion in media, log on to www.assassinscreed.com/stories.
Read more about:
Subscribe and receive the latest news from the industry.
Join 62,000+ members. Yes, it's completely free.
You May Also Like
Loading..