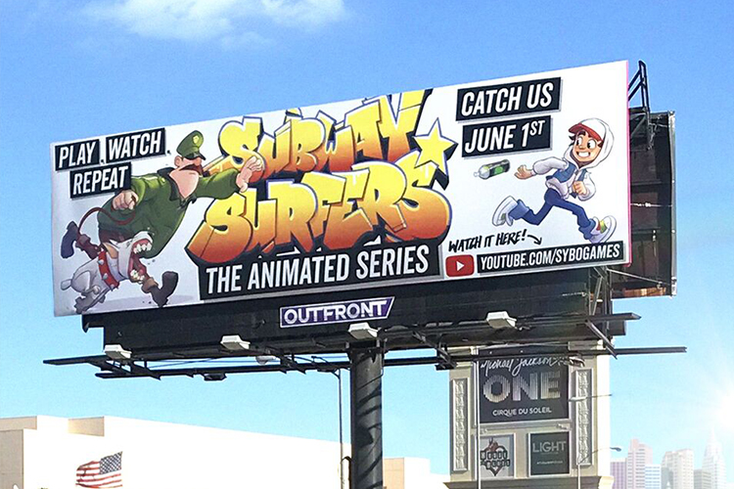 "Subway Surfers" is well-known in the mobile arena. Six years after its debut, the game continues to ride high. It was the most downloaded game in the world in 2017 and reached 1 billion downloads on Google Play this past spring, the first game to reach this milestone, according to SYBO Games. The "Subsurf" program now begins to take shape as the IP starts to expand beyond gaming and animation, and into merchandise–all while staying true to the skate, music, street art and hip-hop attributes that "Subway Surfers" echoes.
We talked to Naz Amarchi-Cuevas, head of licensing, SYBO Games, about "Subway Surfers."
The new series just debuted, tell us about it!
What some may not know, "Subway Surfers" first debuted as an animated short film on "this up and coming platform that who knows if it'll amount to anything called YouTube!" eight years ago! It was a project of two animation students–Bodie Jahn-Mulliner and Sylvester Rishøj–who created a short about a rebellious character that graffitis a metro railway and must escape a grumpy inspector
and his dog. The short won a Danish Animation Award and served as the launching pad for SYBO Games! And this also shows how this company is built on talent, instinct and guts.
Coming full circle now, the new 10 x 4-minute episodic series is a collaborative effort from a talented team! Brent Friedman ("Star Wars Rebels," "Star Wars: The Clone Wars") and Francesca Marie Smith ("Hey Arnold!") scripted the series, and it is produced by Daytime Emmy award-winning producer Sander Schwartz ("The Batman," "What's New Scooby Doo," "Justice League Unlimited").
Available on
, the series lets fans delve into the "Subway Surfers" universe and get to know the characters they've seen within the game. The story follows four best friends as they navigate the exuberant joys and ironically-epic dilemmas of life as tweens. Together, these teens explore their magical city on skateboards and discover an amazing mystery that will introduce technology and change their lives forever. And I mean, FOREVER!
It premiered earlier this month to great fanfare.
SYBO Games recently threw a "Subway Surfers" street party in Venice, Calif.–what was the occasion?
Every month "Subway Surfers" lands in a new city or country. At the end of May, Venice Beach, which is arguably the birthplace of skating, street-art and surfing, was the destination! The celebration showcased the art, music, fashion and skate-scene of "Subway Surfers"–and the "Subsurf" brand. Attendees immersed themselves in the "Subway Surfers" world including playing the latest version of the game, facing off in a live-game competition, creating graffiti-art on a blank canvas, checking out funky fashions from "Subsurf" and more. It was a great scene and reflected just what we envisioned–an authentic street party with art, music, threads and dance!
A new animated series, throwing street parties, installing billboards and continuing to have a chart-topping game–how does this all tie into the "Subsurf" merchandising program?
It is super important for us to stay true the street culture ethos of "Subway Surfers," the original street art brand. The style–whether it be graffiti, stencils, prints and murals, large-scale paintings and projects of artistic collaboration, among others–is very much part of the brand and represented in all aspects. We have more than 10 style guides and they all celebrate this authenticity.
For instance, during May, "Subway Surfers" fan art was installed at the Bentonville Film Festival by working with a local up-and-coming street-artist; the street-style art reflected diversity, creativity and innovation–core concepts we at SYBO believe in wholeheartedly.
In terms of licensing itself, we are strategically engaging with partners that are connected and dedicated to Gen Y and Gen Z fans. As the brand expands into lifestyle, it's incredibly important to deliver the street smart, edgy youth culture, skate music and dance influence that "Subway Surfers" is about. Our partners must bring funk and fashion to the brand.
A perfect example of this is "Subsurf's" just announced partnership with The Avenue Los Angeles for custom Vans. The retro brand, which appeals to the skate-scene and music, reflects the "Subsurf" brand to a T! Furthermore, the line debuted at the Venice Beach party, where we went directly to the fans and consumers to showcase the funky high-tops and slip ons!
Naz, you have achieved some incredible accomplishments in the licensing industry. You are credited with combining the digital world of gaming with traditional consumer products at retail. What are some challenges facing the licensing industry today and how can companies tackle them?
Today we have an ever-changing retail landscape and rapid consumption of bite-sized entertainment. It's a new era in running a licensing program. It's important to be close to the fans, to be on your feet and be ready to adapt to the new mold. In addition, compelling stories and characters will always be in great demand. "Subway Surfers" has an amazing storyline, relatable yet quirky characters and huge production values. Focus on building authentic quality stories and characters, and the fans will find them. After which, focus on good quality partnerships and offer your brand in a strategic and passionate way.
*License Global is participating in sponsored content with Sybo. All opinions are Sybo's own. 
Read more about:
Subscribe and receive the latest news from the industry.
Join 62,000+ members. Yes, it's completely free.
You May Also Like
Loading..