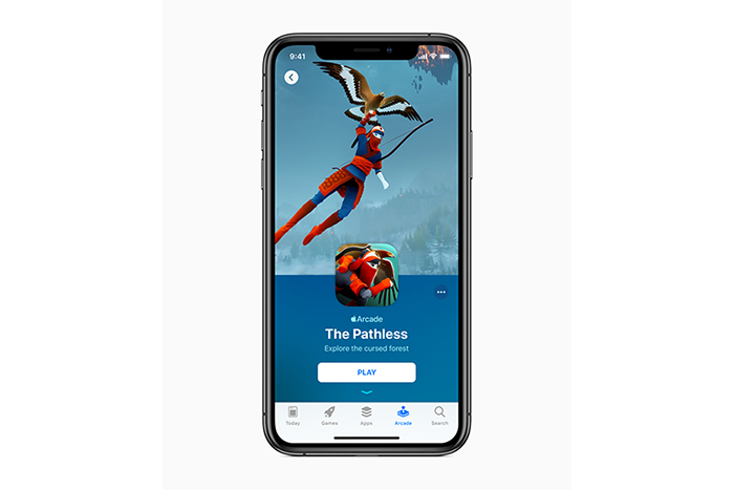 It's finally here. Apple announced yesterday at a special event held in Cupertino, Calif., its gaming subscription service, Apple Arcade. (Apple also announced its TV subscription service, Apple TV+ at the same event, which is equally as exciting.) Like it said in the accompanying promotional video, "this is going to change everything."
And it will. Much like Netflix has reordered the film and TV landscape and upended terrestrial TV, it's reasonable to expect Apple Arcade to have a similar ripple effect among the gaming companies.
Apple Arcade will be the world's first game subscription service for mobile, desktop and living room, reports
Variety
, giving the subscriber unlimited access to more than 100 new and exclusive games at launch that are all playable across Apple device platforms, both online and off. 
Games take time–lots of it–to build, making creation and execution only an option when there are serious sales to back it up, traditionally. Apple Arcade offers those games that may not
be able to be monetized by the big gaming companies a home, much like Netflix does for content.
And with a built-in audience of billions potentially, and an audience of devoted fans that spend on average 12 hours per week playing games (SOURCE: Electronic Entertainment Design and Research report, 2018) the opportunities for brand extensions are endless. (Apple sold nearly 218 million iPhones alone in 2017, according to Statista. That's a lot of eyeballs and audience share.)
We don't need to tell you that Netflix has opened up the playing field for properties to make meaningful connections with fans at a low cost of entry. Just look at original properties like "Stranger Things" and terrestrial reruns that are receiving a renewed bump in awareness thanks to new streaming deals, like "Friends," for example, both of which have product active in stores and on shelf.
Esports–organized video game tournaments that stream playing live–is making a go for licensing extensions and making significant headway. SuperData, a games and interactive media intelligence firm, valued Esports revenue for 2017 at $1.5 billion globally, and projects that revenue will continue to grow by as much as 26 percent by 2020 as the genre goes more and more mainstream.
Apple Arcade has the potential to do the same–the appetite for these types of properties is there. With typical traditional video games costing around $60-80, Apple's subscription service will likely be decidedly less and amortized over a year, making it an entirely attractive
and accessible
proposition for fans of every demographic. (
is speculating a monthly cost of $10, but that's just a guess. More fans equal more product opportunities.
Google Stadia, announced last week at Game Developer's Conference in San Francisco, Calif., is the obvious rival here–a 4K, HDR unlimited streaming subscription service that promises to deliver seamless gameplay at 60-frames-per-second. According to
, "Google Stadia–if it works as advertised–is nothing less than a sweeping away of the status quo, an end to console boxes and the technological generations that have shaped the last 40 years."
Amazon's Twitch is another likely rival for the service, but they have yet to announce a subscription strategy equal in size, form or function to Apple Arcade. Expect that rebuttal soon, however, if rumors are true.
Apple Arcade games will bring the paid games most often found in its App Store to its more than 1 billion subscribers under one handy subscription. Apple's also taking a stake in these games' creation, working closely with creators. The service will feature games from Annapurna Interactive, Bossa Studios, Cartoon Network, Finji, Giant Squid, Klei Entertainment, Konami, LEGO, Mistwalker Corporation, SEGA, Snowman, ustwo games and dozens more.
Apple Arcade will launch this fall in more than 150 countries under a new tab in the App Store.
Licensees: get ready to find your next hit property.
Read more about:
Subscribe and receive the latest news from the industry.
Join 62,000+ members. Yes, it's completely free.
You May Also Like
Loading..