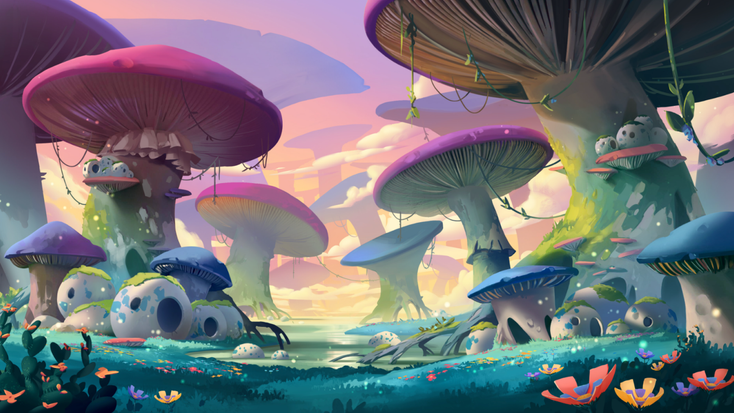 "Momoguro" in "Roblox."
Baobab Studios
Baobab Studios has announced the launch of a new "
" game project based on the successful IP, "Momoguro," coming to the platform this summer.  
License Global chatted with the studio to discuss the move and what the partnership will do for the property. 
"Our team consists of world-class storytellers who have a proven track record of delivering award-winning worlds that scale across platforms and are loved by millions of fans whether in film/TV, games or publishing," says Maureen Fan, chief executive officer, Baobab Studios. "We build all our stories and characters, including 'Momoguro,' to become a franchise compelling enough to live across all mediums. For example, 'Baba Yaga' became a 3-time Emmy-winning animated program and interactive VR experience and is currently being adapted with our partners at Disney+ into a TV series called 'The Witchverse.' We are also partnering with Disney+ to turn our graphic novel series with First Second Books and Macmillan, 'Intercats,' into a Disney+ series. We have created a multiple-phased plan to bring 'Momoguro' to millions of fans in gaming, the metaverse, animation and all kinds of media and entertainment." 
The
studio, which recently announced two deals with Disney+ to develop an animated anthology series ("The Witchverse" and "Intercats"), also plans to release an animated TV series connected to the "Momoguro" series and is looking at the metaverse and "Roblox" in particular as the next step in its journey to leverage a new community of fans around the globe. 
"Our mission is to 'Bring out your sense of wonder. Inspire you to dream. Make YOU matter.' That means you, the audience, become part of the story," Fan continues. "With over 67 million daily active users, 'Roblox' is the ideal platform for us to share our metaverse vision for 'Momoguro' and put players in the heart of our new story world. Making a metaverse game also plays to our strength. We have legendary franchise storytellers such as Eric Darnell, who wrote and directed all four Madagascar films and Jony Chandra ('Peanuts the Movie,' 'Ice Age'). Our seasoned games team has worked across fan favorites, including
, Disney,
, FarmVille,
,
,
and many more. We've spent many years merging these two often conflicting industries together: TV/film and gaming and developed processes to bring the best of both worlds together." 
The "Momoguro" TV series is also being developed to build on the success of the metaverse IP. The studio's executive board includes
co-founder, Ed Catmull, and Twitch co-founder, Kevin Lin. Investors include Disney, Samsung and Comcast. Baobab Studios is now looking to further its impact in the metaverse with the partnership with "Roblox" and its 58 million daily active users. 
"All of our IPs are built with a long-term vision," Fan concludes. "We are an independent animation studio that executes and is backed by industry giants, Disney, Comcast, Alibaba and more. We are leveraging strategic partnerships and platforms we've established over the years through our award-winning games. The very nature of the 'Momoguro' franchise is a metaphor for diversity. Even when things in the 'Momoguro' world don't map exactly to our own, all the characters in the Uno Plane evolve to rely on each other and fight those who want to divide them. With 'Momoguro,' we want to tell a story about inclusion and how our differences are a source of strength and new perspectives can make a collective stronger." 
Subscribe and receive the latest news from the industry.
Join 62,000+ members. Yes, it's completely free.
You May Also Like
Loading..