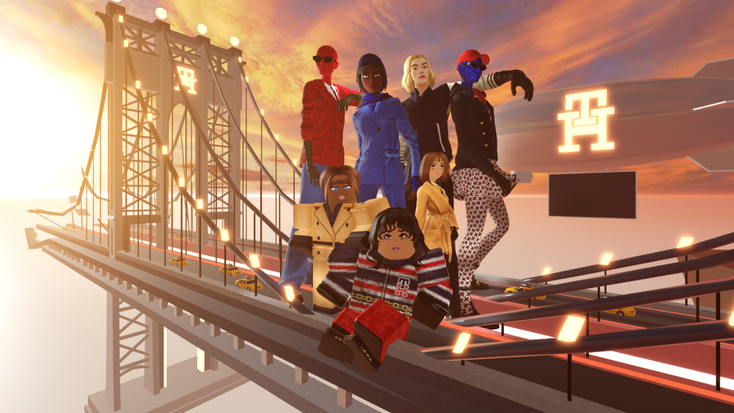 A Tommy Hilfiger collection as featured in Roblox.
Roblox
While the metaverse is still being defined by brand action and collaboration, the demand for digital fashion has been growing throughout the creator and community-driven world of Roblox for over a decade.  
Working with its community and the Parsons School for Design, the Roblox development team deciphered the future of digital fashion and outlined critical trends across the digital fashion space.  
The Influence of Creator Communities within Fashion is Growing  
More than 11.5 million creators designed over 62 million virtual clothing and accessories on Roblox in 2022 alone. That's over 200 times as many creators designing clothing on Roblox as the estimated number of fashion designers creating physical collections in the U.S.  
This year, Roblox saw collaborative initiatives launch with fashion brands such as
, Burberry, Carolina Herrera,
, NARS, Alo Yoga and Karlie Kloss planting a flag in the digital fashion space with some of the biggest names in physical fashion worldwide.  
Self-Expression and Inclusivity in Digital Fashion 
We know that Roblox has been active in the digital fashion
space since long before it began to trend, but the question of "why" is often more important than "how."  
Gen Z, the majority of Roblox creators and players, customize their avatars, with half of them changing outfits at least every week.  
"Just like in the physical world, people tend to connect with and react to others around them based on the way they look and dress, which can have a profound impact on their self-confidence and relationships," the report states. "Dressing their avatars allows consumers to express their individuality (47%) and feel good about themselves (43%), but also to show off their digital collection and feel more connected to peers – in both the digital and physical worlds."   
Fashion in Roblox allows self-expression and is something that 2 in 5 users find more important than expressing themselves in the physical world. The diversity of skin tones, styles, body sizes, hair colors and more allow authentic self-expression, with digital fashion imbuing their avatars with signature and characteristic outfits.  
Gen Z Spends on Digital Fashion   
Nearly three in four Gen Z users say they spend on digital fashion choices, with over half saying their style changes based on mood and feelings on a particular day. Users even change outfits depending on where they plan on going in the metaverse. Among those who say they spend money on digital fashion, 31% of users surveyed by the Roblox team said they'd typically spend up to $5 per month, and another 30% said up to $10-$20 per month, while nearly 12% will spend $50-$100 monthly. Over one in four say they've spent anywhere from $20 to over $100 on a single virtual item.  
Digital Trends are Influenced by Real Life Trends (and Vice Versa)  
Matching avatar styles to personal fashion preferences is a go-to inspiration for players, but Roblox inspires its users to bring new looks from the screen to their real-life wardrobe. With trends like
or Y2K spreading across communities, one collaboration provided the link between digital and physical fashion, the Forever 21 x Barbie metaverse collection. Because of this, developers and designers saw a peak in Y2K-labeled item purchases surge past 188 million on Roblox between January and September this year.  
With Gen Z accounting for one-quarter of the global population, this generation's purchasing power is highlighting the real demand for self-expression, digital and physical flexibility and immersive social experience both online and in-person.   
The report created by the Roblox team reveals over half of survey respondents consider digital fashion design as a tangible career in design, if not more impressive than its physical counterpart.   
For more on digital fashion trends and the rising demand for avatar style, read our in-depth report or take a closer look at our dedicated licensing
. 
Read more about:
Subscribe and receive the latest news from the industry.
Join 62,000+ members. Yes, it's completely free.
You May Also Like
Loading..