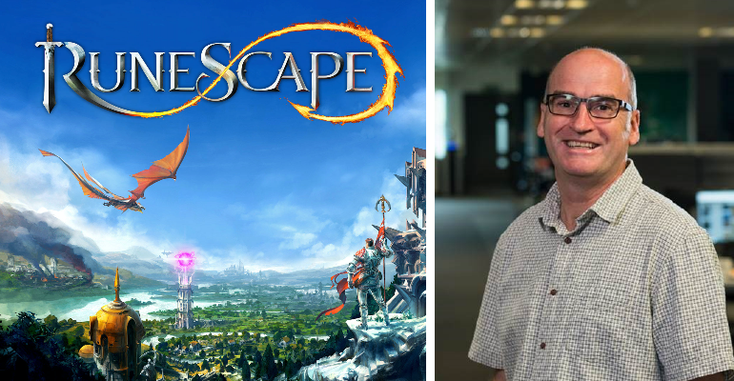 Now approaching the licensing realm to expand its portfolio of gaming titles with studios such as Flying Wild Hog and its consumer products, 
License Global 
speaks exclusively to Simon Bull, head, product marketing, 3rd Party Publishing, Jagex – developers of the iconic gaming title "RuneScape" – to find out more. 
LG: How has "RuneScape" built a brand portfolio over 20 years, and how has it impacted gaming from its early days?
SB: "RuneScape" led the charge of innovation in gaming distribution and consumption when its first incarnation arrived as an online game in 2001. It was the creation of three entrepreneurial game developers who specialized in the emerging market for games played in an internet browser – and this was the key to its initial popularity and enduring success. 
The fact that "RuneScape" could be played in a web browser on PC or Mac made it highly accessible. There was no need to purchase a box from a retailer, no discs and no need to install any software; you could just
play it whenever and wherever you could open a browser and get online. 
"RuneScape" launched at an interesting time, hitting the sweet spot between the internet becoming accessible to all and the emerging market for internet gaming. Being browser-based meant it got a significant following in schools, as people could play it in their lunch hours, then play it when they got home, or play it in libraries, and this made it go viral. 
"RuneScape" also clicked with an early audience because of its social side, predominantly through its chat functionality. While "RuneScape's" arrival pre-dates social media, its chat feature delivered a socially connected gaming experience, one in which players could talk to their friends no matter where they were. They just happened to be killing skeletons or hunting beasts together at the same time. "RuneScape" has never lost that social edge and went on to be one of the first games to explode onto video-sharing and streaming sites. 
"RuneScape" also offered a different way for players to pay for gaming content. You can play some of the game for free, and for those who want to enjoy an expanded world with more adventures to embark on, a monthly subscription-based membership package was available to purchase, and this continues today. 
You can't last 20 years by standing still, especially in the games market. We've constantly innovated and created an ever-evolving world, with additional content being consistently added to offer new challenges, characters and quests for players. 
With more than 280 million player accounts created in its digital lifetime, the RuneScape brand is alive and thriving, both from embracing its heritage and adapting and enhancing the player experience as technology has evolved. While no longer playable in an internet browser, it's universally available to play from a free-to-download game client. It has retained its social side through connecting with players both in the game and outside of it on video and streaming sites, and its own festival – RuneFest. 
LG: What are some of the core products launched under the RuneScape brand, and what are you looking to produce in the future?
SB: At the core of the RuneScape brand are the two games: "RuneScape" itself, which constantly evolves with new content, features and adventures, and "Old School RuneScape," which is a version of the game as it was in 2007 – complete with retro-style visuals and gameplay that remains faithful to the origins of online role-player games. 
From our core group of PC and Mac players, the brand has diversified to mobile and tablet in recent years with both "Old School RuneScape" and "RuneScape" becoming available for iOS and Android devices, complete with cross-platform play between the desktop and mobile games. 
Following recent record levels of players, we continue to invest in the brand to bring the "RuneScape" universe to more players globally as we expand the games' availability across more devices and distribution platforms. We also have new games in production, which will take the "RuneScape" franchise to new gaming genres and audiences. 
Beyond the games, we have associated products – everything from bespoke merchandise lines to music lines, including albums of iconic music from the game performed by The London Philharmonic Orchestra. 
LG: This is a franchise that has been incredibly successful. What's the key to creating a long-standing gaming icon?
SB: The "RuneScape" franchise celebrates its 20th birthday in January 2021. Players can immerse themselves in the fictional world of Gielinor in two games – "RuneScape" and "Old School RuneScape," each with their own community and identity. What they have in common is that they are two of the world's most community-centric massively multiplayer online role-playing games. We call them living games – deep, meaningful and ever-evolving immersive experiences that go beyond what's expected from a live games service. 
Living games are built on an evergreen design model that provides ongoing content and long-term engagement for players. They have vibrant ever-evolving worlds with a huge focus on community, empowering players both online and offline with an emotional engagement and a voice to shape how the game evolves. 
Our "RuneScape" games also provide a safe, welcoming, fun and light-hearted place for players to enjoy from all over the world. It's this dedication to the community that means players come to "RuneScape" time and again. They may leave for a while and dip into something else, but when they come back they find new and exciting things to do with their friends. Living games put the player experience first, and that provides a long-term commercial opportunity that sees investment ploughed back into the game for the next evolution. And that's what makes an icon. 
SB: Jagex haven't worked with another partner for a long time. Why now, and what is the team looking to achieve with Flying Wild Hog?
We've seen hundreds of games in the last two years, and it's taken time to find the right kind of studio with the right kind of game. When we set out to build Jagex into the home of a portfolio of living games – experiences like the RuneScape franchise with the qualities that have seen it thrive for two decades – we were absolutely sure that we would be able to find games of huge potential. 
In Flying Wild Hog, we've found a long-term partner that appreciates fully the importance of evergreen and evolving design, meaningful social interaction, player empowerment, and long-term commercial opportunity. The studio is a dynamic and exciting team of more than 
250 people in Poland with a rare combination of passion, vision, focus and skill. We're excited at the prospect of working as one team and forging a lasting partnership. 
We're looking forward to launching an exciting sci-fi action role playing game that's free to play, amazing fun, and builds a loyal fanbase for years to come. 
LG: How will this give you a new boost into the consumer product space with a new title, new partnerships and the rising talent of the Polish game dev scene?
SB: When we launched Jagex Partners, we said from the very start that we would be looking for quality over quantity. We're known the world over for the longevity and success of "RuneScape," and it's an IP in which we're continuing to invest, both in terms of delivering more content to our existing games, and in new games on platforms such as mobile and console. Leveraging these skills and expertise to bring new living games from other developers to players around the world is crucial to our long-term strategy. 
While we expect some of our existing players will want to play this new game, we're certainly not taking it for granted given that it will be a very different sort of game to "RuneScape," creating new opportunities to reach players. It will have all the key components of a living game but on multiple platforms, which is also sure to widen the audience. 
And yes, Flying Wild Hog is the first of our announced publishing deals, and while making sure quality trumps quantity, we of course aspire for more partnerships, which will allow great games to get to market with our support. 
We've met with many developers and studios and we hope this deal will attract more to want to speak to us, wherever they are in the world – and we've seen games from every continent. Poland, and Eastern Europe in general, is a fertile area for games development, and we've been highly impressed with what we've seen there. We don't have any bias or focus for geography when it comes to partnerships but we'd certainly de delighted to partner with any developer, wherever they are, if they are close to what we've seen in Flying Wild Hog. 
LG: Europe is an extremely exciting place for game development at the moment. How does it differ from global gaming, and what are the opportunities in modern gaming?
SB: Everywhere in the world is an exciting place for game development. By its nature, it's a great industry to be a part of with creative talent drawn from across the technical and creative spectrum. The differences in the audience for which games are being developed often matters far more than the location of the studio. For example, the kind of games made for the Chinese market differ markedly for games developed for the West, and this is down to things such as local tastes, expectations, economy, hardware penetration, platform preference and more. 
Western Europe and North America are very mature markets for PC and console games but you get myriad local preferences in genre – for example, strategy games on PC thrive in Germany, platformers on PlayStation do better in France. And when you talk about mobile, again the opportunity is vast but markets differ wildly on preference between action, sport and puzzlers. 
The greatest opportunity lies with living games – investing in IP not just for the next six months or a year, but for a decade or more. We've seen a huge shift in game sales over the last 10 to 15 years with far more revenue now coming from digital purchases such as 
subscription and microtransaction than discs in boxes on shelves. Live game services can deliver huge value to players and foster the kinds of communities that remain loyal, engaged and delighted – and that's what it's all about. Players first. 
Subscribe and receive the latest news from the industry.
Join 62,000+ members. Yes, it's completely free.
You May Also Like
Loading..