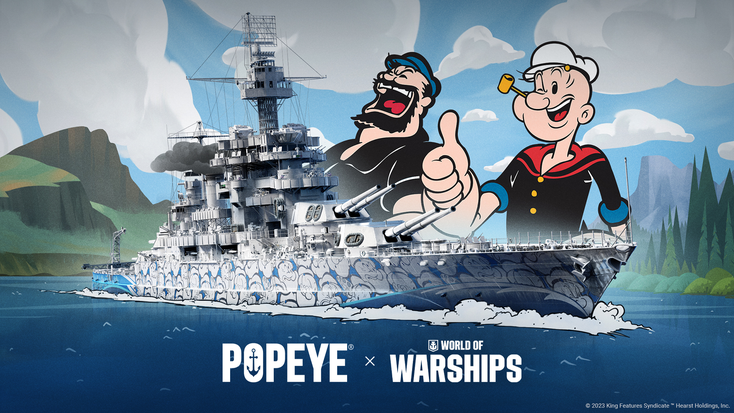 Promotional image for the Popeye "World of Warships" in-game activation.
King Features Syndicate
Wargaming, the publisher and developer of the naval multiplayer video game, "World of Warships," has announced an official partnership with
in a special collaboration recognizing World Ocean Month.  
This collaboration will take place in tandem with a charity partnership, to be announced ahead of the content becoming available to purchase. Taking place every June, World Ocean Month is an annual celebration of our oceans and a platform to raise awareness of the work needed to maintain the Earth's greatest ecosystem. 
The Popeye Charity Bundle will include in-game commanders, Popeye and Bluto, including voiceovers, two flags and a unique camouflage for the Tier VII USS Colorado.  
Popeye, the iconic, spinach-eating sailor and clean-ocean advocate, is owned by
, a unit of Hearst and home to many popular entertainment characters. A long-time advocate for ocean conservation, in 2020, Popeye announced his
of The SeaCleaners, an organization
that focuses on long-term and worldwide preservation of the oceans, joining its fight against plastic pollution and raising awareness of its ocean conservation efforts. This partnership with Wargaming continues Popeye's commitment to sustainability and ocean conservation. 
"World of Warships" is a free-to-play naval warfare game from Wargaming, where players battle against each other in the largest library of historically accurate war vessels from the 20th Century. With the game's deep roots in the military community, Wargaming has an established track record of supporting veteran and historical non-profit organizations.  
"Popeye the Sailor Man is a beloved childhood favorite for many of us here at Wargaming, so having the opportunity to bring him to our waters is an honor," says Marko Valentic, global business development and communications director, Wargaming. "It feels even more special knowing we are making a contribution to raising awareness about the ocean preservation while bringing joy to our players." 
"As one of the world's most-recognizable pop-culture sailors, we could not think of a better gaming partner for Popeye than 'World of Warships,'" says Jarred Goro, vice president, licensing, North America, King Features. "We are thrilled that 'World of Warships' passion for ocean conversation matches our own and we look forward to bringing this in-game collaboration to fans around the world." 
Subscribe and receive the latest news from the industry.
Join 62,000+ members. Yes, it's completely free.
You May Also Like
Loading..