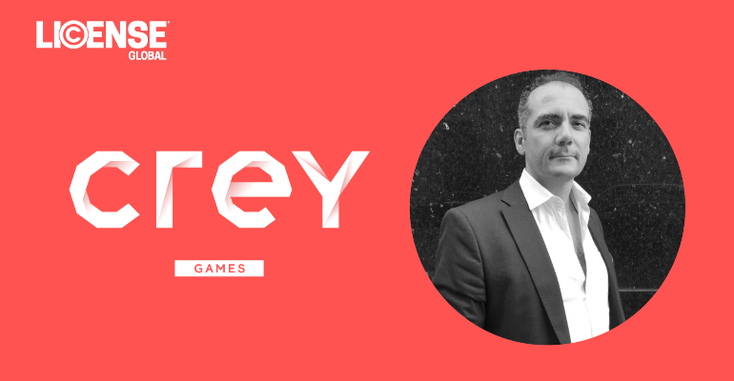 Crey – a community-powered game creator built for players and young developers to create their own games, share online and stream each new world – is a combination of numerous modern trends in gaming. 
Fabien Rossini, chief executive officer, Crey, shines a light on the trends that brought this innovative European gaming platform to the world. 
License Global:
In a rapidly changing marketplace filled with the rise and fall of brands, category shifts and product innovation, what is the one trend in gaming and gaming brands that's catching your attention right now?
Rossini:
If we can start by setting the scene, because gaming has changed over the last 12 months, there are over 2 billion gamers worldwide now enabling an industry worth US$160 billion in 2020 (Newzoo: December 2020). 43 million games were sold in 2020 in the U.K. alone (GSD: January 2021). Gaming is fully mainstream and now bigger than the global film industry, so it's critical for brands to keep an eye on gaming and be in step
with trends. 
One huge trend in gaming this year – and one that has been powered by the pandemic to some degree – is the way gaming is becoming a commodity and one that is sitting at the epicenter of social interaction, particularly for Gen Z. These days, young people define themselves by the gaming community they belong to, the same way previous generations (like mine) did through music, films or the football team they support.
Gen Z demands games that are social, and that means offering them a multiplayer experience where players can have an impact on each other's experience (i.e., dynamic gameplay based on who is in the game), and this can be any physics-based game or just virtual hang-out games.
I believe we're going to see significantly greater recognition of this in 2021 because, at the moment, the gaming platforms being used by Gen Z as social hangouts are by default, not by design, and Crey is tipping that on its head. 
How is this trend making waves across brand collaborations, licensing and/or consumer behavior?
The latest buzz word is multiverse or metaverse, and it's often defined as a persistent 3D virtual world where millions meet online to hang out and share experiences. These social hubs represent huge opportunities for brands to directly access and stay connected with millions, if not billions, of users. This has been well demonstrated in social events (virtual concert, film trailers releases) on the likes of "Fortnite" and "Roblox."
Talk to us about Crey. How is this a personification of Gen Z gaming trends (i.e., community, social, creativity and characters)?
What's unique about Gen Z is the fact they are the first true digitally native generation. They live and breathe this digital world we inhabit, and a growing trend has seen Gen Z slowly shunning traditional social media platforms. In the U.S., for example, the number of teenagers on Facebook has dropped by almost a quarter in the past few years. Instead, gaming has increasingly – and unsurprisingly - become the Gen Z social hangout of choice. It's interesting because they need to belong to a social digital community, and they not only want consumer entertainment but also to be involved in actively shaping it. I really believe the future of gaming/consumer entertainment is user-generated, and that's where Crey fits in. 
Crey is a new gaming platform with three points of differentiation. One, it has – and still is – being designed and developed specifically for Gen Z. Two, it's super accessible. You don't have to know how to code in order to create games and build game worlds in Crey. It's as simple as point and click. Three, it's being developed as the first true social gaming network. Yes, you can create games in Crey, and publish them, and play other people's games, but it also makes it really easy for users to connect, collaborate and just socialize and hang out. 
The idea came from Janos Flösser (co-founder of iO Interactive and Crey), who realized the future of gaming would lie in user-generated content. Since then, the market has matured and is now ripe for disruption by user-generated platforms such as Roblox and now Crey, which was founded at the end of 2016 to do exactly that: disrupt the future of gaming and social networking.
The idea behind Crey was to democratize game development, to fill the gap between Roblox and Unity (which is a very popular gaming engine) and create a platform for the creative and collaborative minds of Generation Z for them to connect, create, play and express themselves socially. Crey is a portmanteau of the words create and play, which lie at the heart of our platform.
We are currently at the start of an incredibly ambitious plan to change the world of gaming and to grow significantly. We are also working incredibly closely with our existing content creators to take their games to the next level as well as working hard to drive new content creation. We're also building a new initiative where we plan to teach creators how to better use our platform and adopt deeper approaches to game design. We are unleashing Crey on mobile this year to complete our ecosystem and driving a richer player experience with a brand new, customizable avatar system and many more social features. All of this is important as we build on existing player engagement and retention, which will be needed to accelerate our growth. 
What do you see for gaming trends in Europe and beyond over the next few years, and how are you nurturing them within the Crey platform (i.e., inspiring young gaming developers, designers and more)?
If you believe the future is user-generated, you have to believe that the key is to deliver the tools that will enable users to unleash their creativity, and this will happen by lowering the complexity of creation and publishing. Collaboration is increasingly important in the creative process, as we see more collectives of builders joining forces to build together, whether that's worlds, characters, code or gameplay. This is also something we are seeing from a school project in Denmark that's using our platform: they are already wanting to share and cooperate with other schools.
Subscribe and receive the latest news from the industry.
Join 62,000+ members. Yes, it's completely free.
You May Also Like
Loading..