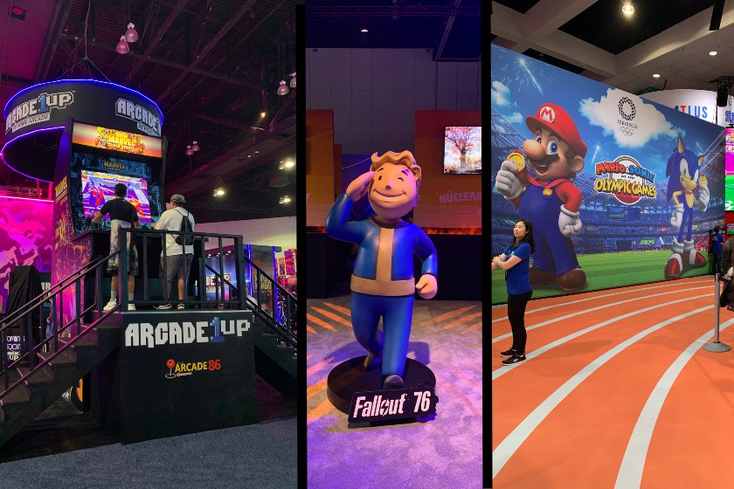 Anna Knight, event director,
, asks whether video game games themselves or video game licenses come first.
If licensing isn't on your radar, it should be. It's massive, relatively untapped when it comes to gaming, and full of opportunity for developers, publishers and brand holders. Licensing International has
at $280 billion in 2018, a 3.2 percent annual increase, and the sector's fifth consecutive year of growth. Royalties also rose by 4 percent.  
Games licensing, specifically, is worth $20.68 billion, a rise of 6.1 percent. Compared to retail generally, which is suffering a very public decline, licensing has been bucking the trend for years and shows no sign of slowing down. In fact, many retailers–including high-street hero Primark–have hat-tipped licensing as an critical resources providing exclusivity and a point of differentiation over the competition, increased margins, access to new customers, access to increased share of purse from
existing customers, the opportunity to piggyback on the brand's umbrella marketing and advertising spend... the list goes on.
For developers, creating games from homegrown IP helps to think of licensing as a marketing or brand extension platform. So, by licensing out your game, you can raise awareness of the brand to sell more games, and you can expand into new categories and channels, increase brand discoverability, engage with new consumers in new ways and create additional, potentially very lucrative, revenue streams, which could be used to fund future development cycles.
When it comes to recognizing the benefits of adopting a licensing programme, however, the games industry has been a little slower off the mark than others, possibly because the transition to a digital world is relatively recent and this has completely changed the way consumers interact with entertainment.
Most films are now franchised and have a built-in fan base. Linear TV's demographic has shifted to two demographics, older 50-plus viewers and preschool children. The ages in between, pages  to 49–are on some sort of a mobile SVOD format, the web (such as social media) and gaming.
With SVOD, viewers tend to binge-watch full seasons in a matter of days or weeks, then move on. This makes it difficult to develop an emotional connection, critical to selling licensing merchandise. What differentiates video games is the amount of time that gamers spend immersed with the game. Also, most gamers will stick with one game for a long time in order to get better at it. What has also added to the importance of gaming is the social aspect of it. Massively multiplayer games are now the norm, so players get to meet new people and make friends online with other gamers.
The good news is the games industry is now catching up, and at a ferocious pace. "Sonic The Hedgehog," "Mario Brothers," "Call of Duty," "Overwatch," "Roblox," "Halo," "Minecraft" and "LEGO Star Wars" are just some of the brands that can justifiably peacock how to create a successful licensing program.
Activision Blizzard's master toy licensee is Hasbro. IMG is Epic's exclusive worldwide licensing agent for "Fortnite."
is a thing.
Angry Birds Movie 2
is in cinemas now with Rovio hinging a flurry of licensing activity on its theatrical release.
Your game's genre and demographic will be a deciding factor when it comes to nailing down which licensing categories to consider. In the case of "Fortnite" and "Minecraft," for example, their fanbases lend themselves to physical toys as well as softlines, books and FMCG. In the case of older skewing games, collectibles are a more natural fit and apparel does incredibly well.
One gaming brand throwing shade on the rest of the entertainment world when it comes to licensing is Pokémon, which has used content (like "Pokémon Go") and merchandise to, where successfully is meant to engage newcomers to the brand. Pokémon branding can be found on everything from Converse, collectibles and confectionery. For book, bedding, toys and t-shirts appointments, team member can deliver on the "Monopoly Pokémon" board game. 
For a brand the size of "Pokémon,"  it is lucky to have the experience and expertise to develop the company's licensing program in tandem with the game. However, developers don't typically think about the licensing potential of a game while it is in development; they think about playability and the story, and I believe this is exactly the right approach.
"If you're developing new IP, my advice would be to always focus on creating a great game first and, once you have got that right, the brand extensions will likely come later. Gamers are savvy. They want great gameplay, great graphics, great characters and a great narrative, but they also want authenticity: they will see through anything that looks like it's been shoehorned into a sales plan. It's also worth taking a lesson from kids' animated TV: It is a huge mistake to attempt to create something that is licensable. Every kids' TV producer that has set out to create merchandisable animated IP has failed. Create great content and the merch will follow.
"Pokémon," Activision Blizzard, Rovio, Nintendo, Sony Interactive Entertainment Europe, Bandai Namco, Sybo Games, Ubisoft and Difuzed are among the gaming brands exhibiting at
. The show takes place Oct. 1-3 at ExCeL London and features a gaming and esports activation to showcase how to create and maximise licensing and retail experiences in this fast-growing sector, as well as knowing how to activate the opportunities that exist within it.
Read more about:
Subscribe and receive the latest news from the industry.
Join 62,000+ members. Yes, it's completely free.
You May Also Like
Loading..