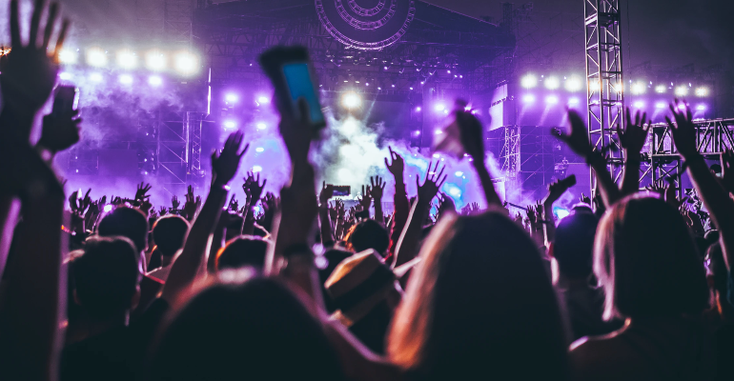 As more people are getting vaccinated worldwide, major cities are lifting restrictions at public venues, including stadiums and performance centers. And for fans of live music, this is a welcome development.
During the pandemic, livestream performances and appearances in video games like "Fortnite" gave musicians another avenue to perform. However, there's energy at a live show that is unmatched. It's the excitement of seeing a band you've been listening to for months (or years) in person with your friends that makes it an experience talked about for years. And music fans are ready to make memories again. According to Billboard, live music company Live Nation reported that concert revenue increased by 34 percent in Q1 of 2021.
Precautions are being taken to ensure the concert hall is a safe space in 2021. There have been testing festivals, or "testivals," (H/T
License Global'
s Ben Roberts for coining the term) to see how big crowds hold up in the post-COVID world. In March, a festival by
research organization Fieldlab was held in the Netherlands to see if a large-scale event with 1500 people could occur during a pandemic. Last month in Barcelona, a test festival of 5,000 was held, and research showed that only six people tested positive for COVID-19 within 14 days of attending.
With the announcements of upcoming concerts worldwide, some concertgoers will look for something to commemorate the event. And that's where the merchandise booth comes in.
A staple of any live event, purchasing a band T-shirt, posters and more from the merch booth is a cultural currency. It's a low-key flex/humblebrag that you saw your favorite band live – and have proof. Or perhaps the T-shirt is a new addition to your permanent wardrobe. The concert tee is a tangible memory. 
Concertgoers may see a couple of merch booths while attending a show, but live event merchandising is a vital part of licensing. As noted in Licensing International's Annual Global Licensing Survey in 2019, the global music merch business made $3.663 billion in sales revenue. According to Statista.com, 34 percent of people who attend a live event will spend somewhere upwards of $100 at the merch booth. The bigger the show, the more people to buy merch.
Some online concerts have updated their merch booths. In September, the annual Monterey Jazz Festival was held on YouTube and featured an online store with print-on-demand products. Some touring bands have bypassed the typical merch line and jumped into the non-fungible token (NFT) market, as the estate of Jerry Garcia created a NFT of the late Grateful Dead guitarist's artwork. Still, it can't compete with the live show, ensconced in the sound of feedback and the roar of the crowd, who could be wearing the newest item at the merch booth – band-branded face masks.
Subscribe and receive the latest news from the industry.
Join 62,000+ members. Yes, it's completely free.
You May Also Like
Loading..