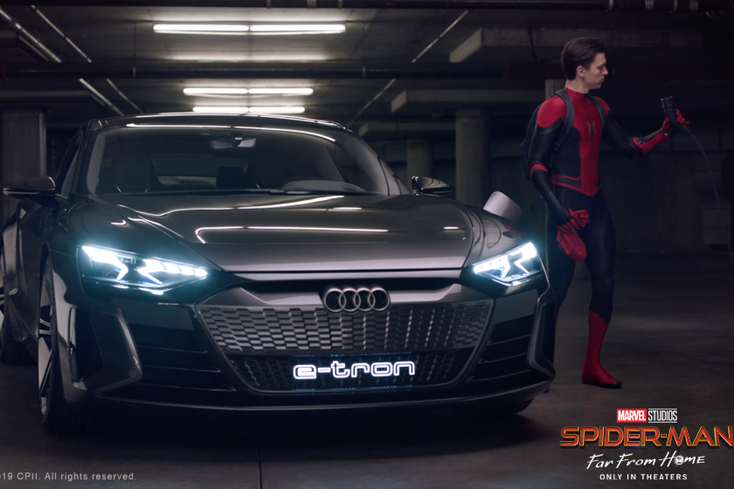 They say, "rising tides lift all boats." That aphorism proved doubly true when Sony and Disney decided to partner to co-finance two upcoming Spider-Man movies.
On Aug. 19, Sony Pictures
announced
that
Spider-Man: Far From Home
was the highest-grossing film in the studio's history. The movie earned more than $1.9 billion in a little more than a month. Then, one day after Sony's announcement,
Deadline
reported that the studio would not be co-financing future Spider-Man movies with Disney. The reason for the Marvel-universe shattering split? A mixture of money, creative know-how and the industry heading back to the status quo.
A Deal Far from Home
The Spider-Man movie deal was unlike anything Hollywood had ever seen. What started as a simple lunch between Sony's ex-chairperson, Amy Pascal, and Marvel's super producer, Kevin Feige, turned into one of the most successful co-financing deals the industry had ever seen.
In return for using the Sony-owned Spider-Man IP, Disney would let the mastermind behind the success
of the Marvel cinematic universe, Feige, produce two of the web crawlers' next features for Sony. According to
Variety
,
the deal would see Marvel and by extension, the House of Mouse, receive about 5 percent of first-dollar gross and all merchandising revenues.
The outcome of this unique crossover was a deal that saw Tom Holland's Spider-Man appear in three Marvel-produced Avengers movies and two Sony made spinoffs. Collectively, the films that came out of the partnership earned more than $7 billion dollars worldwide.
How Do You Slice a Multibillion-Dollar Pie?
Sony and Disney's original deal was never meant for the long term and only covered two pictures. So, with a new boss at Sony in the form of long-time film executive Tom Rothman, the two sides began mapping out the road ahead for the web-slinger and Marvel.
Variety
reports that Disney came to the table requesting a 50/50 split of all first-run profits and merchandising revenues. Sony balked at the demand, asking that the split stays at its current level of 5 percent. Disney then began pushing back even more. The studio reportedly said that Feige would not be able to focus as much attention on future Sony Spider-Man films and only be a consulting producer moving forward. The lack of bandwidth may have been the last straw for Sony, which said "no, thanks," and ended negations by leaving Marvel without its youngest Avenger.
Losing the Superhero Behind Marvel
For Sony, circa-2015, loaning Spider-Man to Disney made a lot of sense. The studio was coming off a poorly-received second iteration of the character with
The Amazing Spider-Man 2
and was looking to take Spidey in a new direction.
Enter Kevin Feige, the comic-book movie godfather behind every film in the massively successful Marvel franchise. As a young producer, he found success working on the original X-Men film due to his extensive knowledge of Marvel properties. A lifelong comic lover, he has repeatedly cited that Spider-Man is his favorite comic character ever.
"Spider-Man is the biggest Marvel character," says Feige via promotional video from Spiderman: Homecoming unearthed by
Screenrant.com
.
"He is the jewel in the crown. Such an amazing icon. He's a very different kind of hero because he is, quite simply, the greatest superhero of all time."
His love for the character, along with his bonafide talent for shepherding comic-book properties through the studio system, made him an ideal producer to take Spider-Man into the future. However, like any good comic, Spider-Man's homecoming to Marvel took a twist and now looks to be for naught.
What the 'Spider-Verse' Says About Sony
As Sony continues to develop new characters from the Spider-Man universe, maybe they don't need Feige and Disney anymore? The studio won an
Oscar in 2018
for its animated Spider-Man feature, Spider-Man: Into the Spider-Verse. The unlikely hit didn't feature Tom Holland's interpretation of the character at all, instead focusing on various other interpretations of Spider-Man that appeared in the comics throughout the years.
Following its recent victory, Sony likely feels comfortable letting Disney walk without renegotiating the terms of their deal. They've found a model that works for them, and they've re-introduced a beloved character to audiences. The studio has the potential to earn billions via box office revenue and merch, and it looks like it might not need Disney's help to do that anymore.
"[Rothman] is thinking, 'Okay, we've learned everything we need to from Kevin's playbook. We did Venom on our own, and we did Spider-Verse,'" says a Sony insider, via
The Hollywood Reporter
.
Disney is Super-Powered All on Its Own
Disney has also changed drastically since 2014. The conglomerate behind Marvel launched five of the Top 10 highest-grossing movies of 2018, according to
The-Numbers.com
.
It has proven it's comic book movie strategy works, and at
this year's Comic-Con
, even introduced a slate of Marvel movies that didn't include Spider-Man.
Disney is prepared for life without Spider-Man. The groundwork it has developed to bring the Marvel cinematic universe to life has led to a successful template and the ability to take risks, something it has seemingly been weary to until recently.
Take, for example, Guardians of Galaxy. The
successful property
was based on the franchise that was not well known outside of comic book shops. It went on to produce a sequel with another one on the way. Now with its new slate of Marvel films, Disney aims to take the success it found creating the Guardians franchise and move it to other lesser-known properties, such as
The Eternals and Shang-Chi.
So, Where Do We Go from Here?
No matter where the studios go in the future, it looks like they both have an idea of how to handle their superhero properties on their own. Whether or not Spider-Man makes it into another Avengers, it's safe to assume the character will be fighting bad guys on the silver screen again real soon.
Subscribe and receive the latest news from the industry.
Join 62,000+ members. Yes, it's completely free.
You May Also Like
Loading..