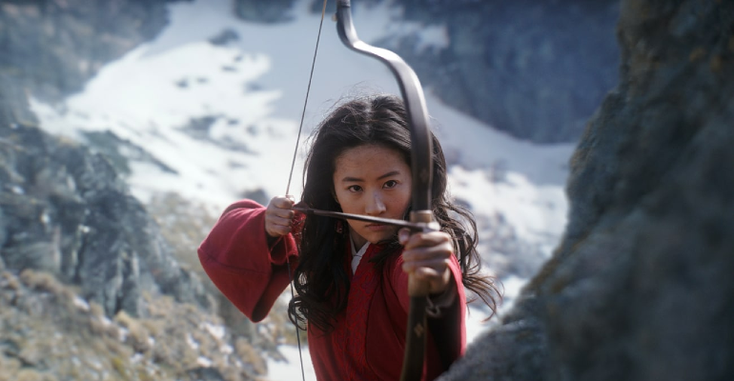 After four delays amid the global COVID-19 pandemic, Disney has finally decided to take the radical decision to premiere its summer tentpole "Mulan" as a premium video-on-demand offering on Disney+.
The decision takes a film that was initially set to launch in May and turns it into a digital offering for Sept. 4. It will debut exclusively for Disney+ subscribers where will cost $30 to be added to your collection. The film will arrive internationally in countries including the U.S., the U.K., Canada, Australia and New Zealand.
A Growing Trend, But Not Yet A Norm
"Mulan" joins fellow 2020 tentpoles such as 
 and "Bill and Ted Face the Music" with its decision to come to streaming before theaters. It is another setback for movie exhibitors looking to overcome the pandemic, theater closures and, now, a dearth of new movies to premiere in time for reopening.
For Disney, early signs say the move isn't going to be a trend. During the most recent round of 
, recently
appointed chief executive, Bob Chapek, called the streaming push a one-time test in the face of unprecedented realities due to COVID-19.
"We're fortunate that we can bring it to our own direct-to-consumer platform so consumers can enjoy it," says Chapek. "But we're looking at Mulan as a one-off in terms of – you know, as opposed to, say, trying to say that there's some new business windowing model that we're looking at."
The company has also announced that notable films such as "Avatar" sequels and new "Star Wars" films are being delayed a year with no plans for a strictly digital launch. The novelty of "Mulan's" debut provides a unique test case on the potential future for premium streaming big-budget films, but not a new normal.
Streaming Proves A Lifeline During the Pandemic
Disney+ puts the House of Mouse in a unique position to drum up renewable subscription revenue and fends off loses its experienced during the pandemic. The company reported losses of 42 percent for the quarter, with much of the drop coming from its park and film production closures.
However, one lifeline for Walt's namesake was the success it has seen from its streaming business. Disney+ has reportedly brought in some 60.5 million subscribers since debuting late last year.
Now, with an exclusive "Mulan" release in tow, those subscribers will only look to go up. Disney saw something similar happen when it debuted its recording of the "Hamilton" musical last July. Disney reported bringing in about three million subscribers in the lead up to the Lin-Manual Miranda hit. "Mulan" could see similar bumps as consumers look for ways to stay entertained while stuck at home.
Re-Thinking Cinema for Years to Come
While streaming is an easy play for Disney, given its success with Disney+, "Mulan" will be the first streaming exclusive to debut with an added price tag. The $30 one-time fee will be charged to viewers on top of the monthly subscription fee.
The "premium" add-on is similar to how Universal debuted "Trolls World Tour" in April. While streaming platform agnostic, that film cost $19.99 as a 48-hour rental. The rental fee led the film to become the highest-grossing digital download ever.
As Universal renegotiates its 
 with AMC to bring out movies to streaming in just three weeks, the future of movie watching has never been more uncertain. Film exhibitors are taking the plunge to try new tactics, and so are movie studios faced with the uncertainty of moviegoing post-COVID.
Disney's latest gambit with "Mulan" speaks to the smart thinking required to overcome the challenges of 2020. It also tells of the uncertainty of what movies will look like as more people get used to streaming movies at home. Disney+ and the assortment of other platforms that offer at-home film watching are here to stay and the role they play in our daily lives looks to be growing for years to come. With so much uncertainty, it looks like companies in the cinema space are testing new options to see what the future of their business may be even after the pandemic.
Read more about:
Subscribe and receive the latest news from the industry.
Join 62,000+ members. Yes, it's completely free.
You May Also Like
Loading..