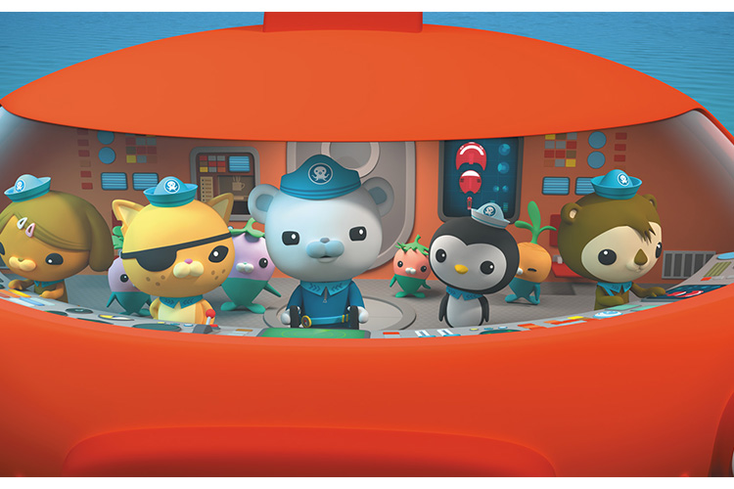 The sheer size of the Chinese market makes it very attractive for any brand to increase its visibility. However, companies big and small have discovered that it can be a struggle to break in. Silvergate Media, a TV production and licensing company for children's brands like animated preschool series "Octonauts," has been taking its mission to break into China seriously, finding success with its IP launches and further developing a new business arm to help other companies grow in the territory as well.
"We have a fantastic content pipeline of great shows that we own or produce, but what really sets us apart as an organization is the way we've gone deeper and deeper into the Chinese market and been so successful with our existing IP over the past five years," says Ron Allen, executive vice president, commercial, Silvergate Media. "We were in the market with first-class content at a time when the market was opening, so we developed strong licensees and brand partners such as shopping malls and activations. We now have an extensive knowledge of the Chinese market, and there are very few companies in the licensing business that have been able to break into this market so successfully."
The
team at Silvergate has a deep knowledge of Chinese business and culture (and some can speak Mandarin as well). The company is open to sharing that expertise through selective partnerships with IPs that meet its criteria.
"There are a lot of properties out there with great audience numbers that may need help converting those numbers into successful consumer product programs," says Allen. "We know how to do that. We have a great network of partnerships in place from content providers, to companies that do brand activations, drive toy sales at retail and operate attractions and theme parks.
"When you can be quick, decisive, opportunistic and flexible, your chances of success are much higher," he continues.
Part of Silvergate's success in the market is its partnership with CCTV, China's national television station and broadcasters for "Octonauts." Produced by Silvergate Media for the BBC channel CBeebies, the animated TV series is based on American-Canadian children's books and follows an underwater exploring crew of anthropomorphic adventurers who go on undersea adventures with the help of a fleet of aquatic vehicles.
Since it's set underwater, "Octonauts" isn't culturally specific. The show also has an educational element, a big plus for the Chinese audience.
"It was a real coup for us when CCTV decided they loved 'Octonauts' and wanted to put it on-air," says Allen. "The reach of CCTV is enormous–its 100 percent. Once 'Octonauts' was on-air, the show resonated with Chinese kids and the feedback was very positive."
China is the most successful market yet for "Octonauts," says Silvergate, and the brand is on track to become a "super IP" with billions of views on web TV, millions of books sold and triple-digit toy sale increases.
On-demand web platforms are also critical in this market, and Silvergate has forged critical partnerships with key providers.
"In a market that is so high-tech, online-focused and digital savvy, you cannot underestimate the importance of web TV channels. You have to broadcast through your gadgets, that's how you reach your audience," says Allen. "On-demand web TV platforms, such as Tencent Video and Youku and iQiyi, are where we saw extraordinary reach. Last year we were at 15 billion, and this year we are targeting 30 billion by the end of the year."
Online retail, intertwined with on-demand content, has been fundamental to the IP's success.
"One exciting difference in China is that our on-demand partners are offering fans of our properties content, but in a way we've yet to see in other markets," says Allen. "There's a direct link to online retail and direct online promotion. The company that owns an online retail platform may also be an owner of one of the leading content platforms, then they are open to promoting brand events in a way you can't do in other territories yet."
In a landmark partnership, Silvergate also teamed up with Wanda Kids Group for large-scale activations in shopping malls across China.
"Malls bring huge scale and market access and are incredible partners for us in building brand awareness and support of licensees," says Allen.
On Children's Day, a key retail touchpoint in China, the company organized an "Octonauts"-themed race for families across all shopping malls, with more than 100,000 participating. This summer, the company also launched "Octonauts" ocean ball activity events at 230 shopping malls with a reach of more than 100 million people.
The company has made a heavy investment in "Octonauts"-themed indoor attractions for families as well, with 55 existing locations and 88 planned by the end of the year. Additionally, 100 "Octonauts" early learning education centers will open at malls nationwide by the end of the year.
"When you combine online retail promotion with shopping mall activations, brand events and kids' clubs, you've got massive consumer engagement with the IP," says Allen.
The fifth season of "Octonauts" will be co-produced by CCTV. This is an indicator of "the level of trust that we have developed with China," says Allen. New episodes will be tailored to the market and will include a Giant Salamander special and a new character, Mapmaker Min, a red panda. Silvergate has greenlit the production of "Octonauts" films for theatrical release in China in 2020.
Licensing for the property continues to expand. Since launching a toy line in 2015, Mattel has had triple-digit growth of its "Octonauts" toy line in China, the company says.
"Our most established licensing partner is Mattel and they've done a fantastic job translating our show to 3D toy form and in getting product out to retail. They've expanded the presence of 'Octonauts' across China and are hitting 10,000 doors with a toy line this year," says Allen.
Then there is publishing partner Dolphin, who sold 6 million "Octonauts" books in under 18 months.
"In a market where we've only had a program of consumer products for just under two years, it's a record we're extremely proud of," says Allen. "The licensing program is growing every year with new secondary toy licenses, apparel and gifting licenses and apps under development."
Theme park attractions are a top priority going forward. Silvergate's extensive network of contacts at Chinese attractions developers, management companies and real estate groups includes Luneng Group, Pinnacle, HNA, Wanda, InTime and China Housing.
But Silvergate has more than "Octonauts" in its portfolio–it's also a co-owner with Penguin of the "Peter Rabbit" animated television series and the global merchandising agent of the classic Peter Rabbitpublishing property, and is looking to expand that IP beyond children's product licensing. Later this year, the company will announce details of new "Peter Rabbit" theme park attractions in China.
"The animated series is bright, fast-paced and full of adventure, and it's a story of friendship that's a good fit for the Chinese market," says Allen.
The launch of Sony's Peter Rabbit film this past year had a significant halo effect on the brand and should propel new opportunities going forward.
Silvergate is also focusing on its new "Monkey with a Toolbelt" IP. The animated television series, which has been commissioned by Netflix outside of China, centers around a team of action-hero engineers who fix the problems that befall the town of Bluderberg.
"The show ticks many of the right boxes in China," says Allen. "There's an educational component, it's intrinsically toyetic and its 3D CGI, which is hugely popular in China right now. Also, the lead character is a monkey, an animal that has been hugely popular in China for centuries."
Silvergate is exploring alternative broadcast options in China and seeking a master toy partner for the new IP.
Read more about:
Subscribe and receive the latest news from the industry.
Join 62,000+ members. Yes, it's completely free.
You May Also Like
Loading..