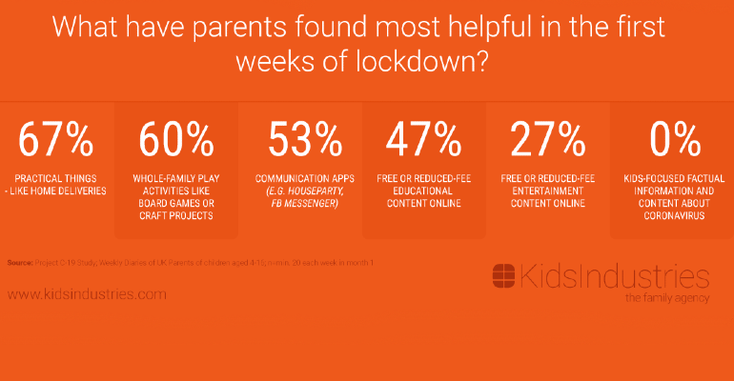 Gary Pope and Jelena Stosic of Kids Industries share their research on what kids, and parents, are looking forward to most after life in lockdown. 
There are no doubts about it: all of our lives have been altered by the pandemic we're in, it's in the very nature of the situation. But, as unlikely as it may feel right now, this will end. As an organization dedicated to nurturing consumer insights and to shaping them into knowledge - we've been asking ourselves some very important questions about what the future will look like, both in the medium term and in the really long term.  
Changes - especially ones that last for a while - have a way of becoming the new normal.  So in order to address these questions, we went straight to the source. In other words - we've been speaking to our audience. On the very first day of the Lockdown, we set up Project C-19, a live research diary for parents and children, or as well call them, our Junior Board of Directors. We've designed a diary tool that brings
us in touch to families from around the country once a week, giving us an opportunity to ask them a set of questions. We are receiving a wealth of perspectives from the eyes of both parents and children (yes, this includes drawings!), and we wanted to share a couple of interesting initial findings, but also some predictions for life after COVID-19.  
At the Moment… Children Miss School the Most!
When we asked our children participants to tell us what they miss the most from their lives before Covid-19, each and every one of them included 'going to school' in their answers. But it goes much deeper than that. For the vast majority of children schools are a fundamental part of their life's fabric, schools connect them, schools entertainment them, schools give them independence. And whilst the children in our study are certainly cherishing the time with their parents, and whilst yes, they were kind of celebrating when schools were closed ("I feel both sad and happy" - the sentiment expressed by one of our 4-year-old Junior Directors) they miss all of these things. Seeing their friends in a pretty independent, almost grown-up way. Going somewhere every day and the sense of control this gives them. We can but hope that this positive sentiment towards schooling persists.  
At the Moment…  Not All Industries Have Seen a Decline
As you can see, and probably for most, as you can feel in the results of your own business, the shift in consumption is real. The reduced income for so many people around the world, combined with the reduced opportunities to shop for all but essentials, combined on top of that with the ethical dilemma of whether it's good or bad to shop has slashed sales across many different sectors. However, at the moment at least, some categories persist. Combining what we see in our study, with the purchase patterns seen in areas affected by previous virus outbreak like SARS and MERS, there are a number of categories we can expect to 'carry on':  
 At the Moment…  Parents Are Making Use of the Different Tools Available to Help Them
Families are making use of a diverse range of tools and platforms, but it's really interesting to see how highly 'whole family activities' rank in relation to how little help they rely on from from entertainment. It's entirely possible that entertainment, in particular digital entertainment, is one of those things that people felt they already had 'sorted', so they needed only to tap deeper into their current offerings rather than try and find something entirely new to do.   
In fact, none of our participants indicated that children-focused content about coronavirus has been 'most helpful', leading us to keep a close eye on this and explore the families' position on how this content fits into their lives. For now, what we can certainly say is that not all kids' and families' content needs to be about COVID-19. Most shouldn't. Remember, users often look to content to escape, to imagine, not only to immerse more deeply into reality.  
And Now... Turning to Life After Covid-19
When We Come Out of This… Children-Focused Online Spaces Will Gain Power
Even the most offline-focused parents have given way to digital. After all, managing screen time on top of work, school work, regular household duties, and making sure everyone's fed / not too bored / not fighting / not upset is a lot to deal with! If some extra screen time can make life easier, that screen time has largely been permitted.  
In the US, the majority of 6-12 year-olds say they are spending 
at least 50% more time
 in front of screens daily. Effectively, the coronavirus has sped up the digital transformation of people's homes. The nay-sayers of children socializing online or children learning online have been left having to embrace these changes.  
What's more, is that games which enable chat functionalities are being used like social media platforms (most of the children we speak with use "Fortnite" to chat to their friends), we are seeing an increase in children using apps like House Party to stay in touch or using Zoom to engage with school mates. We believe that children's online spaces will see increased use and increased innovation over the coming period and once we're 'out' as well. For brands, these digital communities of children will be an essential 'place' to consider in all their efforts. 
When We Come Out of This… Shopping Centres will Diversify Their Tenants
Sadly, many of the residents of shopping centres around the world may find themselves unable to afford their physical spaces. The extended closures of their shops, as well as the impact that the extremely limited distribution is having on online sales, are already being felt. Not all of the shops on our high streets, in the shopping centres, will come back to each and every one of their premises.
So how will these premises change? The shopping centres will be looking for new tenants, as they too have their responsibilities. Whoever are the specific players that will come out strongly in this - effectively - battle for survival, we do expect to see the shopping centres diversified and certainly including more enhanced offerings by supermarkets (whose stocks and sales of non-grocery items will grow) and entertainment centres.
When We Come Out of This… A Brand's Purpose Will Be Even More Important
Children and parents were already increasingly
paying attention
to brands' CSR practices and values, and this will only grow. These days, we are effectively flooded with stories about retailers
honouring / not honouring their commitment to suppliers
,
businesses offering free or discounted meals to the NHS
, businesses changing their production in order to
make medical supplies
(with different levels of success),
businesses donating masks
and more. Personal brands such as Joe Wicks, Cristiano Ronaldo, and music stars are trying to support - with their product, with a freebie, with a donation. This kind of news is a big part of our media consumption now, and they are shaping opinions.
It's also been fascinating to see how brands speak of their purpose - of course their options differ depending on many variables, but examples like
Kraft
's "We got you, America" - provided they find their audience - can truly resonate.
IPA data shows that brands that sustain exposure throughout a crisis can increase share 3x during downturns, but also rebound faster and stronger in recovery. Not everyone can afford to do this, or people can do it on different scales (from using your email list to a full-on TV ad), but staying in touch with brand's values can make a difference now. I don't believe every brand needs to turn into a 'supporter' or 'nurturer' - but I do believe that finding an ability to serve as well as to sell, as well as doing your best to keep communicating to the brand's stakeholders (this is customers, yes, but also staff) will make a difference in the long run.
When We Come Out of This… Innovation Will Change Shape
In the short term, we expect that range planning will be a much more analytical exercise as businesses can afford less risk, less trial & error. Ranges may become smaller as brand, the licensees, the retailers focus on what they
know
works. At best, these - likely somewhat smaller - ranges would be created more collaboratively, as the different parties involved put their heads together on how best to get out of the challenging situation.
But what will these products be like, will something change? We did wonder if the lower risk and lower budgets make for more or less innovation? Having analysed previous patterns, and how industries have sprung back following different kinds of crises, we expect that simpler range innovation (new flavour, new colour…) and line extensions will suffer, but that transformational innovation, exclusive launches and more collaborative business models will thrive.
When We Come Out of This… We'll Have New Heroes
Can you get an NHS license?! Don't know if you can, or what the regulations around it would be, but what a shift we'll see in who children believe are heroes, and what they aspire to be. In happier times, the 2012 Olympics encouraged
more than half of British children to do more sports
than previously. Compared to two weeks' of cheering and intense media exposure for one type of heroes, what would
months
of clapping and even more intense media exposure do for another?
We expect to see more children-focused media formats where the heroes are medics and other essential staff, as well as toys that allow kids to live out this fantasy / plan. Broadly speaking, this period is also an invigoration of faith in science, as that is who are relying on to help solve the problem. Children see this, they clap for it, and these new heroes and role models will - at least for some time - be reflected in their media, and the products that they buy.
This is just a glimpse of the data we're working with, as well as the projections we are building for how our clients' and partners' industries will change. We'll keep on engaging with the audience, staying on the pulse of their needs, anticipating and co-creating plans for the future … so do not hesitate to get in touch for an update or if you'd like to discuss these or other ideas for life after Covid-19.
Read more about:
Subscribe and receive the latest news from the industry.
Join 62,000+ members. Yes, it's completely free.
You May Also Like
Loading..