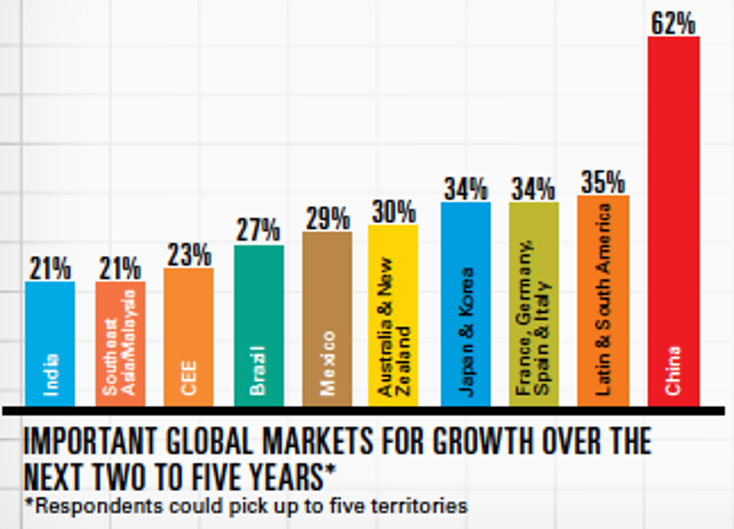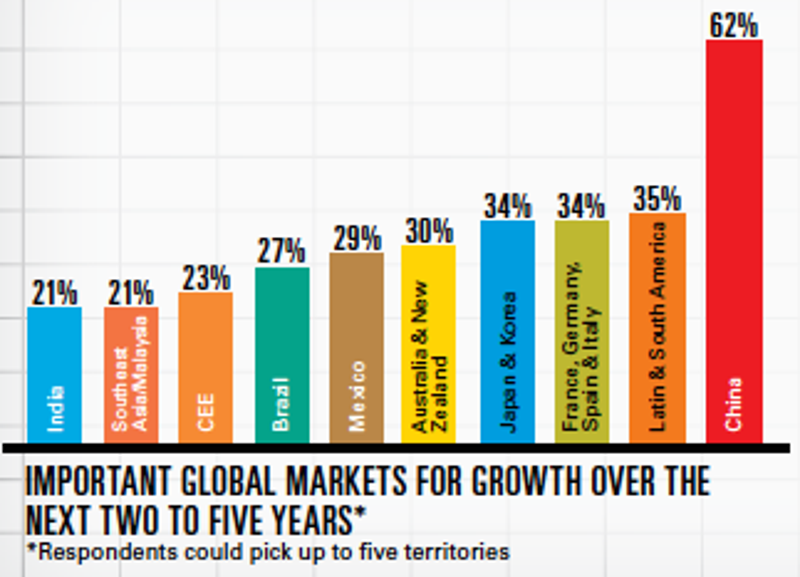 International expansion is top of mind for executives at the world's largest licensors.
A recent survey by
License! Global
found that 89 percent of the higher-level executives have expansion in their sights, with 29 percent planning to grow their international business by more than 50 percent in the next five years.
Executives from major companies including Nickelodeon, Hearst, Aardman Animations, IMG, Viacom International Media Networks, DreamWorks Animations, Honda, The Walt Disney Co. and Under Armour all shared insights into the regions they believe are most promising for expanded licensing activities in this global survey, conducted throughout the month of May.
China is by far the market of most interest, with 62 percent of respondents pinpointing the country as an important global market for growth. The fact that it is the world's most populous nation
makes China appealing to many companies, particularly in light of the country's growing economic power and openness to Western brands. In fact, when asked if they had to choose just one country for expansion, 41 percent of those surveyed still selected China. (The next countries of interest were France, Germany, Spain and Italy, at 11 percent.)
The second highest region of interest for global expansion is Latin and South America, which includes Brazil and Mexico. Thirty-seven percent of respondents selected Latin and South America as an important region for growth, with 29 percent also choosing Mexico and 27 percent selecting Brazil (respondents were able to choose up to five different regions).
France, Germany, Spain and Italy (combined) tied with Japan and Korea (also combined) as the third most important regions being targeted for growth. Other territories that also ranked highly include Australia and New Zealand, Southeast Asia/Malaysia and India.
The BRIC countries are clearly still a huge focus for expansion, with the exception of Russia, which appears to have fallen off as a target area for many companies. At the same time, India, which just barely made in into the top 10 regions of interest, is still on companies' radars, but appears to be less of an immediate goal.
Finding the manpower and resources to open new avenues of business is a time consuming and costly process, and executives highlighted a number of barriers that stand in the way including navigating cultural differences, dealing with different languages, getting a grasp on new legal structures and trademark laws and being able to find the right partners in new regions.
"With the globalization of brand licensing, international expansion has become more appealing and more of a priority than ever before," says Tony Lisanti, global editorial director,
License! Global
. "It's not surprising that China tops the list considering their interest in Western brands, fashion, entertainment and pop culture. This
License! Global
research study reinforces the retail and consumer trends that are already emerging not only in China, but throughout the world."
Subscribe and receive the latest news from the industry.
Join 62,000+ members. Yes, it's completely free.
You May Also Like
Loading..