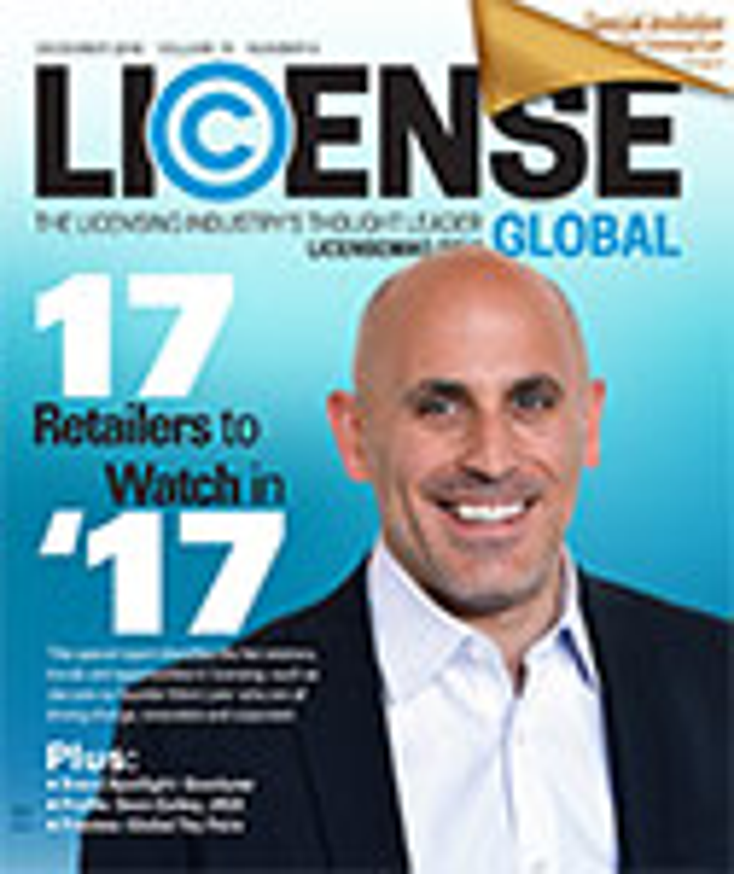 From major executive moves to a host of acquistions and joint ventures to an increased emphasis on 360-degree entertainment properties and classic brands, here are the top trends that shaped 2016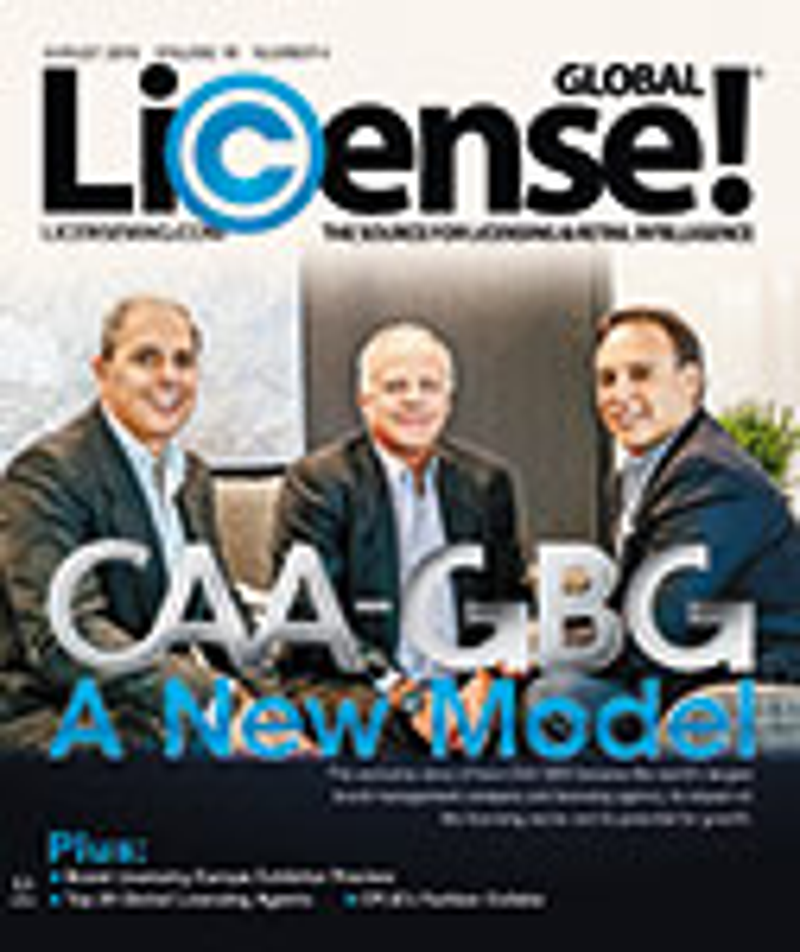 Furthermore, 2016 saw a large number of change-ups in top leadership at big-name entertainment companies such as Disney Consumer Products and Interactive Media, Warner Bros. Consumer Products, NBCUniversal, WME/IMG, Viacom and Discovery Communications. In addition to the entertainment powerhouses, several agencies, including CPLG and Iconix, as well as the International Licensing Industry Merchandisers' Association announced changes to their top leadership positions.
Meanwhile, a raft of brands continued to expand their 360-degree strategies with the addition of new content development across television, publishing and more; live experiences such as stage shows and theme parks; and, of course, a multitude of new licensees.
The Biggest Shakeups
Possibly the biggest merger of the year was Global Brands
Group and Creative Artists Agency's decision to join forces to create CAA-GBG Global Brand Management Group. The joint venture, which also includes licensing agency TLC, created the world's largest licensing agency, with $11.8 billion in retail sales, according to
License Global
's Top 20 Global Licensing Agents report.
Meanwhile, Hollywood was profuse with ownership changes in 2016. NBCUniversal acquired DreamWorks Animation in April, which not only brought together two entertainment powerhouses, but also the No. 11 and No. 18 largest licensors in the world. The acquisition also bolstered NBCU's kids' and family entertainment offerings with DreamWorks' various franchises such as
Shrek, Kung Fu Panda
and
How to Train Your Dragon
.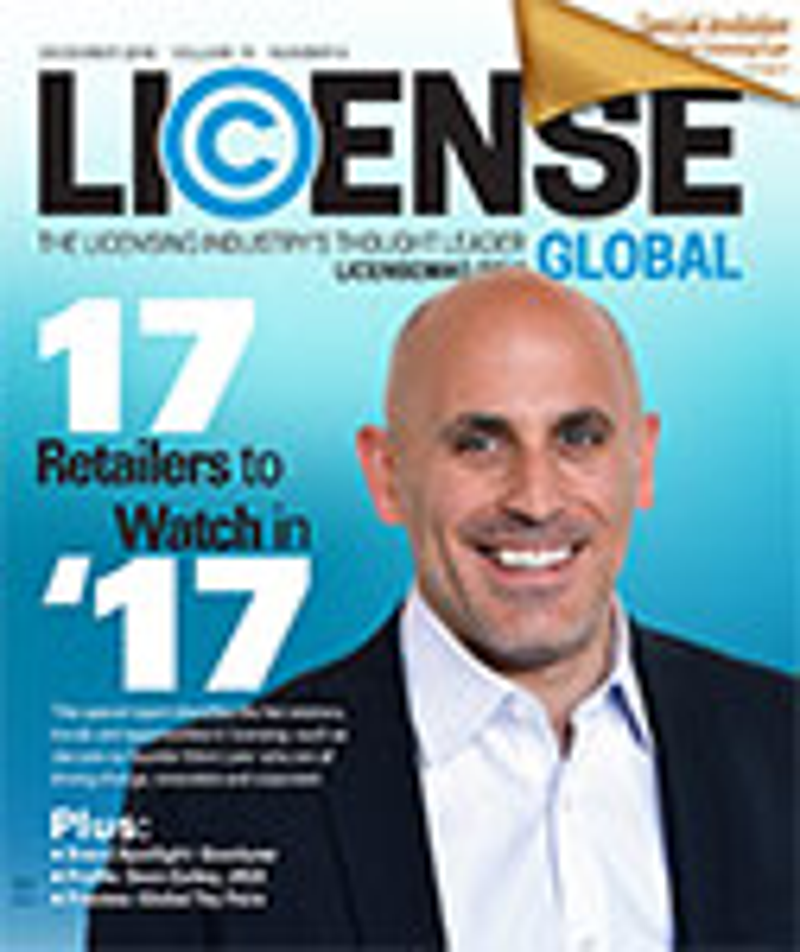 The Dalian Wanda Group was also a big player in the entertainment industry last year with the acquisitions of AMC, Legendary Entertainment and the Chinese online media outlet and e-commerce platform Mtime, as well as a joint venture with Sony.
Additionally, AT&T made an $85 billion bid for Time Warner, which solidified its growing interest in the entertainment sector. Although it is still too early to tell, the acquisition could result in a host of opportunities for licensed products targeting bigger audiences and new fan bases.
In a completely different sector, retailer Walmart ramped up its e-commerce initiatives with the purchase of
, one of the fastest growing e-commerce companies in the U.S. According to Walmart, the acquisition will add new capabilities to its e-commerce platform as well as expand its customer reach.
Finally, in early 2016, Activision bought eSports leader Major League Gaming, which develops professional gaming events. The purchase not only adds live streaming capabilities to Activision's roster, but will also further enable the video game company to expand its reach across the rapidly growing eSports industry while creating what they deem "the ESPN of eSports."
Leadership Change-Ups
Similar to 2015, last year was marked by a multitude of executive change-ups from the world's major licensors, starting at the top with Disney Consumer Products and Interactive Media. In February, James Pitaro moved from his role as co-chair of DCPI to head the division, following co-chair Leslie Ferraro's departure from the company to pursue marketing and consumer engagement projects.
Meanwhile, Warner Bros. Consumer Products, the world's No. 5 largest licensor, named Pam Lifford to succeed Brad Globe, former president of WBCP, who announced his retirement in August 2015 after more than a decade at the helm. As WBCP's president, Lifford oversees all of the division's business functions, including domestic and international licensing, worldwide marketing, business and legal affairs, finance and retail business development for WBCP's portfolio of franchises including
Batman v Superman, Harry Potter
, "Looney Tunes," "Scooby Doo" and many more. WBCP also appointed Soo Koo, who formerly served as vice president of product development at DCPI, as its chief creative officer.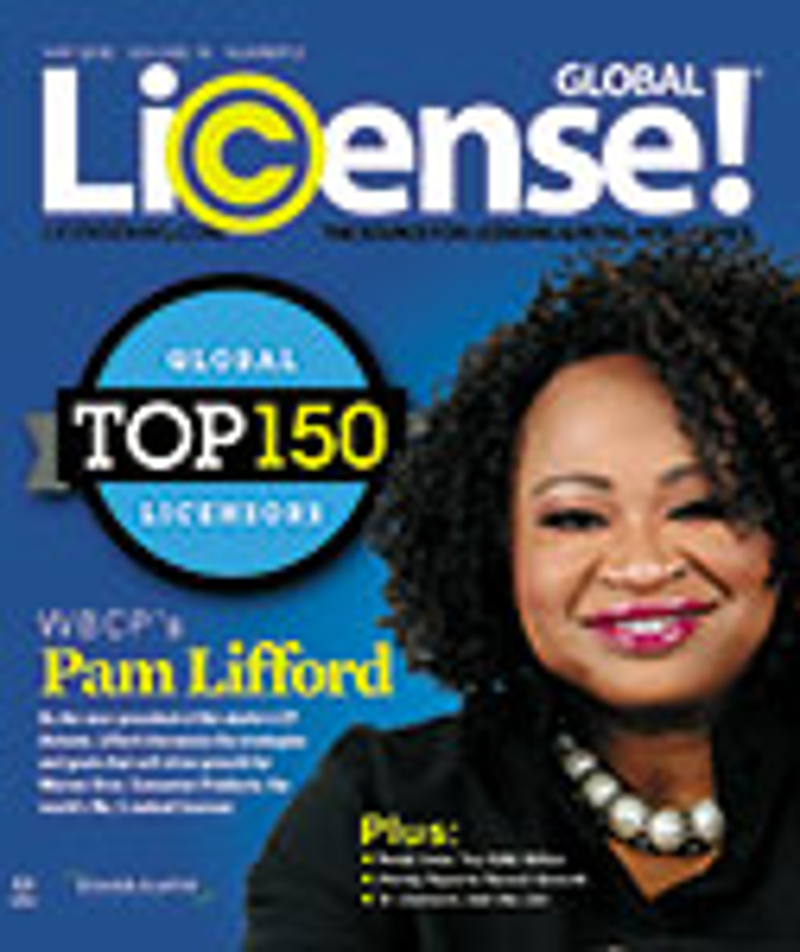 Other major executive moves in 2016 include:
Jeffrey Godsick resigned from his role as president of Fox Consumer Products to join Sony Pictures Motion Picture Group as executive vice president of worldwide partnerships. Former DreamWorks executive Jim Fielding was announced as his replacement in January.

Former Iconix executive Leigh Anne Brodsky, who served as managing director for Peanuts Worldwide, stepped down to take on the role of executive vice president at Discovery Communications' Discovery Global Enterprises unit, where she now oversees consumer products, location-based entertainment and program sales worldwide.

In November, Maura Regan exited her role as senior vice president and general manager of international media businesses at Sesame Workshop to join LIMA as executive vice president. She will now help broaden the scope of the organization's services and offerings to the global industry.

Iconix appointed John Haugh to serve as the company's president and chief executive officer, following the exit of founder Neil Cole, who stepped down as CEO, chairman and president in August 2016 to pursue other business opportunities. In addition to Haugh's appointment, interim CEO Peter Cuneo transitioned to executive chairman of the brand management company.

In addition to naming a new president and CEO, Iconix also tapped Rosalind Nowicki, formerly of Twentieth Century Fox, to lead its entertainment division and Peanuts Worldwide.

The board of directors at Viacom promoted Robert Bakish to serve as acting president and CEO in November before announcing he would take on the position fulltime in December. He succeeds Tom Dooley, who announced he would be leaving the media giant in September after serving as interim CEO.

WME/IMG named Mark Shapiro and Ioris Francini to serve as co-presidents of the company.

Universal Music Group appointed Mat Vlasic as chief executive officer of global merchandising for Bravado following the departure of Tom Bennett.

Endemol Shine North America upped Tamaya Petteway to serve as senior vice president for its new Brand and Licensing Partnerships division.

Former Fathom Events executive Carol Nygren also left her position to join NBCUniversal as vice president of worldwide live entertainment, spearheading the company's strategy and development for cross-category live events and entertainment.

At the end of the year, Amy Kule, executive producer, parade and fireworks, and group vice president, annual events and partnership marketing at Macy's, announced she would leave the company in March in order to expand her professional footprint. Kule has been part of the Macy's team for 21 years and was instrumental in the growth of the Macy's Thanksgiving Day Parade, which celebrated its 90th anniversary last year.

Martin Cribbs joined Beanstalk as vice president of brand management and was tapped to lead the agency's new Icon Representation division, which represents the personality rights of legendary icons across licensing, advertising and more.

In December, Rosa Zeegers joined National Geographic after serving as a brand strategy consultant. In her new role as executive vice president of consumer products and experiences, the former Mattel executive will oversee the company's global licensing, merchandising, travel, location-based entertainment and live businesses.
Giving Classic Franchises New Life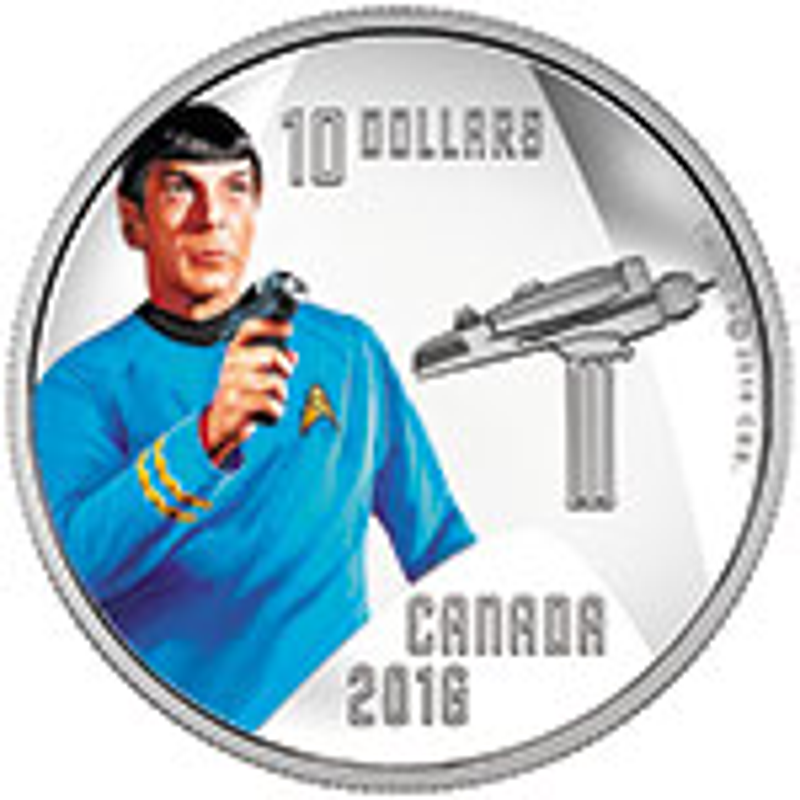 Although 2016 revealed a raft of new properties, classic brands such as "Star Trek" and "Rugrats," among others, saw a resurgence through new products, original programming, live events and more.
Defining what it means to be a true evergreen property, the "Star Trek" brand marked its 50th anniversary last year, and is looking ahead to the next 50 years with a new TV series that is set to premiere on CBS in the first half of this year. To mark the milestone, CBS Consumer Products unveiled a wide-reaching merchandising and fan outreach program spanning collectibles, apparel, toys and more.
Meanwhile, Nickelodeon unveiled a number of '90s-themed products in 2016–ranging from apparel to stationery to electronics and more-for brands including "Double Dare," "Ren & Stimpy" and "Rugrats." Beyond Nickelodeon, other classic brands–including Care Bears, Felix the Cat and "Teletubbies"–were revived through a combination of new merchandise, agency appointments and re-booted TV series.
Furthermore, entertainment companies around the world were able to both give their classic franchise new life, and extend their current properties through a variety of live experiences. Children's favorites like "Sesame Street" and "Paw Patrol" unveiled global live shows; Pepsi unveiled its first U.S.-based restaurant; Paws, Inc., the licensor of Garfield, teamed for children's education and activity centers in China; Viacom grew its footprint with new Nickelodeon Family entertainment centers in Europe; and Studio 100 partnered with grocery retailer Lidl to create "Maya the Bee"-inspired playgrounds; among many more.
Other Top Stories from 2016
Major Licensor Becomes U.S. President–

The 2016 campaign and election of Donald Trump as President of the United States kindled discussions within nearly every industry around the globe, and the licensing industry was no exception. Whether Trump's political career will help or hurt his brand remains to be seen, but his campaign did result in backlash for several of his licensing partnerships. Either way, the Trump brand will move into unprecedented waters in the world of celebrity licensing now that he is in office.

Hasbro: The Next Chapter in Storytelling–

Last year, Hasbro continued to take steps to move from a traditional toy company to a global entertainment and licensing powerhouse through content development across TV, publishing and more. Among its new initiatives, Hasbro announced a slate of new content including new

Transformers

films; a

My Little Pony

film; original programming for Netflix; and the recently debuted "Hanazuki" brand.

LEGO Creates New Brand Group–

In December, LEGO unveiled plans to continue its resurgence with the creation of a new division, titled the LEGO Brand Group. The new division's sole purpose will be to protect and further develop the LEGO Brand with new opportunities.

"Five Nights at Freddy's" Adds New Licensees–

Scottgames' horror-themed video game "Five Nights at Freddy's" became a phenomenon last year and continually added to its roster of licensees. Launched in 2014, the game appointed Striker Entertainment as its licensing agent in May 2016.

Mattel Launches New Content Arm–

The toy company took its storytelling efforts to the next level last year with the formation of a new division, called Mattel Creations, in March. The new group was designed to drive content across a variety of platforms for the company's portfolio of brands, including Barbie, "Thomas & Friends" and "Bob the Builder." It will also aim to amplify integrated play experiences on a global scale.
Read more about:
Subscribe and receive the latest news from the industry.
Join 62,000+ members. Yes, it's completely free.
You May Also Like
Loading..