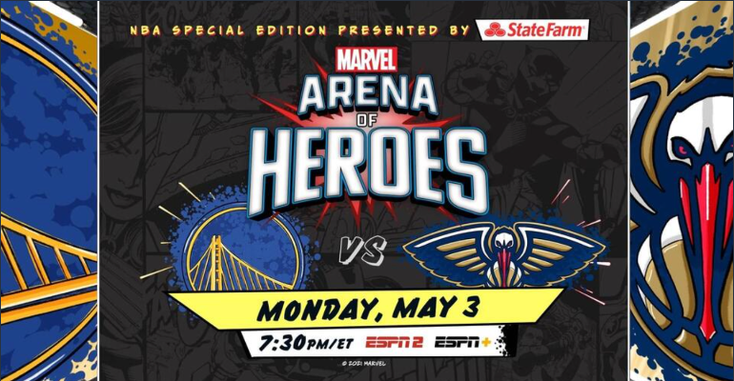 It wasn't too long ago that SpongeBob's arrival on the NFL field filled the (virtual) office with excited conversation. While the Saints vs. Bears game was available to watch in the traditional format, grown-ups still tuned into NFL on Nickelodeon to see the same game, but with special effects, signature slime cannons and notable guest commentators. 
This digitization of the sport was a labor of love for both the NFL and Nickelodeon – taking time to perfect the slime color and character appearances (source:
New York Times
) – and the perfect way for parents to share their passion for the sport with their kids.   
This presentation felt utterly refreshing, and while they say three's a trend, two confirms the theory. Marvel is bringing their alternative production to NBA fans during the upcoming Golden State Warriors and New Orleans Pelicans basketball game via ESPN 2, ESPN+, and ESPN Deportes (with the traditional match streaming on ESPN) May 3. 
In a dedicated storyline, the "NBA Special Edition
Presented by State Farm: Marvel's Arena of Heroes" game sees Black Panther and Iron Man on the hunt for new Marvel Champions, opting to find suitable applicants by observing the athletes of the NBA. 
This special presentation will bring iconic characters – including Iron Man, Black Panther, Black Widow, Captain America, Captain Marvel, and Doctor Strange – to life through 3D animation and custom graphics packages. 
"We're eager for fans to experience this unique, innovative presentation that will pair Marvel and ESPN's exceptional storytelling and production," says Matt Kenny, vice president, programming and acquisitions, ESPN. "We are proud to showcase the 'larger than life' abilities of these NBA stars in a manner in which only Disney and Marvel can deliver." 
"Marvel and ESPN have brought the worlds of sports and superheroes together for years through comics, documentaries, and other stories celebrating athletes and their extraordinary abilities," says Mike Pasciullo, vice president, marketing and communications, Marvel Entertainment. "The new Marvel's Arena of Heroes telecast will be the first of its kind to bring Marvel's storytelling directly to the real-time experience of an NBA game, and we are excited for fans to be able to watch their favorite players through the lens of Marvel's mightiest heroes." 
"We are thrilled to work alongside ESPN and Marvel to present fans with the first-ever Marvel-inspired alternate NBA telecast," adds David Denenberg, senior vice president, global media distribution and business affairs, NBA. "This fun and innovative game presentation builds upon our goal of providing personalized and compelling viewing options for our fans." 
The game will even have its own unique, additional scoring system, offering Marvel Points for successful points, rebounds, steals and blocks, and deducting them for missed field goals, free throws and turnovers.  
This new format of alternative digital sports shines a light on the transient nature of fandom. Fandom, in its truest form, isn't linear.
Fans of Marvel will connect with their favorite characters anywhere, and fans of NBA will most likely share a connection with entertainment brands and stories like The Avengers. This merger of two universes isn't about building new audiences by putting two fan bases together; instead, this is about understanding that fandom is everywhere.  
Using cutting-edge technology and alternative viewing methods, partnerships like ESPN and Marvel or Nickelodeon and NFL are showing us how to creatively engage fans from all generations, backgrounds, and tastes, engage families, and bring a new edge to a traditional medium.  
Sports are getting more intelligent, more current, more relevant, and exciting by the game, and the digital trend of alternative presentation is just one way the evolution is taking shape.
Subscribe and receive the latest news from the industry.
Join 62,000+ members. Yes, it's completely free.
You May Also Like
Loading..