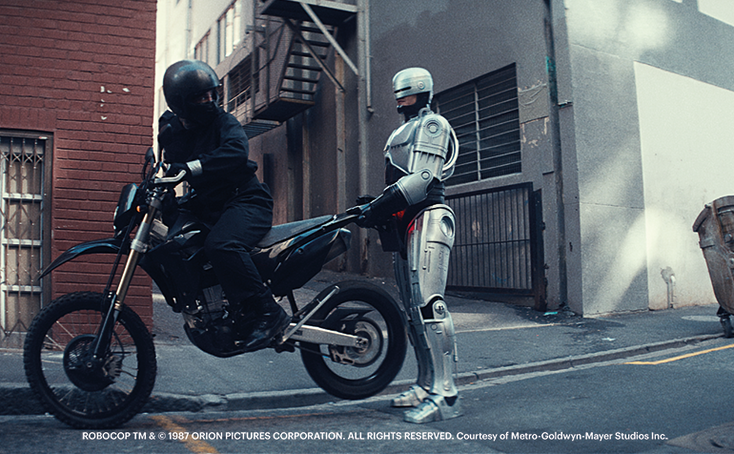 On Friday, March 6, a new U.K. ad campaign swept the nation's screens. Starring some of the world's most iconic heroes - RoboCop, Donatello (the Teenage Mutant Ninja Turtle) and Bumblebee (the Transformer) – the
ad spots called "We're On It" marks a new brand identity for the insurance company and acts as a successor to the licensed campaign featuring Harvey Keitel as Winston Wolfe, first shown in 2014.
Speaking with Born Licensing ­– the agency behind the licensed campaign – and the licensors involved,
License Global
gains exclusive insight into how licensing is playing an increasingly bigger part in the U.K. advertising industry.
How Licensing Can Enhance Brand Messaging
Directed by two-time Oscar nominee Bryan Buckley, ­named "King of the Super Bowl" by
The New York Times
after directing 50 half-time commercials, this new campaign was designed to complement a brand identity refresh for Direct Line, before making its way onto televisions, cinema screens and beyond during its
big launch. So, how does such a significant campaign call for the world's greatest heroes?
"Our customers know that the second anything goes wrong, we will leap into action and have them covered," says Wendy Moores, head, marketing, Direct Line. "Our new campaign suggests that we are so good at doing this that we're even better problem solvers than some of the world's best and most loved heroes, to ensure we stay ahead of the insurance pack."
"Direct Line's new campaign is all about positioning themselves as the fastest and most efficient problem solvers," says David Born, director, Born Licensing. "To demonstrate this, they wanted to leverage some of the world's most well-known characters who are famous for being heroes, solving problems and saving the day. By showing these heroic characters getting beaten by Direct Line, the advertiser is highlighting how great their service is in an entertaining and engaging way."
"Advertising history isn't easily achieved," adds Buckley, "unless you have Bumblebee clearing the path, Donatello at your side and RoboCop watching your back."
How to Capture Multi-Generational TV Viewers with Characters
The kids who grew up with Donatello, Bumblebee and RoboCop are today's insurance customers, a demographic proven to engage with nostalgia properties. Bring those properties into the home with an attention-grabbing campaign, and the effect is more powerful than straight promotional materials.
"Direct Line has done a brilliant job at tapping into three generationally loved characters: Donatello, Bumblebee and RoboCop," says Born. "All three characters first appeared in the 1980s, and since then, have each captured our attention through films, home entertainment, gaming and consumer products. Nostalgia will certainly play a part in these adverts, as a lot of consumers who grew up in the 1980s and engaged with the brands early on are now making choices about insurance providers. However, thanks to the ongoing activity surrounding each property, newer generations will engage with the Direct Line campaign, too."
After seeing huge success with Born Licensing's previous campaign with Money Supermarket – which featured "Masters of the Universe" characters He-Man and Skeletor ­– the new "We're On It" campaign is expected to reach 7.5 million views from the launch moment alone, eventually reaching 77 percent of U.K. adults after two weeks and 91 percent after four weeks.
The Consumer Appeal of Characters in Ad Campaign.
According to reports from Newcastle University, characters are more powerful in advertisement, hold more purchase intent than celebrities and are seen as more trustworthy across wider consumer perception. So, how do these characters fit in with campaigns, and how can licensing characters bolster the properties' brand awareness?
"'RoboCop' is a satirical sci-fi thriller known for explosive action and smart-mouthed one-liners, celebrated by fans and critics since its first debut in 1987," says Robert Marick, executive vice president, global consumer products and experiences, MGM. "Four films later and a fifth instalment in development, the 'RoboCop' franchise continues to sit in the center of the pop-culture zeitgeist and delight fans with his 'do good' attitude. From consumer products, to interactive games and licensed media, the lead character resonates with fans young and old. This campaign definitely provides our consumers opportunity to engage with the property every day through its linear television campaign, social media overlay and outdoor signage. The campaign and the RoboCop character will be everywhere."  
"Donatello is a universally recognized 'hero-in-a-half-shell' and a much-loved character who has cross-generational appeal," says Venetia Davie, vice president, consumer products, ViacomCBS Networks, U.K. and Ireland. "He's known for being the smartest and most tech savvy of the turtles with an intuitive ability to understand how things work, from computer robotics and rocket propulsion systems to lights in the fridge, he's the perfect choice for this action-packed campaign. We know that when Donatello appears in the Direct Line campaign it will grab consumers' attention, no matter their age. Whilst we know that the parents are the ones purchasing insurance for their cars, homes and businesses, the ad is designed to be entertaining for children as well."
As licensing evolves and the industry finds new avenues of revenue, creativity, awareness and engagement with consumers, nostalgia and brand perception are just a few of the factors attached to TV advertising. But what can innovative advertising do to support the industry and provide a viable option for licensors looking to bolster brands?
"As traditional areas of licensing become more challenging, licensors are looking at new ways to engage with audiences," adds Born. "Lending their characters to advertisers like Direct Line allows them to reach a broad audience in a new and different way. Using this campaign as an example, British audiences will engage with Donatello, Bumblebee and RoboCop across television, radio, on public transport, on a billboard, on social media, in the newspaper and in a number of other ways. In addition to reaching new audiences, licensing their IP in advertising campaigns opens up a new revenue stream that can help support their business. We expect a campaign of this level to start a nationwide conversation about the characters, and it wouldn't surprise us if consumer products relating to those characters experienced a spike in sales. We've seen that happen with previous characters featured in advertising campaigns."
Read more about:
Subscribe and receive the latest news from the industry.
Join 62,000+ members. Yes, it's completely free.
You May Also Like
Loading..