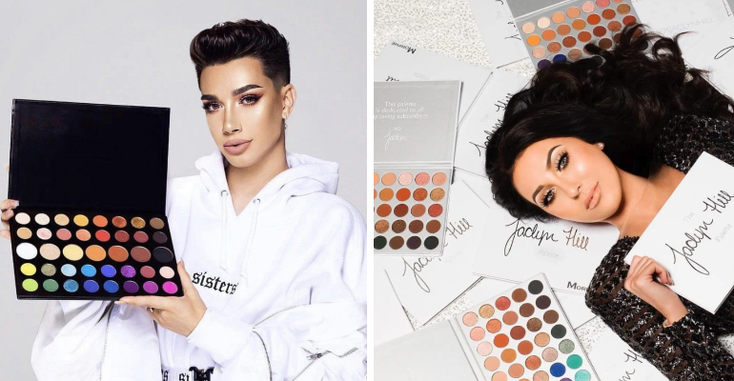 From the genesis of YouTube and Instagram to the birth of influencer, the 2010s allowed a whole new licensing trend to blossom. The trend of influencer collaborations shaped beauty product licensing during the 2010s astronomically. As the beauty industry continues to evolve in the 2020s,
License Global
examines where the business went and where it's headed.
The Influence of the Influencer
YouTube and Instagram influencers are a relatively new phenomenon. YouTube started in 2005 and Instagram in 2010, and monetary gain from those sources began later on as a result.
Unlike celebrities and larger-than-life companies, influencers are introduced to their audience as regular people, trying out a product and giving a review of how and if it works. Whether the influencer was using a product in a makeup tutorial or they were spotlighting the product in its own standalone video, companies took the opportunity to use influencers to their advantage.
In the 2010s, influencers were used to build brand loyalty and trust, generate sales
leads, increase SEO and more. Eventually, the connection influencers established with their followers not only turned them into marketing machines but allowed them to become the faces of brands that ended up exploding on the internet.
Well-known beauty brands of the early 2000s and 2010s released their first collaborations with influencers. Becca's Champagne Pop Highlighter, originally created as a collab with YouTuber
in 2016, still remains a best-seller among Becca products. With success stories like Becca and Jaclyn's, brands started taking notice. An explosion of influencer-led campaigns began in the late 2010s.
The Birth of the Internet Brand
Brands born on the internet such as Colourpop and Morphe leaped forward in sales during the 2010s, largely in part due to their influencer collaborations.
Along with more traditional brands like
, Colourpop has released numerous collaborations with
, who boasts over four million subscribers, along with multiple collaborations from smaller influencers. The makeup brand launched solely on social media and has developed a cult following on Instagram with nearly nine million followers at the time of this writing. Their popularity as a small brand skyrocketed them into selling at both Sephora and Ulta.
YouTubers and Instagram influencers also launched their own eponymous brands to roaring success. This year marked the five-year anniversary of Jeffree Star Cosmetics. Star collaborated with another YouTube giant, Shane Dawson, for the "Conspiracy" eyeshadow palette. Like other YouTube collaborations, the duo's palette was a success,
The Power of X
From James Charles x Morphe to Jaclyn Hill x Becca, it's become apparent the weight the "X" carries in both sales and brand growth.
It's no secret that collaborations and licensing opportunities in the beauty space boomed in the 2010s. With the birth of the influencer, new marketing opportunities came about, and as influencers gained superstar-level fame, they gained their own licensing opportunities that raked in the cash for brands.
Classic makeup brands sold in store as well as those that ran exclusively through internet sales benefitted from collaborations in the 2010s, and executives have taken notice.
According to a survey from Glossy,
38 percent of fashion and beauty brand executives said they'd see collaborations as their greatest 2019 marketing opportunity, with 59 percent of that number identifying as being from a beauty or wellness brand. 55 percent of those executives said that their influencer budget is set to increase in the 2020s.
The Future of the Influencer
At the time of this writing, 91 percent of
License Global
readers reported they see collaborations with beauty brands as a worthwhile venture for their business, and for good reason. Collaborations, especially with influencers, are helping keep the beauty business afloat. With the right influencer, sales can skyrocket, and brands can build a loyal fanbase as a result.
According to
global spending on influencer marketing has risen from an estimated $2 billion in 2017 to about $8 billion in 2019. 
 from
Business Insider
shows that spending is expected to balloon to $15 billion by 2022.
"Figure out which social media channels will attract your audience, be deliberate about how you showcase your products on different channels, and make sure the people who represent your company will be seen as authentic, trusted voices of the image you want to present," says Alessia Vettese, who conducted the Harvard study.
Vettese's study shows that 67 percent of women turn to social media influencers before buying a beauty product, so whether a brand is looking for exposure or a new collaboration opportunity, you can bet that in the 2020s, influencers will continue to dominate the beauty game.
Read more about:
Subscribe and receive the latest news from the industry.
Join 62,000+ members. Yes, it's completely free.
You May Also Like
Loading..