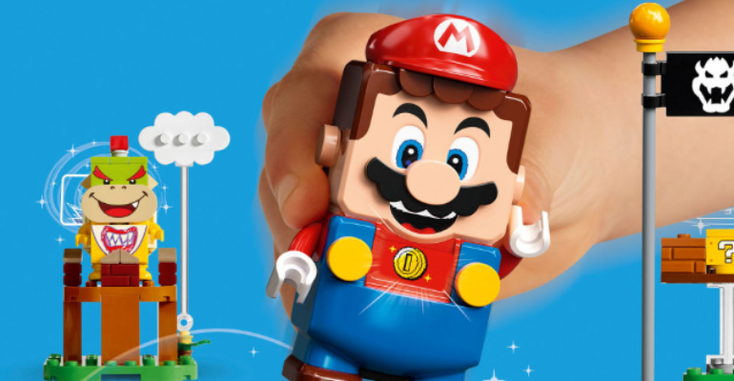 Reflecting on popular toy brands throughout the years, none stand out quite like LEGO. Today, LEGO is one of the largest, most profitable toy companies in the world. With so much success, it's easy to forget the company at one point was on the verge of bankruptcy. In 2003, LEGO was $800 million in debt. How did this household brand ever bounce back? Much can be attributed to the company's many brand collaborations. 
In 1999, LEGO made its foray into brand collaboration. That year, LEGO partnered with Lucasfilm's "Star Wars" to produce several co-branded building sets based on the original film trilogy, coinciding with the release of the fourth "Star Wars" movie, "The Phantom Menace." LEGO immediately saw strong sales of the "Star Wars" sets, but that wasn't enough to offset very weak sales of LEGO's generic building toys. In 2004, LEGO Group posted a net loss of $220 million. Mads Nipper, executive vice president, marketing, LEGO, opined back then that the company was "almost bankrupt."  
Experiencing
the clear success of the LEGO "Star Wars" brand collaboration as a toy sales driver, LEGO made the next bold move to develop a co-branded LEGO "Star Wars" video game. The company recognized that since the 1970s, video game companies had been locked in a fierce battle with traditional toy companies for the hearts, minds, and ultimate piggy-bank dollars of millions of children who were captivated by the New Age video game technology and products.  
LEGO's strategy to sell a "Star Wars"-themed video game, using LEGO bricks and miniature figures as characters, was still very risky. There were substantial upfront investment costs for the game and the grave potential to further alienate the traditional toy industry with another video game offering. At a time when toy retailers were hostile to video games, such distributors could easily have moved to stop selling LEGO products in retaliation for launching still another video game.  
LEGO realized without risk, there is no reward.  
Collaborating with game developer Travelers Tales, the first "LEGO Star Wars" video game was released in 2005 and rated "E' for "everyone." The game became a top seller and spawned six additional "Star Wars"-themed video games that have collectively achieved 50 million game sales. Considering the retail price of the latest game, "LEGO Star Wars: The Skywalker Saga," is $59.99, LEGO is the partner to a multibillion-dollar gaming franchise.
With one co-branding success sealed and delivered, LEGO moved to other successful licensed franchises like "Harry Potter." By 2012, LEGO Group had surpassed Mattel to become the world's most valuable toy company, valued at more than $14.6 billion.
LEGO's next bold co-branding Hollywood move gave rise to the most successful content commerce film of all time! In 2014, Warner Bros. and LEGO released "The LEGO Movie," a computer-animated adventure comedy about an ordinary LEGO mini-figure who is here to save the world. The boldly LEGO-branded movie received one of the most successful openings for an original animated movie. 
The Los Angeles Times
 said the film had "nearly unanimous positive reviews," reflecting its critical and commercial success for LEGO.
For those of us in the content commerce business, film critic reviews take note of our role in the ultimate project success:
"Maybe one giant advertisement, but all the way to its plastic-mat foundation, it's an earnest piece of work — a cash grab sassy enough to shoot well-aimed darts at corporate branding." – Joel Arnold, NPR
"While clearly filled with affection for — and marketing tie-ins to — the titular product that's front and center, it's also something of a sharp plastic brick flung in the eye of its corporate sponsor." – Michael O' Sullivan,
The Washington Post
"The LEGO Movie" grossed $468 million worldwide against its $60 million budget, scoring an estimated $229 million profit after marketing and distribution costs. Of greater significance, the film ranked third-highest in most profitable films of 2014. "The LEGO Movie's" success spawned creative LEGO-branded film progeny, including a sequel, "The LEGO Movie 2: The Second Part" in 2019. Other hit media were "The LEGO Batman Movie;" "The LEGO Ninjago Movie;" "The Lego Movie: 4D – A New Adventure" and the 2D animated television series "Unikitty."
LEGO co-branding opportunities go beyond movies
. 
I am fascinated by LEGO's latest brand partnership with Universal Music Group. This new collaboration involves LEGO's soon-to-be-released "Vidiyo" — a new music video maker developed by LEGO with Universal's roster of artists. According to LEGO, Vidiyo "combines new technology with the Lebo System in Play, and music from many of the world's leading artists covering multiple genres, "LEGO Vidiyo" provides an opportunity for children to express themselves creatively. By putting them in charge of their own music video productions, children can discover music and harness their passion for it through an immersive, positive, and safe social experience." Stay tuned; it will be interesting to watch the success of this synergistic co-branding opportunity on LEGO's bottom-line. 
Why have LEGO's collaborations been so successful to its growth and bottom-line? I believe every company has a unique brand position and the ability to reveal that brand and collaborate with other diverse brands excites many existing and new fan bases. The strategy certainly propelled and extended LEGO's brand into new categories of consumer products and experiences. For now, LEGO offers great lessons to companies and their professionals who are responsible for having content drive commerce.
Read more about:
Subscribe and receive the latest news from the industry.
Join 62,000+ members. Yes, it's completely free.
You May Also Like
Loading..