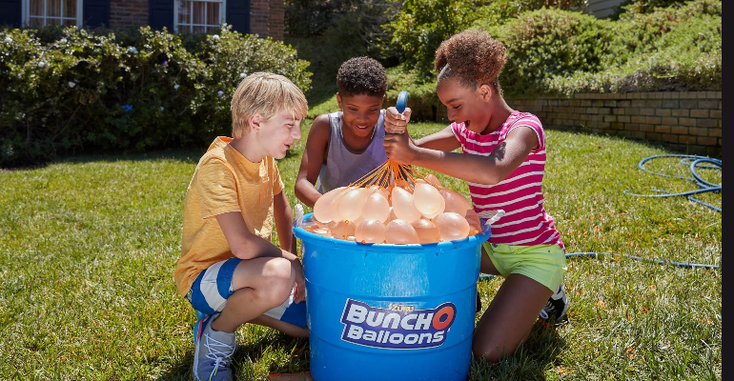 Zuru has announced a 360-degree sustainability program for its Bunch O Balloons brand, a transition from surprise plastic polybags to sustainably sourced paper surprise bags and much more.
Zuru's Bunch O Balloons program will prevent an estimated 800 tons of single-use plastic from entering the supply chain each year and enable consumers to recycle all elements of their product, no matter the local regulations. Beginning in August, the company will start to produce all Bunch O Balloons plastic stems and caps from 100 percent fully certified and traceable post-consumer-recycled plastic, material that has been in the marketplace, recycled and then sourced by Zuru to use in its manufacturing.
"The Bunch O Balloons program showcases our all-in commitment to a full-circle approach to sustainability," says Anna Mowbray, chief operating officer, Zuru. "We are changing to 100 percent recycled plastic in our manufacturing, essentially giving it a new life, rather than seeing it end up in landfills
and the ocean, as well as providing consumers easy opportunities to recycle after use."
Zuru is taking further steps across its brands to eliminate waste. By the end of the year, the company is committed to transitioning an estimated 13 million plastic polybags to sustainably sourced paper surprise bags. Where applicable to maintain product quality, the move will take place across its Rainbocorns, 5 Surprise, Smashers and the new Itty Bitty Prettys brands.
Additionally, Zuru is taking steps to evolve product packaging. The Sparkle Girlz brand will move toward integrating more plastic blister-free packaging across the range.
"Earth Day is every day for our amazing team at Zuru," says Mowbray. "We challenge ourselves to rethink, reduce and recycle in all aspects of our business. From day-to-day operations, to leading the change in our industry and encouraging our customers to do their part in making a long-lasting impact."
Subscribe and receive the latest news from the industry.
Join 62,000+ members. Yes, it's completely free.
You May Also Like
Loading..