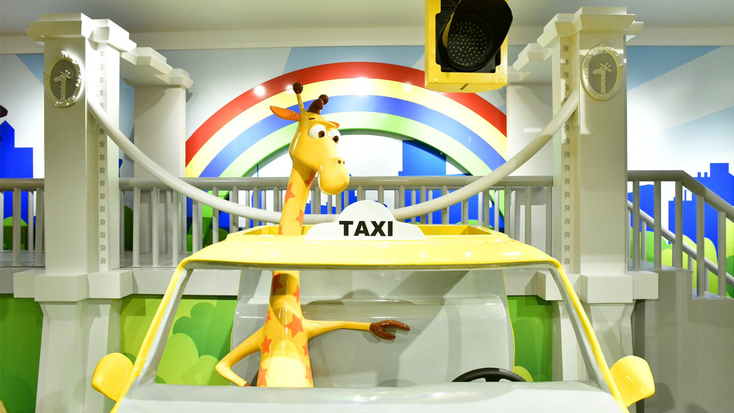 At A Glance
Learn about WHP Global's expectations for the 2022 holiday season.

Read how the company brought the beloved Toys"R"Us to Macy's across the U.S.

Find out more about long-range plans to take the brand even further globally.
When
filed for bankruptcy in 2017 and shuttered its last two U.S. stores in 2019, it felt like the end of an era for countless "Toys"R"Us kids." While the brand hung in there in certain foreign markets it made a few fruitless U.S. comeback attempts; but it wasn't until August 2021, when License Global shared that
had announced a partnership with WHP Global to bring together Macy's and Toys"R"Us. Just in time for the 2021 holiday season, customers were able to shop at Toys"R"Us through an expansive assortment online at Macys.com/toysrus and could look forward to Toys"R"Us shop-in-shops rolling out at Macy's stores nationwide. That magical Toyland dream came true in a big way this year. Yehuda Shmidman, chairman and chief executive officer, WHP Global and Toys"R"Us, spoke to License Global about the return of the toy store and what the future holds.
"The partnership that we have with Toys"R"Us and Macy's is transformational for us, for them and just for the toy market in general,"
says Shmidman. "We all lived through the period of time when Toys"R"Us went away in the U.S., but what's perhaps even more interesting than that is this idea of, 'How do you bring back Toys"R"Us to America?'"
Shmidman says that after
bought the brand, data showed that people were asking, "Hey, when will you bring Toys"R"Us back?" The original plan was to open 400 Toys"R"Us stores inside Macy's locations.
"We knew that would take several years," he says. "But then something happened, which is we launched Toys"R"Us on Macy's.com last holiday season and the results were way above plan. At first, toy sales at Macy's doubled with the introduction of Toys"R"Us, then they tripled."
Shmidman adds that toy sales at Macy's went up 15x from the prior year.
"The results were outstanding," says Shmidman. "Because of that, we decided together to accelerate all the plans and even expand the plan."
The Macy's Plan: "Go Big."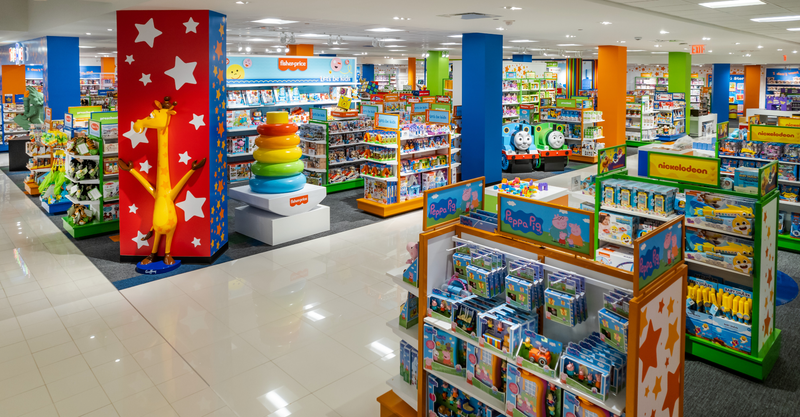 A bold, accelerated plan was conceived: rather than undertaking a process of opening hundreds of Toys"R"Us stores over a stretch of time, all of them would debut this year in time for the holiday season. No small feat – this sort of endeavor would require everyone working together with a sense of urgency.
"And that's been accomplished, Toys"R"Us is open inside every Macy's in America," says Shmidman. "And it was an expanded plan because initially it was 400 stores and now it is all stores, which is just over 450. We have several flagships, including the flagship in New York at 34th Street."
The company has great expectations for the 2022 holiday season. Obviously, all the Toys"R"Us shops will offer a wide assortment of today's hottest toys. In September, Macy's released Geoffrey's 2022 Hot Toy List.
"We did mail out a catalog to a very wide audience across America with our Geoffrey's Hot Toy List and it's published digitally as well," says Shmidman. "There are over a hundred hot toys there, with great toys from the favorite brands, from
, from
, from
and others. But we also have exclusives from our brands that we own. For example, Imaginarium is a brand that we own, so you'll see those products exclusively. But we've also made some deals with some interesting content creators such as entrepreneur, Gary Vaynerchuk."
Vaynerchuk's VeeFriends launched a limited series of collectibles exclusively at Macy's and Toys"R"Us in October.
Aisles of Smiles
When a company does business creating joy for kids for close to 70 years, there's an inevitable sense of nostalgia for consumers who roamed the toy aisles as wide-eyed kids and later as grown-ups shopping there for their little ones. That certainly holds true for Toys"R"Us, and it's one of the factors that Shmidman attributes to the brand's successful comeback. He points to the company's founder, Charles Lazarus, as a "genius" who brought us the distinctive bubble font logo with the backward "R" and the infectious marketing jingle, "I Don't Wanna Grow Up."
"We also found that everybody had these memories," adds Shmidman. "For me, I remember walking in there as a kid and looking up and down the aisles and thinking, 'I literally didn't know there were these many toys in the world.' It was just a fantasy. We're trying to really bring that happiness back and we're feeling it in a big way. It's super exciting. If you go into the Toys"R"Us inside of Macy's and just watch families shopping, you see the parents who were Toys"R"Us kids conveying that feeling to their kids, to the next generation."
A prominent part of that nostalgia is Geoffrey the Giraffe. Introduced in 1969, the popular mascot is back in the stores too. Shoppers can find the Geoffrey Plush in a variety of sizes and versions. There's also a collaboration with
for a limited-edition Funko Geoffrey.
"We're dialing deep in the nostalgia because that is so key," says Shmidman. "Jeff Gennette, chief executive officer, Macy's, came out publicly and said, in his mind, there is not a millennial parent in America who is not a Toys"R"Us kid."
A Location-Based Experience
Shmidman says there's a second part to the successful revival of the brand: delivering an immersive shopping experience.
"Toys"R"Us is the global authority on toys," he says. "If you want to browse, if you want experience, and of course, that has to be delivered in an omnichannel way. But when you come into our store, you'll see that our setup is very playful, it's very experiential. There are still a lot of toys to buy, but the interactivity for families is really something unique in the industry."
Shmidman says there are many avenues to buy toys for people who know exactly what they want. But he believes a lot of people prefer a shopping-in-store experience that is embodied in Toys"R"Us. He adds that if you want to browse for the perfect item, " … you've got to go into an environment that is the industry-accepted standard for toys and that is only Toys"R"Us on a global basis." Shmidman backs up his brand's "global" status statement, pointing to the almost 1,500 Toys"R"Us stores open around the world, with locations from Tokyo and Barcelona to Dubai, Shanghai and Tel Aviv.
"We have stores across Asia, the Middle East, Europe and Canada. Most of the stores never went away, even during the restructuring – the U.S. stores went away and some other stores around the world went away. But others never closed and many of those stores have been open 20 or 30 years."
World Domination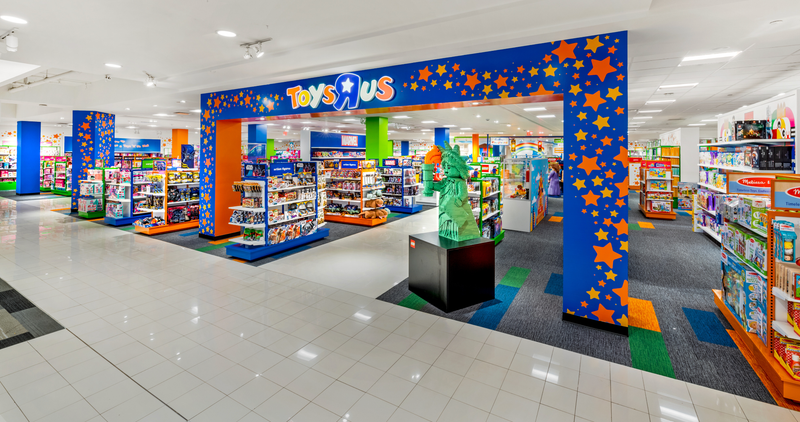 Shmidman says there are long-range plans to take the brand even further globally.
"When we bought the business, the priority was how to bring back Toys"R"Us in the United States," says Shmidman. "We considered all sorts of options before we landed on the strategy we have today, the Macy's national strategy as well as the flagship at American Dream. But we've also thought about other parts of the world where we could expand, because even though we're in many countries, we're not in all. We've formed several partnerships already."
In January, WHP Global announced they had signed an exclusive long-term license agreement with Ragabesh & Co. to bring the Babies"R"Us brand to Brazil for the first time. In October, the company announced the return of Toys"R"Us to the U.K. with the launch of digital flagship e-commerce websites.
"We have put together a new partnership in Spain and Portugal with Prénatal," says Shmidman. "We also put together a new partnership with Flipkart in India. We are also exploring some new ideas. For example, we're looking at airport stores. We're looking at parts of Latin America where we're not yet. We're looking in Mexico, we're looking at Central America. There are several new areas, geographically, where we believe Toys"R"Us is a natural fit."
Although right now, WHP Global is fully focused on the Macy's execution, making sure this holiday is fantastic.
"Expect us to look at more flagships in the U.S. that are standalone, that will complement the 10 flagships that we have at Macy's," says Shmidman.
Factoring in NFTs and Web3
In 2021, WHP Global partnered with authenticated
platform, Ethernity, to bring the toy brand to the blockchain with the release of its first non-fungible token collection featuring Geoffrey the Giraffe. Shmidman says a new series of NFTs is underway, and an announcement by year end.
"We're looking at all sorts of executions within
including digital collectibles and the metaverse – we're very excited about that," says Shmidman. "One thing that we believe is clear is that Macy's has a winning team with a winning strategy. Toys"R"Us is back, and it's back in mega ways. This is big news. It's great news honestly, for the vendor community; it's great news for consumers; it's great news for Macy's; it's great news for us. It's great news for everybody."
Read more about:
Subscribe and receive the latest news from the industry.
Join 62,000+ members. Yes, it's completely free.
You May Also Like
Loading..