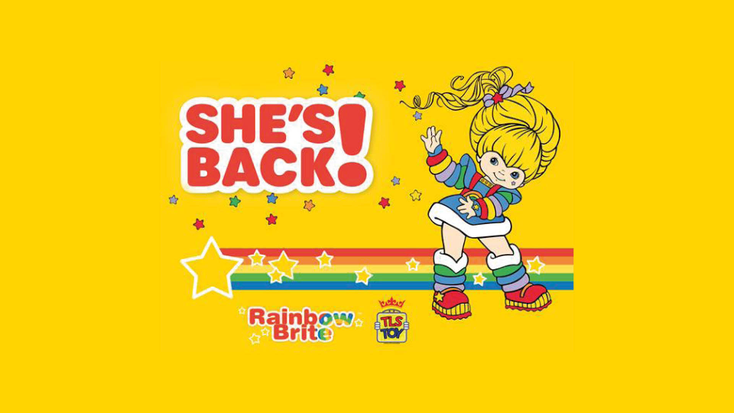 Rainbow Brite promotional image
The Loyal Subject
The Loyal Subjects
Toy (TLS Toy), which produces high-quality collectibles and toys, has announced a new licensing agreement with
, featuring one of pop culture's most successful, uplifting, and inspiring brands, Rainbow Brite.
First introduced in the '80s by Hallmark, Rainbow Brite is a character franchise that has brought color and imagination to children for generations. Rainbow Brite's stylings and characteristics have propelled this brand into the pantheon of pop culture characters, stories and inventions. Armed with a magical color belt and a host of friends, Rainbow Brite introduced generations of children to colorful and imaginative adventures in Rainbow Land.  
The Loyal Subjects has developed a new classic Rainbow Brite product line that will include traditional play patterns, such as hair and fashion play, infused with Rainbow Brite's attributes of kindness, courage and optimism.  
The new Rainbow Brite collection will feature various products such as:
5.5" Rainbow Brite Articulated Fashion Doll

 – The 5.5" articulated doll will feature five characters including Rainbow Brite, LaLa Orange, Patty O'Greene, Tickled Pink and Stormy.  Each doll will include multiple blind accessories and a collectible Rainbow Brite coloring book. 

18" Rainbow Brite Plush Doll

 – The new Rainbow Brite plush doll is a callback to the classic Rainbow Brite doll with high-quality production, featuring the same soft body, yarn hair, and iconic fashion. Also included is a collectible/wearable charm bracelet and a coloring book featuring iconic Rainbow Brite artwork and illustrations.

18" Talking Deluxe Rainbow Brite Doll 

– Introducing a fresh take on the classic Rainbow Brite, this doll features heartwarming character sayings and LED light-up stars on the doll's belt triggered by an RFID wearable charm bracelet.

12" Rainbow Brite Doll

 – Introducing the 12" Rainbow Brite doll, featuring the quintessential yarn hair, soft body and fashion that fans know. Available in multiple characters, including Rainbow Brite, Tickled Pink, Lala Orange and Stormy, these dolls come with a surprise charm to add to your Rainbow Brite bracelet collection and other collectible accessories. 

3" Rainbow Brite Collectible Figures 

– A range of multiple iconic characters from the world of Rainbow Brite, collectors will be eager to complete their collection with limited edition figures such as the metallic Rainbow Brite and the glow-in-the-dark Twink.
"I'm incredibly thrilled
to work with Hallmark on the fan-favorite Rainbow Brite brand," says Jonathan Cathey, chief executive officer, founder, The Loyal Subjects.  "I loved the stories as a kid, I loved the products, I loved the incredible joy it still brings people.  When I mentioned to some of our partners that we were working on Rainbow Brite, I heard audible shrieks of joy. Not sure we've ever worked on a brand that incited such a visceral, positive response. I can't wait to bring the Rainbow Brite Brand and the products to retail, I know it's going to be a HUGE success, and most importantly, create new unforgettable memories and experiences with Rainbow Brite for customers of all ages." 
"We're excited to enter Rainbow Brite's fifth decade by partnering with a toy brand as skilled and dedicated as The Loyal Subjects," says Stacey Howe, vice president, global licensing and business development, Hallmark. "We've been impressed with the team's knowledge and dedication to the brand, and they have created an impressive product line that keeps true to Rainbow Brite's retro aesthetic while making use of updated materials and technology that will appeal to nostalgic collectors and the next generation alike."
The new Rainbow Brite classic collections will launch initially on Amazon and start hitting retail in late fall.  A sneak peek of the 5.5" Rainbow Brite Articulated Fashion Doll will be available at this summer's San Diego Comic-Con at The Loyal Subjects booth. The licensing agency for Hallmark, Earthbound Brands, brokered the deal.
Read more about:
Subscribe and receive the latest news from the industry.
Join 62,000+ members. Yes, it's completely free.
You May Also Like
Loading..