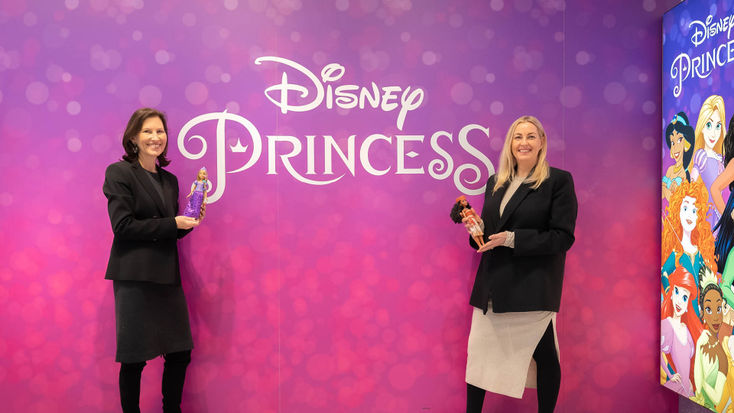 Lisa McKnight (Left) and Claire Terry with Disney Princess Dolls
Mattel x Disney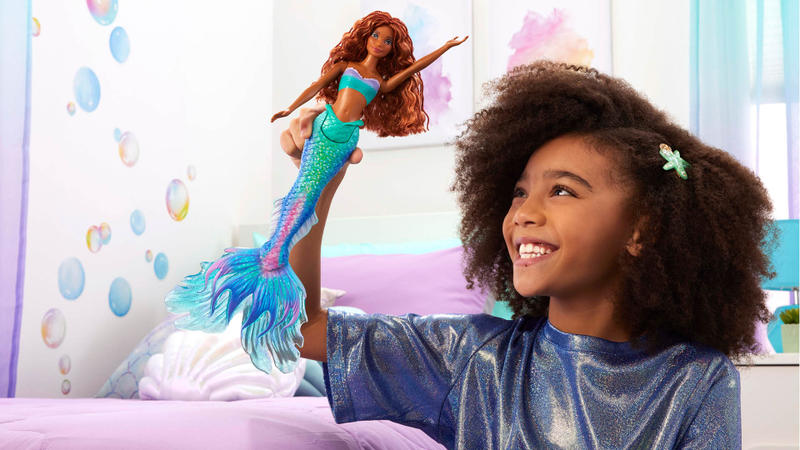 Mermaid Ariel Doll, Mattel
Ahead of launch of Mermaid Ariel, License Global spoke to Mattel's Lisa McKnight and Disney's Claire Terry about the thought process behind the partnership and what's coming in the collaboration. 
License Global: Mattel and Disney have a renewed partnership. As experts in the kids' space, what are the core trends driving that renewed partnership that you're hoping to build on?
Lisa McKnight:
Doll play is a universal and beloved play pattern that endures. Having invented the fashion doll category, we believe nobody does dolls better than Mattel because we are driven by innovation. 
We're incredibly proud to welcome back the Disney Princess and Disney "Frozen" lines to Mattel. The line delivers on consumer kid's
insights on what they want, including more animal friends and sidekicks, reveal innovation, castles, and vehicles, hair play and color change, and expanded storytelling opportunities in both fashion and small doll categories.  
The innovation in the Disney Princess Royal Color Reveal and Disney "Frozen" Snow Color Reveal is a great example of this. Both truly demonstrate the appeal for new, trend-based reveal formats and have consistently ranked in our top five performing Disney Princess and Disney "Frozen" items since launch." 
Claire Terry:
We are excited to further our collaboration with Mattel and continue the evolution of Disney Princess. We know that Disney Princess and "Frozen" storytelling continues to ignite the imaginations of families and fans around the world. 
Disney research shows that Princess remains the number one play pattern among Early Girls (preschool) in the G5. We know that kids want to play with the full 'world' of the character, for example, Rapunzel's tower, or Moana's boat, plus their animal friends and sidekicks such as Princess Jasmine and Rajah, or Elsa and the Water Nokk ready to adventure beyond Arendelle, so we are delighted that we can offer that through this collaboration! 
The Disney Princess line is just one of the latest launches to be announced in the collaboration. How is this an important step in the legacy of the Disney Princess brand?
Lisa McKnight:
The all-new line from Mattel celebrates the magical adventures of Disney Princess and Disney "Frozen" with unrelenting attention to detail, incredible execution and fresh thinking, bringing iconic characters and stories to life through rich systems of play that spark imagination. We are reimagining the princesses for new generations, we're elevating the line to make it true to film with authentic features, and of course add our experience and expertise in dolls. It's an honor to do that with the team at Disney. 
Claire Terry:
Disney princesses continue to appeal to kids and families today – their characteristics of courage and kindness, as well as their sense of adventure make them compelling heroes. We have included more princesses than before in this range (more than 15 in total), with characters such as "Raya and the Last Dragon" added to the line-up. It is also an exciting year for Disney Princess, with new content coming across theatre, Disney+, Disney Junior and online. 
The dolls are very reflective of their animated counterparts with true-to-life facial features, for example. How does that impact the engagement of kids and collectors when at retail or during play? 
Lisa McKnight:
Hugely! Children want to connect with the beloved characters. The full Disney Princess and Disney "Frozen" collections include a wide range of dolls in fashion and small doll and accessories that allow children to let their imaginations wander – with even more animal friends and sidekicks, vehicles, castles, and more for kids to play out favorite moments from these adored characters and stories, such as Rapunzel and her tower. 
Claire Terry:
The development of the princesses and the desire to make them look as close as possible to the characters that kids see on screen is incredibly important. When kids go with their families to buy a doll, they want it to be instantly recognizable – that is important for them when they play with the doll at home and the relationship they build with her. It is also crucial for our retailers – we want to be providing them with immediately identifiable products that families and fans already have a connection with.  
Finally, it is critical that the dolls reflect the true diversity of our characters that we know families love. It is extremely powerful for a child to see a character that looks like them on screen and for it to be accurately represented in product they can hold.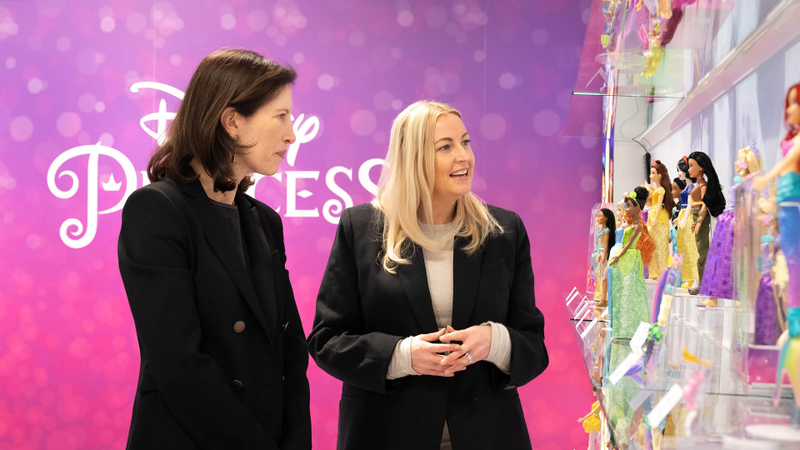 Lisa McKnight (Left) and Claire Terry looking at the Mattel x Disney Princess Doll lines
How are the Disney Princesses an aspirational part of a young child's life, whether through the movies/shows or new doll lines? 
Lisa McKnight:
Together these beloved brands – sharing similar missions to spark a child's imagination and wonder – are encouraging more magical adventures through storytelling, and helping children realize their full potential through relatable and empowered heroines. This is why the attention to detail is so important. There is so much effort we have put into the hair play, face sculpt, body types and diversity of characters in the line, which makes this such an authentic experience true to the animation in Disney's films. 
Claire Terry:
The empowering attributes of our princesses continue to be relevant to kids and families today. We know that they love them for their inspiring stories of courage and kindness, and their sense of adventure. Research has shown that kindness is one of the first lessons that parents teach their kids and the power of our stories and characters have genuine influence and impact. 
By adding more princesses to this line, we hope that more children identify qualities in these characters that resonate with them, such as Mulan's strength, determination and compassion, or Princess Tiana's resilience, tenacity and ambition. 
What are you planning for the future of this partnership over the coming years? 
Lisa McKnight:
There is lots more to come. We treat Disney IP as if it was our own, everything is very collaborative. The Disney dolls line from Mattel will also include unique collector offerings for adult fans that will celebrate the Disney Princess and Disney "Frozen" characters in a new way with premium offerings to expand every fan's collection. 
Together, Mattel and Disney will also bring the Disney Villains out of the shadows with a curated collection of premium dolls, capturing these mischievous characters in a new light. 
We are also honored to be partnering with Disney to create the line for "The Little Mermaid," staring Halle Bailey. This film is sure to be a stunning cinematic experience and we couldn't be more thrilled to expand film storytelling with a doll line that accompanies the theatrical release. 
Claire Terry:
We want to continue to offer the Disney Princess and "Frozen" worlds that our characters live in and look forward to seeing more of the innovative thinking Mattel brings. We have new content for families and fans in theatres, Disney+, Disney Junior and online, so there will be more opportunities to further reinvigorate our Princess brand. 
"Plus, we have some exciting news to come soon linked to "The Little Mermaid Live Action" remake, so we will be sharing more on that in the coming weeks." 
Mermaid Ariel will be featured in "The Wonder of Play," a new Disney100 campaign which builds on research from Mattel indicating that 80% of parents understand the importance of play for their children, but three in five have forgotten how to play, and 42% don't think there are enough resources to help create imaginative play. With Wonder of Play, Disney aims to inspire and encourage families to play together. 
Read more about:
Subscribe and receive the latest news from the industry.
Join 62,000+ members. Yes, it's completely free.
You May Also Like
Loading..