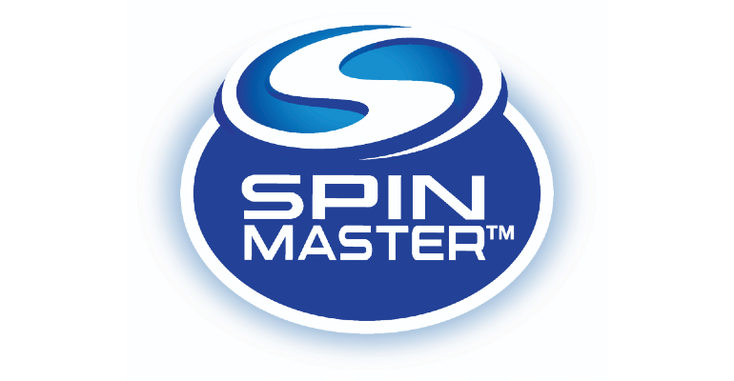 This article originally appeared in the Feb. 2020 issue of License Global Magazine. You can read more great content from the issue
here
.
A Hollywood scriptwriter couldn't dream up a more inspiring tale than the real-life story behind global children's entertainment powerhouse Spin Master. In just roughly three decades since its inception, Spin Master is firmly poised to conquer the toy industry throne as one of the top seeds among kids' entertainment mainstays that have dominated the space for decades.
If the past is any indication of the future, Spin Master is on pace to expand exponentially, outpacing the growth of legacy toy-industry giants and even surpassing purely-entertainment-focused companies. With a bevy of world-renowned flagship properties, nine television series, countless award-winning toy products, a behemoth licensing roster, key business acquisitions and an elite team of executives leading a host of offices across the globe – Spin Master is a study of entrepreneurship and business acumen.
Of course, the Toronto, Canada-headquartered billion-dollar public company is where it is today thanks to a series of pivotal
licensing wins that any company, serving any product category, could benefit to learn from. The phenomenal story behind the company that introduced brands like "PAW Patrol," Bakugan and Hatchimals, to name just a few, began humbly in 1994.
Planting the Seeds for Success
Soon after graduating from The University of Western Ontario, childhood friends Ronnen Harary and Anton Rabie founded Spin Master. With their own investment of $10,000, Harary and Rabie launched Spin Master's very first product: Earth Buddy, a nylon stocking-covered head of sawdust coated with grass seeds that sprouted to emulate hair (à la Chia Pet). The duo sold the item on the street and eventually got product into specialty retailers, garnering enough success to expand their operation into a small facility in Downtown Toronto.
The next big win came in 1998, when Spin Master launched its popular Air Hogs brand, a technologically advanced, affordable product with a miniature engine and remote-control operation. The success of the product propelled Spin Master to expand into other regions.
Between 2002-2007, Spin Master grew its international footprint and opened offices in Western Europe as well as an innovation hub in Los Angeles, Calif. The growth continued as Spin Master made its first pivotal purchase– acquiring X-Concepts, the maker of Tech Deck.
And then came the birth of one of its superstar properties.
Capturing the Spotlight
In 2007, Spin Master created its most successful product up to that point – Bakugan. Beginning as a sketch of a ball that would open to reveal a character inside, Bakugan exploded into popularity, quickly becoming a hit brand among boys ages 5-10 and went on to be the subject of a global animated television series, marking Spin Master's foray into content production. With the boys segment locked in and bringing the. company even further financial growth, Spin Master then astutely focused eff orts to target girls, creating a new property, Zoobles.
"Innovation, not only innovation in our products, entertainment and brands but also in our business approach, makes Spin Master unique," says Juli Boylan, vice president, franchise development and outbound licensing, Spin Master. "We are constantly scouring for new and unique opportunities. We have an entrepreneurial spirit, so we are relentlessly thinking outside of the box."
By taking the Bakugan brand from a germ of an idea to a hit product and then to a popular animated series, Spin Master became the toy company to watch.
"What started as an inventor's sketch on a napkin led to a worldwide success, validating Spin Master's tenets of partnership, integrity and entrepreneurial spirit," says Jennifer Dodge, senior vice president, entertainment, Spin Master. "From the original idea to the team of partners assembled to bring the show to life, it epitomized Spin Master's long-held commitment to innovation. Spin Master grew exponentially during the during the four-to-five years that Bakugan was at its prime."
Acquiring New Heights
Perched on the back of Bakugan's immense success, Spin Master was able to make a series of key acquisitions that elevated the company to another level.
"Strategic acquisitions have propelled Spin Master's innovation into new categories, strengthening existing business and creating new opportunities for growth," says Boylan. "These acquisitions have further reinforced Spin Master's position as licensor and licensee."
The acquisition of Spy Gear expanded Spin Master's portfolio of boys' action and outdoor toys. Acquiring Meccano brought Spin Master into the building sets category. Buying Cardinal Games made Spin Master a leading manufacturer in the games and puzzles category in North America. Other key acquisitions include GUND, Etch A Sketch, Toca Boca/Sago Mini, Swimways, Marbles, Aerobie and Perplexus.
"The acquisition of Toca Boca and Sago Mini, with their strong brand presence, allowed Spin Master to develop a leadership position in the mobile app space for kids, rounding out our ability to entertain kids in both the physical and digital world," adds Boylan.
Stealing the Show
Spin Master launched its entertainment division in 2008 in an effort to create cross-platform children's content that would complement its expansive toy offering. Since then, the division has produced more than 200 half-hours of kids' programming for television, film and the web – including one wildly popular series about a group of special dogs.
In 2014, Spin Master launched "PAW Patrol," its first fully in-house developed multi-platform property. The CGI-animated series, airing on Nickelodeon, and its accompanying toy line, is arguably one of Spin Master's biggest wins. Led by 10-year-old Ryder, a group of heroic pups – Chase, Marshall, Rocky, Rubble, Skye, Everest, Zuma and Tracker – embark on various brave missions to help those in need.
"Storytelling and characters are at the heart of everything that we do, whether it's entertainment or toy," says Dodge. "Spin Master's deep understanding of play gives a unique perspective and insight that helps to create story worlds and toys that resonate with children and elicit that 'wow' moment. We are known for our innovation and commitment to high quality with meticulous attention to detail that results in experiences that capture the hearts and minds of global audiences, whether on screen or through physical play."
Since their debut, the "PAW Patrol" pups have gone on to capture the hearts of kids across the globe. "'PAW Patrol' is now an evergreen global franchise that airs in more than 160 countries, consistently ranking as one of, if not the No. 1-rated preschool series," adds Dodge. The runaway success of "PAW Patrol" was pivotal to Spin Master's remarkable journey, adding handsomely to the company's expansion and, ultimately, its ability to go public in July 2015.
Securing the Throne
Serving as the backbone, pulse and heartbeat that pumps life into Spin Master's continual growth is its award-winning licensing program. Spin Master is both a licensor and a licensee with a track record of securing best-in-class partnerships that consistently win at retail.
"In addition to valuable owned IP, Spin Master continues to attract a highly sought-after portfolio of licensed products, most recently a 10-year partnership with Feld Entertainment for Monster Jam (worldwide master toy partner), a three-year license partnership with DC (boys' action category) and securing the master toy rights for DreamWorks Animation's new preschool series 'Gabby's Dollhouse,'" says Boylan.
Spin Master's impressive and dynamic licensing program kicked off with Hatchimals.
"Hatchimals was a genuine phenomenon when it was released in October 2016," says Boylan. "We could never have predicted the success we would see at launch. To be sold out well before the holidays, with as much buzz as it had, shook up the industry a bit – that a non-licensed, new toy brand could achieve so much, so quickly. This got us a lot of attention from potential licensees, who began pitching us as quickly as we began pitching them."
Spin Master secured deals for Hatchimals across several product categories.
"We capitalized on the excitement around the initial launch, and in 2017, we signed more than 50 Hatchimals product license agreements," says Boylan. "Among the initial categories was publishing, which was very important to us right from the start. We were so lucky to partner with the amazing teams at Penguin Random House to build out the lore of Hatchtopia. Back-to-school also really drove our initial offerings. We wanted to launch with the right assortment of products for that time of year: apparel, backpacks, lunch bags, hosiery, stationery, etc., so that we could be as relevant as possible, as soon as possible."
Today, Spin Master has hundreds of partners delivering product all across the world. Spin Master licensed products cover major categories including toys, apparel, accessories, stationery, home, back-to-school, youth electronics, sporting goods and publishing. According to Boylan, Spin Master will focus future eff orts on corporate partnerships and the "better-for-you" food and beverage category.
Some of the company's most notable recent partners include retailer H&M, which launched a "Toca Life"-themed collection of apparel and accessories that was so successful, it inspired a new line planned for release later this year. Other major partners include Tastemakers (backpack clip-ons), Sakar (youth electronics), Flix Candy (confectionery), Immediate Media (magazines in the U.K.) and Showtime Attractions (live events in Australia), among many others.
Spin Master has also strategically tapped into consumers' love for nostalgia by deploying comprehensive programs around its acquired classic legacy brands. "Spin Master has built a reputation for acquiring legacy brands and infusing them with unexpected innovation while also leveraging their licensing potential; for example, Etch A Sketch," says Boylan. "This year marks an exciting milestone for the classic red-framed drawing toy, as it marks its 60th anniversary. To celebrate the original magic screen, the Etch A Sketch brand has teamed up with other iconic brands to unveil a series of limited-edition launches inspired by the classic board game Monopoly, space exploration leader NASA, heritage toy Rubik's and comic book marvel Stan Lee. Each will have their own limited-edition Etch A Sketch drawing toy, merging two iconic worlds into one magic, shake-to-erase collector's item."
The remarkable 2019 revival of the Bakugan brand is also raking in licensing gold.
"We have also launched our global licensing efforts for Bakugan, building on the brand's rich heritage and adapting to a new generation of fans," says Boylan. "Spin Master is managing sales in the U.S. and has appointed Nelvana to manage Canada and France, CPLG for the U.K. and EMEA (excluding France), Tycoon for Latin America (excluding Mexico), La Panadería for Mexico and Haven for Australia/New Zealand. The licensing program leverages the key attributes of the brand – battling, gaming and collectability with a style guide based on anime-styled art."
Spin Master is also wisely flexing its licensee muscle, picking up powerhouse partners each step of the way.
"From a licensee perspective, within one year of the 2018 acquisition of premium plush legacy brand GUND, Spin Master secured the fi rst licensee rights for 'Hilda,' Silvergate's new Netflix animated-adventure TV series, and Line Friends, one of the fastest-growing global character brands in the world," adds Boylan.
GUND's trusted 120-year legacy is a draw for hugely successful brands, creating the ultimate collaboration to bring beloved characters and personalities to life. A great example of this is Doug the Pug, the most-followed pug on the internet with more than 13 million collective followers. GUND will be expanding its collection of the internet superstar, revealing items at New York Toy Fair this month, as well as a special appearance by the top dog himself. Spin Master's largest market is North America. It leverages the help of licensing agencies to further expand in other regions.  Agencies include CPLG (U.K. and EMEA), Tycoon (Latin America), Haven (Australia) and Segal Licensing (Canada).
Winning Recognition
Innovation is coded deeply within the DNA of Spin Master. The company tops the list of Innovative Toy of the Year Award nominations. Spin Master has won 30 TOTY Awards and has been nominated for 110 TOTY Awards. It received a whopping seven nominations for the 2020 TOTY Awards, which reveals winners on Feb. 21. This year's nominations include License of the Year ("PAW Patrol" Mighty Pups Super PAWs), Action Figure of the Year (Bakugan Dragonoid Maximus), Vehicle Toy of the Year (Monster Jam MEGA Grave Digger Remote Control), Creative Toy of the Year (Cool Maker Go Glam Nail Stamper), Doll of the Year (Candylocks basic doll), Construction Toy of the Year (Erector by Meccano and inventor set) and Intro to Robotics and Preschool Toy of the Year (Demo Duke).
The Saga Continues
"Evergreen global properties including preschool powerhouse 'PAW Patrol,' relaunched global battling phenomenon Bakugan and the magic of Hatchimals have established Spin Master as a leader in content creation, toy development and franchise-building," says Boylan.
Spin Master is a bonafide leader in business – with a winning strategy of leaning heavily on creativity.
"As creators, designers and manufacturers of innovative toys and games as well as producers of successful entertainment properties, Spin Master's focus is on pushing the boundaries of innovation, creativity and fun," adds Boylan.
With a laser-sharp focus on innovation, agility and growth, Spin Master's innumerable victories achieved over the span of nearly three-decades will continue in 2020 and beyond. The epic story of Spin Master has no end in sight. The rest is still unwritten.
Read more about:
Subscribe and receive the latest news from the industry.
Join 62,000+ members. Yes, it's completely free.
You May Also Like
Loading..