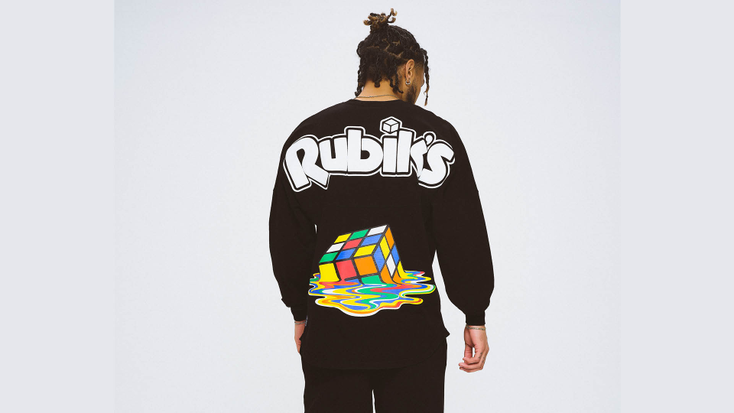 A shirt from the limited-edition collaboration between Spirit Jersey and Rubik's Cube.
Spin Master
At A Glance
"Rubble & Crew," the "PAW Patrol" spinoff

Building out a multiplatform franchise experience

Looking ahead for Spin Master
Spin Master
is more than just a toy brand; it is a monolithic entertainment company, connecting kids to multiple levels of play. From action figures and plush, to television and movies, Spin Master has got it all. One of the company's most well-known brands is "
," celebrating its
this summer. Since its launch in 2013, the brand has extended to a full-blown franchise.  
"With 'PAW Patrol,' we have taken a franchise approach to developing the brand," says Jennifer Dodge, president, entertainment, Spin Master. "We're constantly introducing new fresh themes, coupled with specials and more recently our first feature film – all of which allow fans to discover and take part in our stories in new ways. This approach helps foster engagement with our current audience base and also attracts new kids inviting them into the larger 'PAW Patrol' universe."  
"PAW Patrol's" success has resulted in a hefty consumer products program, multiple films (one of which is in the works and
is set to release this fall, but we'll get to that later) and a spinoff series.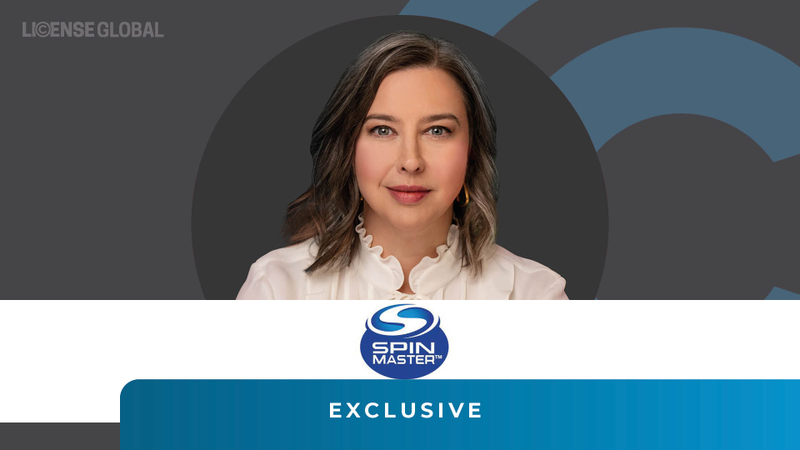 Jennifer Dodge, Spin Master
"Rubble & Crew"
"'Rubble & Crew,' is our first 'PAW Patrol' spinoff," says Dodge. "We knew Rubble was one of the most loveable pups in the 'PAW Patrol' crew. With Rubble, we saw an opportunity to tell different stories, rooted in the classic play pattern of construction. The series opens up a new world and follows not only Rubble, but also his family, as they launch their very own construction company. It gives us a great way to layer in family dynamics and create new characters for fans to engage with.  
"Our partners at Paramount loved the concept, saw the potential for 'Rubble & Crew' and together we debuted the series in February," she continues. "So far kids are loving it! 'Rubble & Crew' is one of Nickelodeon's biggest preschool launches this year to date and closed February as the No. 1 preschool series across all TV for kids ages 2 to 5."  
Much like with "PAW Patrol," consumers were demanding merchandise for "Rubble & Crew," and Spin Master is delivering.  
"We launched a limited collection of 'Rubble & Crew' toys in March and have plans to fully roll out the line in August 2023," says Dodge. "The design team has done an amazing job with the toys, bridging show to shelf and leveraging construction elements that cater to a slightly younger demographic than the traditional 'PAW' toys."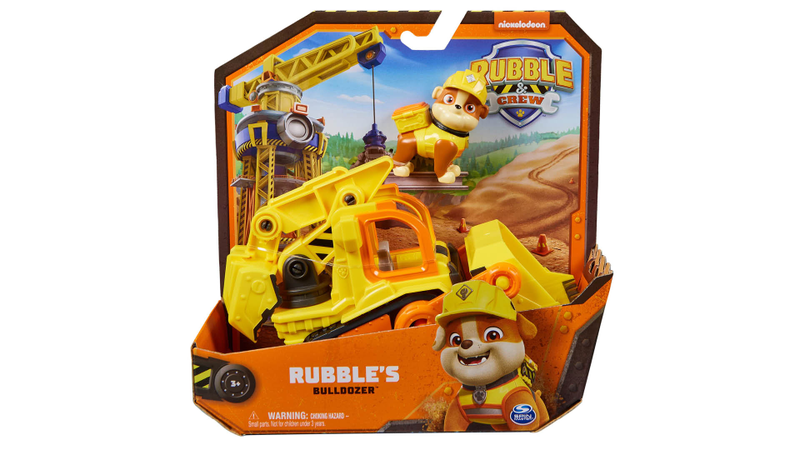 "Rubble Crew" Rubble's Bulldozer set.
"Unicorn Academy"
New properties are also making waves at Spin Master. Back in March, the company announced the debut of the fantasy-adventure children's franchise, "Unicorn Academy." The franchise includes a Netflix-original animated series produced by Spin Master Entertainment, a 72-minute movie premiere event and episodic content slated for release this fall, followed by a toy line, digital game and wide licensed consumer product rollout in 2024.  
"'Unicorn Academy' is a fantasy-adventure animated series that is designed to appeal to 6- to 9-year-olds, but with the trend toward more co-viewing, we believe it is a series that can be enjoyed together by kids and their families," says Dodge. "It's really unlike any series that we have ever created. Set in an enchanting world of magic and mystery, the series features world-class animation, a cinematic score and irresistible songs that will captivate all audiences."  
Building out a multiplatform franchise experience, Spin Master Entertainment has content planned through 2025, with more than 250 minutes of short- and long-form content produced to date, including original shorts and music videos.  
"'Unicorn Academy' is truly a global franchise and will launch on Netflix in 190 countries in 30 different languages," says Dodge. "As we think about our storytelling, we want to meet children where they are and that means creating content that can live on multiple platforms. With Netflix as our partner, we believe 'Unicorn Academy' can reach a whole-new set of kids and families and create a new fandom for the franchise."  
Spin Master's new franchise will release toys, digital games and publishing for its core demographic. The company announced licensing agent, The Point.1888, will handle product extensions for the brand in the U.K. Spin Master is working on appointing licensing partners in markets including France, Germany, Canada, Australia and ultimately pan-regional Europe and pan-regional LATAM over the course of the next six months.
Additionally, Nosy Crow was named publisher of the official companion title for the series, and more deals are currently under review.  
"The companion title will be a fantasy adventure story for age six and above readers," says Dodge. "It's fitting as we first discovered the story and adapted the series from The New York Times best-selling books published by Nosy Crow, written by Julie Sykes and published in North America by
.  
Outside partners are part of Spin Master's plans, but in-house products can also be expected for "Unicorn Academy."  
"We also have plans to bring 'Unicorn Academy' to life across all Spin Master major toy categories including GUND plush, board games and toys in 2024."  
This year has already shaped out to be a huge one for Spin Master and the momentum is gaining. All its properties have something brewing.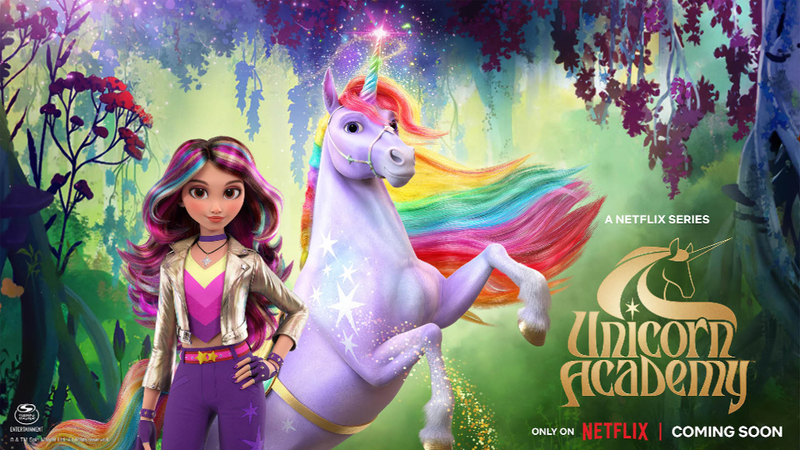 "Unicorn Academy" promotional poster, Spin Master
Looking ahead for Spin Master
"2023 is a big year for Spin Master Entertainment," says Dodge. "[We are also] debuting our new preschool series, 'Vida the Vet,' and we have a revamped version of 'Bakugan,' our anime property, including a whole-new visual look for the show.  
"We're continuing to expand our 'PAW Patrol' universe, ramping up to unleash our second feature film, 'PAW Patrol: The Mighty Movie,' which will open in theaters on Sept. 29," continues Dodge. "We have a fantastic cast for the movie, paired with a heroic storyline featuring Skye, the smallest pup. With the 10th anniversary of 'PAW' we're celebrating our legacy, but also bringing new content and ways to engage fans. Our theme for the anniversary is 'Small PAWS, Big Prints' which really encapsulates the essence of what 'PAW Patrol' is all about, empowering little kids (and pups) to make a positive impact on their community."  
Spin Master is also exhibiting at
, where it will be focusing on "Unicorn Academy" and other hot properties, leaning into the Fashion theme for its in-progress deals.  
"When we developed 'Unicorn Academy,' we spent a lot of time and effort on developing each character's fashion profile," says Dodge. "We wanted to ensure that their fashion reflected current trends, but also were relatable to our target audience. Having a diverse set of characters really allowed for different expressions of fashion giving kids the opportunity to identify with their own distinct styles. Our consumer products style guide for 'Unicorn Academy' will be shared at Licensing Expo and is highly influenced by the fashion trends of today. The vivid and vibrant world of 'Unicorn Academy' lends itself perfectly to fashion, clothing and accessories.  
Aside from "Unicorn Academy," Spin Master's licensing and consumer products team have several deals in the works to extend core brands including Rubik's, Etch a Sketch and Tech Dech into lifestyle with collabs like exclusive clothing collections.  
"These capsule collections feature iconic designs inspired by our brands – perfectly suited for enthusiasts and collectors," says Dodge.  
Spin Master at Licensing Expo
Spin Master is going big at Licensing Expo, showcasing its up-and-coming properties as it builds licensed consumer product programs for the brands.  
"Last year, our booth was a huge hit with an emphasis on the Rubik's Cube and its status as a pop culture icon," says Dodge. "We were really focusing our efforts as a lead up to the brand's 50th anniversary in 2024. We'll continue to meet with partners to review our style guides for the anniversary focused on our creative approach for Rubik's as More Than a Toy. This year, half of our booth is dedicated to 'Unicorn Academy' given its impending launch. We'll be previewing never-before-seen animation footage from the magical series. I am excited for partners to see the animation, experience the incredible music and get to know the story and characters."  
Spin Master will be showcasing another new series, "Vida the Vet," which follows 10-year-old Vida, an animal doctor who nurtures woodland creatures that live outside her home. The company announced distributors for multiple regions, including BBC's CBeebies in the U.K. and Corus Entertainment's Treehouse in Canada. AsiaPacific, Denmark, Israel and Finland distribution partners have also been announced, with a raft of other deals in the works. The series is set to air in the fall.  
Regardless of the age of the property, Spin Master is ultimately into creating brands and experiences that its audiences want. Through entertainment and through licensed consumer products, the company is giving its fan base exactly what they're asking for.  
"We're really focused on building a diverse portfolio that caters to our audiences," says Dodge. "Working with our two other creative centers within Spin Master, both toys and digital games, we're creating multiple touchpoints for fans to engage with and interact with the stories and characters that they love."
Read more about:
Subscribe and receive the latest news from the industry.
Join 62,000+ members. Yes, it's completely free.
You May Also Like
Loading..