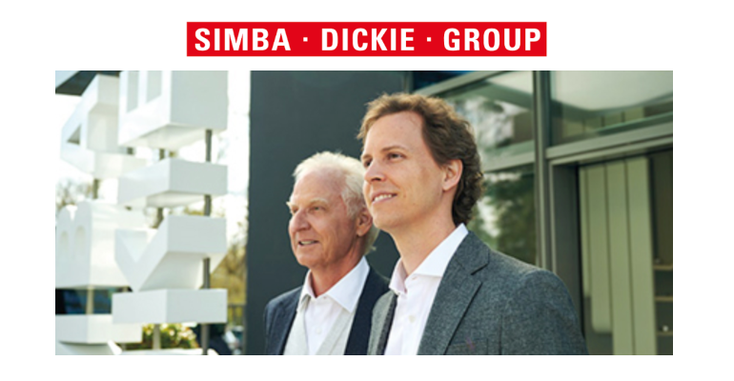 Simba Dickie Group is entering its third generation. Michael Sieber will hand over leadership of the family-owned company to his son Florian Sieber on May 1, 2021.
Michael Sieber founded Simba Toys together with his father, Fritz Sieber, in 1982, overseeing its development into the Simba Dickie Group, and has served as its chief executive officer since that time.
Florian Sieber was appointed his designated successor and co-chief executive officer of the Simba Dickie Group in 2018. Further, Florian has spent the last eight years as the managing director of the model railway manufacturer Märklin.
"Together with a dedicated team in Göppingen, my son, Florian, has put Märklin back on track – a masterstroke, I'm very proud of him," says Michael Sieber, chief executive officer, Simba Dickie Group. "He has grown naturally into his new and responsible role at the Simba Dickie Group and is well prepared and highly motivated. I trust that with his knowledge and the perspectives of a new generation,
he'll be able to lead our family business successfully into the future. The start of the new business year also marks the 40th anniversary of Simba Toys, which I founded together with my father. Even in these currently challenging times, our group remains stable, healthy and economically strong. The best conditions for me to hand the reins over to my son!"
Michael Sieber will retire from his role as CEO at the end of the Simba Dickie Group's business year on April 30, 2021 but will continue to lend his wealth of experience as a partner.
The group's board will consist of Florian Sieber (chief executive officer), Manfred Duschl (chief financial officer) and Uwe Weiler (chief operating officer) from the beginning of May 2021.
"We've been actively preparing the transfer between the generations at the Simba Dickie Group for a number of years now, meaning the transition will be a smooth one," says Florian Sieber, upcoming chief executive officer, Simba Dickie Group. "I'm extremely grateful to my father that he never put pressure on me when it came to the question of business succession, but always provided me with advice and support whenever I was looking for assistance. I'm fully conscious of the significant responsibility I'm taking on in our family business, but I'm also looking forward to the new challenges and duties."
Read more about:
Subscribe and receive the latest news from the industry.
Join 62,000+ members. Yes, it's completely free.
You May Also Like
Loading..