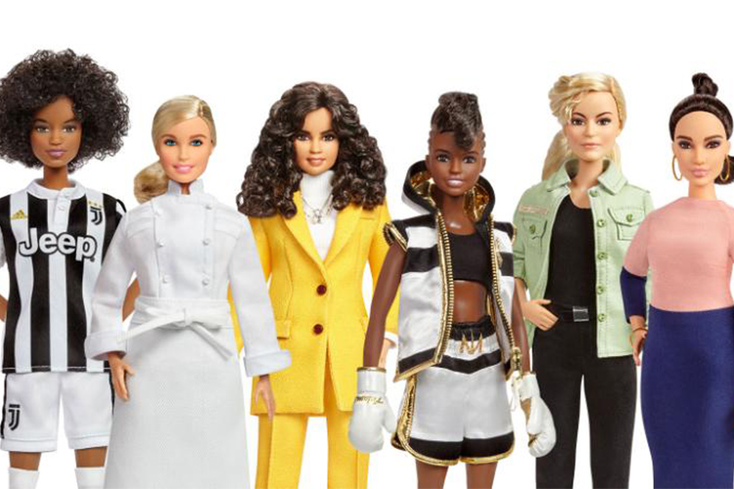 "Licensing Expo is an incredible opportunity for us to showcase our brands and demonstrate the tremendous potential they represent for our partners," says Richard Dickson, president and chief operating officer, Mattel. "This year, we'll be focusing on the momentum we're seeing from category leaders like Barbie and Hot Wheels, and preview what's to come in 2019.
Mattel has some of the richest legacies in the marketplace. This year, Hot Wheels marks its 50th anniversary and Barbie turns 60 in 2019. Both milestones will create many new opportunities for the brands to partner with new licensees across all consumer categories.
"We're looking for partners with the expertise, items and programs to take the power of
these already remarkable, evergreen brands to even greater heights, and bring to life the very special emotional connections consumers have with our brands," says Dickson.
Dickson believes the brands have limitless potential for Mattel and its partners. To help unlock that potential, the company has been building a best-in class-consumer products team. The company recently named Lisa Weger as head of licensing in Europe, and continues to build its U.S. licensing team.
"We are looking to leverage our broad, global brand equity in traditional licensing categories, as well as in unexpected brand-right categories," says Dickson. "Some recent examples include fast fashion, hard lines and publishing."
When developing new partnerships, Dickson says Mattel carefully considers the most strategic aspects of its brands and what consumers find most compelling about them.
"Right now, we're partnering in apparel with companies like Illest for Hot Wheels and in beauty with Sephora for Barbie," says Dickson.
The Hot Wheels 50th anniversary will be an epic celebration packed with incredible product, new content and live experiences. Mattel is also developing programs targeting both boys and adults with exclusive programs and partnerships at several retailers. Consumer product categories will feature a broad range of partners from apparel to sporting goods and car care.
"We also have an exciting line-up of new partners this year including MOMO and Pirelli," says Dickson.
Mattel's Hot Wheels Legends Tour, a partnership with Walmart, has hit the road in search of custom cars to become a Hot Wheels die-cast car. The tour–the largest Hot Wheels traveling car show–launched in April at the Hot Wheels Headquarters in Southern California and will make 14 stops at Walmart stores across the U.S.
"The power of Hot Wheels and the love for this brand is just remarkable," says Dickson. "At 50, we know Hot Wheels is just getting started."
With and updated look and the addition of girl characters, the beloved Thomas & Friends brand is poised for even wider global appeal.
"There is a lot of potential in the Thomas brand, and to take advantage of this, we're expanding the franchise in lots of new ways," says Dickson.
Mattel recently launched infant programs in the U.K. and Japan and will launch the program in the U.S. soon.
Through a new partnership with Nick Jr., new content will launch this fall featuring a more gender-balanced "Steam Team" comprised of three girls and three boys who join Thomas in his adventures. The broader appeal inherent in the expanded content will create a larger platform for the brand going forward.
"Girls are a big opportunity for this brand, especially in apparel and accessories, and we're eager to pursue opportunities in that space," says Dickson.
The brand is also teaming up with new partners to make content even more relevant to a new generation of viewers. In a collaboration with the United Nations, Thomas & Friends will incorporate five of the U.N.'s 17 Sustainability Development Goals into its content targeting preschoolers.
"These goals, coupled with the life lessons 'Thomas & Friends' teaches, will inspire the next generation of global citizens and motivate conversations and learning between children and parents," says Dickson. "To supplement this content, we're partnering to create branded parenting tips and activity sheets that will be available this fall."
Mattel is also re-interpreting Fisher-Price, focusing on building new consumer products programs tied to the classic preschool brand. Chuck Scothon, a toy industry veteran with more than 18 years at Mattel, is leading the revitalization of Fisher-Price to unlock the brand's full potential–licensing will be a critical component of that strategy.
"Fisher-Price is dedicated to being the best possible partner to parents and families during the first years of a child's life, an incredibly motivating promise with global resonance," says Dickson.
The Barbie brand has also been evolving to meet the needs of new generations. The Barbie Fashionistas doll line continues to add body types, skin tones, eye colors, hairstyles and countless on-trend fashions and accessories for Barbie and Ken, adding more diversity into the line.
"Barbie's dramatic and most recent evolution, which began with the introduction of new body types, has continued," says Dickson. "Barbie inspires the limitless potential in every girl. A truly timeless and now even more highly relevant promise to girls everywhere, Barbie is the most diverse doll line in the marketplace, which has influenced asset creation in a variety of constructive ways, from imagery that reflects the real-world girls see around them every day, to even more empowering messaging."
Barbie's inspiring Sheroes program, now in its third year, honors real-life role models who break boundaries to inspire the next generation of girls. Past Sheroes featured ballerina Misty Copeland and Olympic gymnast Gabby Douglas.
"Every honoree receives a one-of-a-kind doll made in their likeness, the highest honor the brand bestows," says Dickson.
To mark this year's International Women's Day, the brand honored 14 new Sheroes from around the world who are not only breaking barriers, but are highly relevant to Barbie's core audience of girls, ages 10 and younger. (2018's inductees included aviator Amelia Earhart and mathematician Katherine Johnson.)
"Sheroes is just one of several dynamic initiatives from Barbie," says Dickson. "We have some very big plans for Barbie's 60th anniversary."
While Barbie continues to make strides this year, birthday celebrations have yet to be announced.
Read more about:
Subscribe and receive the latest news from the industry.
Join 62,000+ members. Yes, it's completely free.
You May Also Like
Loading..