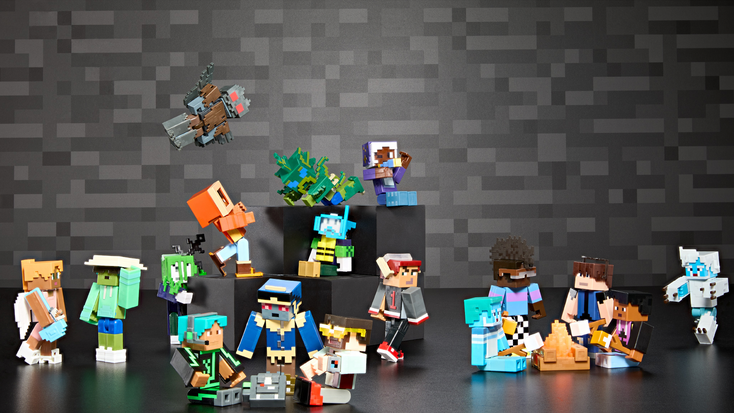 Camp Enderwood toys.
Mattel
Introducing a host of new characters and a new gameplay experience, Camp Enderwood is a digital destination developed in partnership between Mattel, "Minecraft" and Cyclone Designs, featuring a new DLC map full of mini games, available for free download on the "Minecraft" Marketplace. 
"We've been calling it the summer camp destination of your dreams and your nightmares," says Brad Harris, lead designer, Mattel. "There's some kind of a creepy, cute aesthetic to it, lots of weird cryptids and monsters running around and also a diverse cast of characters that you can go and interact with and play with." 
Visitors to Camp Enderwood can try their hands at activities such as marshmallow roasting, arts and crafts, horseback riding, archery, trampolining, disco dancing and take part in a Glamper Scavenger Hunt. 
Camp Enderwood's launch coincides with Mattel's
release of a Creator Series toy line of characters, accessories and stories from the DLC map.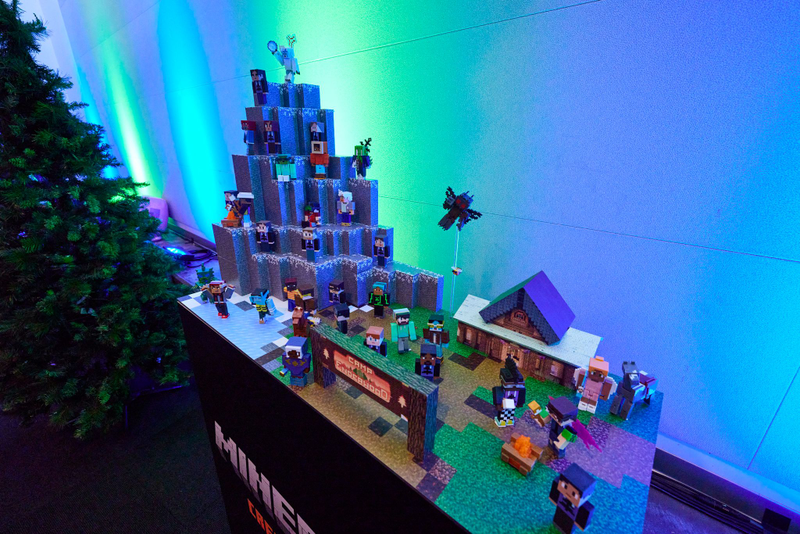 "We are proud to partner with Mattel on bringing Camp Enderwood to life," says Federico San Martin, director, "Minecraft" consumer products. "'Minecraft' is focused on bringing our community thoughtful experiences through fun and engaging activities in new and exciting ways. We believe the unique and vibrant cast of characters within the toy line and DLC reflects the diverse and inclusive community of 'Minecraft.'" 
Action figure packs come with exclusive in-game items accessed via unique codes in each pack. In both the physical and digital worlds, "Minecraft" fans can explore Camp Enderwood with characters including Top Athlete, Camp Rockstar, Glamper, Star Child, Gamer, Ska Kid, Craft Lady, Avid Adventurer, Moth Creature, Sunken Spirit and the Yeti. Figure selections represent a variety of costume styles, skin tones and gender expressions. Accessory pieces are swappable between Camp Enderwood action figures – all available for free digitally in the "Minecraft" Character Creator. Players can then translate inspiration from the toys into the game, recreating their products in "Minecraft" and vice versa. 
got to check out the game and toy line ahead of the launch, speaking with Harris and San Martin about what went into the collaborative effort. Harris underlined that authenticity was the most important aspect of making the collaboration come to life.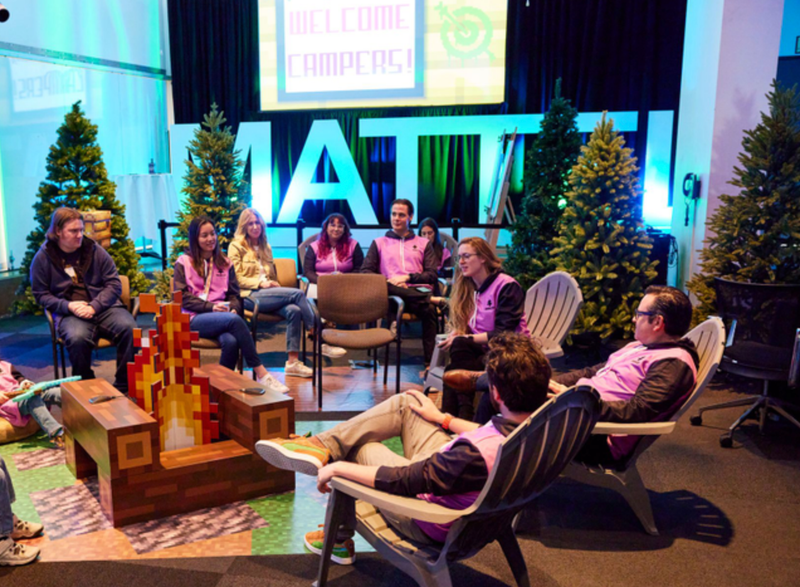 "We talked to 'Minecraft' kids all the time, and they know exactly how many hearts of damage an enchanted diamond sword will do to a creeper," says Harris. "Like, we can't get these things wrong, and hopefully you see that reflected in the toy. That's been a really strange thing with Camp Enderwood. We came up with the theme, the sort of general gameplay that we wanted to go after, but toy does work on a longer timeline. It takes about 16 to 18 months to make a toy from start to finish. It doesn't take that long to make a DLC map. So, we really started by designing the characters for a toy, and then reverse engineering that Into the 'Minecraft' character art that you'll see in game. It's been really wild." 
Beyond "Minecraft" and Mattel, children helped bring the theme to life too, not only with their extensive knowledge of the game, but with the fantasy they wanted to be able to play. 
"In terms of the research we did, we literally got into virtual rooms with kids across the country, and we had a couple of different mood boards," says Harris. "One was camp, I think we had a mad science and a tropical island adventure mood board, and we were leaning towards camp, and we knew that that's a big, lovable theme for kids too. Luckily it definitely rose to the top with every kid we talked to. They were like, 'I want to go to camp.'" 
"It's bringing our game into real life, and that is a big part of a 360 experience," says San Martin. "As we were growing up, you have potentially just a toy or a potential experience in video games. Video games have evolved so dramatically that now when you play 'Minecraft,' you can be hanging out with your friends, and then you really don't have to be side-by-side. Everything is happening in the game, you're using your imagination to build things together, so it's bringing that all together into a representation in real product that is the toy line that we have here. So, for us, it's like a perfect scenario for a collaboration with Mattel, because we bring that to life, and meaning as we love to play 'Minecraft,' we also want those kids to have the opportunity to bring it to school or to show their neighbors or their friends the toy line." 
Half of the Camp Enderwood character roster will be released as toys this spring, with the remainder debuting this summer. The Camp Enderwood DLC is available to play now. 
Subscribe and receive the latest news from the industry.
Join 62,000+ members. Yes, it's completely free.
You May Also Like
Loading..