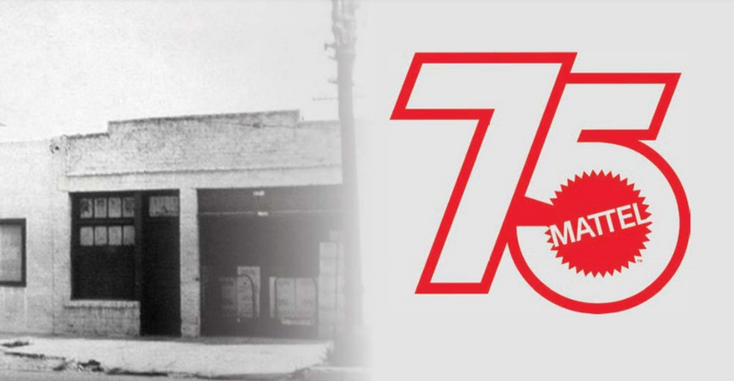 When you think of toys, you think of Mattel. Which doll is more iconic than Barbie? Who hasn't seen a Thomas & Friends railway instantly evoke a smile on a child's face? Which retail toy aisle doesn't boldly feature at least a half-dozen must-have Fisher-Price products, and which kids' holiday shopping guide doesn't include the inimitable Hot Wheels line?
Mattel has been at the heart and soul of kids' entertainment for decades, celebrating its milestone 75th anniversary in 2020 at the pinnacle of today's ever-evolving toy landscape. Not only has Mattel developed some of the most influential, iconic toy brands of all time as a proven heritage company – it has also maintained its popularity and ingenuity today, as the Barbie brand was recently named the 2020 top global toy property of the year by The NPD Group, while the Hot Wheels Singles 1/64 assortment was recognized as the global top-selling toy of the year.
The company's innovation doesn't stop at the end of the toy aisle. Mattel is a
leader in giving back with numerous vital cause-driven programs, diversity and inclusion e­fforts and environmentally conscious sustainability initiatives. As 2020 proved a challenging year for all sectors of business and society with the fallout of the COVID-19 pandemic, Mattel led the charge on developing critically needed personal protective equipment, such as face masks for frontline workers, and swiftly answered the call to create content, solutions and programs for kids and parents adjusting to the new normal of staying home during quarantine.
"Mattel brands have continued to prove their resilience, cultural relevance and multi-generational appeal, and that was never more true than in our 75th anniversary year," says Ynon Kreiz, chairman and chief executive officer, Mattel. "What also proved to be true last year was the continued priority that parents place on quality toys, trusted brands and purposeful play. Mattel is the owner of one of the strongest catalogs of children's and family entertainment franchises in the world, and our mission, to create innovative products and experiences that inspire, entertain and develop children through play, fuels all that we do.
"While our milestone year was certainly different than what we had expected," continues Kreiz, "we remained committed to our purpose to empower the next generation to explore the wonder of childhood and reach their full potential. Last year was an incredible journey for Mattel, and we have come through the challenges a much stronger company. As we kick off 2021, we are well on our way to becoming the IP-driven, high-performing toy company we set out to be."
Richard Dickson, president and chief operating officer, Mattel, echoes Kreiz, emphasizing Mattel's thoughtful and deliberate mission to give back, remain nimble and impressively overcome unforeseen hurdles during its pivotal 75th year.
"Our 75th anniversary year was quite different than any of us could have anticipated, yet our teams around the world came together and showed what it means to be an IP-driven, high-performing toy company," says Dickson. "Throughout 2020, we also raised the bar on our commitment to corporate citizenship, in support of our consumers, customers, business partners and the communities in which we live, work and play. When the COVID-19 crisis began, we launched the Mattel Playroom, a free online destination featuring activities and content from our iconic portfolio of brands. We also launched Play it Forward, a platform which leverages our brands to drive awareness of, and give back to, important causes and the first Play it Forward campaign, #ThankYouHeroes, a line of toys that immortalizes the individuals leading the fight against COVID-19 and the everyday heroes keeping our communities up and running."
In 2020, Mattel also astutely tapped the spirit of collaborations and the undeniable growing importance of content by launching Mattel Creations, an e-commerce and content platform that show-cases creator collaborations, presents curated products for sale and provides an opportunity to learn about the creative process.
"By offering our iconic brands as canvases for top artists, designers, musicians and creators, we've invited the world to play with our brands," says Dickson. "To date, we have already explored a number of partnerships including a collaboration with Herschel and Land Rover in honor of Herschel's 10th anniversary, which includes a backpack, toolkit and the iconic Hot Wheels Land Rover Defender 90, and a partnership between UNO and The Hundreds, through which we unveiled an exclusive deck alongside a capsule apparel collection. These are just a few examples and there are many more."
To Mattel, collaborations and licensing are paramount to the company's success.
"Licensing is such an important part of Mattel, both with regard to our own properties and the work we do with the license owners we partner with," says Dickson. "We treat our licensed partners' properties as if they were our own and are proud to work with partners ranging from the largest studios to individual content creators."
Both timeless and timely, Barbie is a perennial tour de force – a rich, beloved heritage brand continually evolving, reinventing itself and winning. As the 2020 top global toy property of the year (source: The NPD Group), Barbie is at the apex of kids' entertainment, and she is an institution unto herself. The Barbie brand celebrates female role models, offers a diverse, inclusive lineup of products and aims to inspire the limitless potential in every girl. Today, she is more popular than ever.
"Barbie is a top girls' toy brand channel on YouTube, and last year we introduced a variety of content that resonated deeply with consumers, such as a vlog on navigating staying at home during the pandemic and another where Barbie discussed racism with her friend, Nikki," says Dickson. "On the television side, we also had great success with our animated musical 'Barbie Princess Adventure,' which focused on empowerment, self-discovery and finding your voice. And, solidifying Barbie's role as an influencer in fashion and beauty, we partnered with a number of brands ranging from MAC and CHI to Roxy and Forever 21."
Read more about:
Subscribe and receive the latest news from the industry.
Join 62,000+ members. Yes, it's completely free.
You May Also Like
Loading..