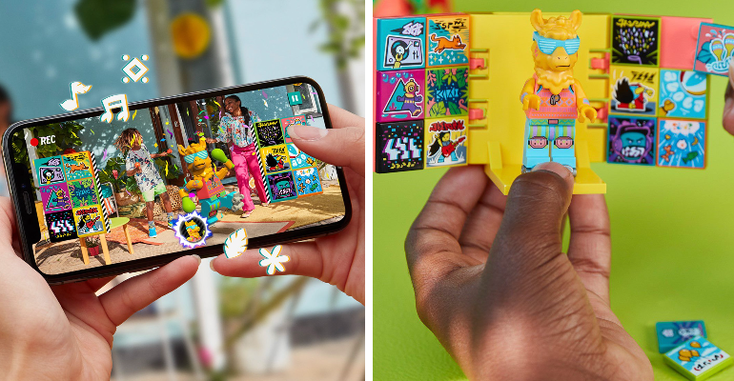 The joy of unboxing a new toy never gets old, even in your 30s. Still, after carefully building a set of new colorful characters and their stages (or Beat Boxes), 
License Global
 hopped on a call with LEGO and Universal Music Group to uncover what the collaboration's new AR-powered collectibles can do.
Once assembled, each new character is placed on a stage (a.k.a. BeatBox) filled with AR tiles (a.k.a. Beat Bits) and scanned into the "VIDIYO" mobile app. This app collects your characters, allows users to create bands and build a custom campaign – complete with album covers – for that set of artists, ultimately welcoming an infinite collection of different character combinations.
With our band assembled – Hip Hop Robot, Candy Floss Cheerleader and Disco Unicorn – the AR system within the "VIDIYO" app came to life and placed the misfit artists wherever we aimed our camera. The aim? To create the most fun, colorful, active and entertaining music video possible before sharing it
with the social community attached to the app.
"We want to feed the imagination of the next generation of creatives, providing a new canvas for kids to express themselves creatively," says Julia Goldin, chief marketing officer, the LEGO Group. "Research shows over three-quarters of parents globally wish their children had more creative confidence, so we're launching LEGO VIDIYO to help make that happen. We know children are always chasing new ways to experiment creatively. LEGO VIDIYO is here to help all kids with a passion for music unleash their creativity through LEGO building and music video production. We can't wait to see what they come up with."
The combination of the parental desire for more creative outlets for children, mixed with the extremely safe construct and anonymous social setup of the app, is a mixture of extremely pertinent trends within the kids' space and a winning combination for the always-on, physical and digital toy trend.
According to the LEGO Play Well 2020 study, music and creative play are critical to children's lives. Their research states that 89 percent of parents believe music builds creative skills – with 83 percent saying it also aids confidence – and 94 percent are confident that playing with LEGO bricks helps develop creativity. So, the combination LEGO VIDIYO has the potential to help kids grow, play more with family and connect with friends in a safe and parent-approved way.
While this latest collaboration between UMG and LEGO is a fascinating case study into the evolution of 'phygital' - not to mention a powerfully-visual new lifestyle brand for Bravado to play with - 
License Global
 enquired about the potential behind the licensing nature of the "VIDYO: product, and whether we could see UMG artists come to life in their own LEGO mini figures soon.
"What we're showing you today is the entry point of the product and the experience, which is what we're launching in March," says Joshua Burke, vice president, strategic marketing, global partnerships, Universal Music Group. "Of course, as you pointed out and as you can be sure that we've all imagined that this is a very fertile ecosystem with a lot of opportunities to collaborate with artists. The first artist's collaboration that we're doing is with LLAMA as the featured artist for the program's launch. We felt that it was important not to launch with any specific superstar artists because we wanted it to be all about the play experience and the product, but I guess it was the best thing. The best way you can answer that question is, watch this space. There will be a lot more coming. And this is just the entry point last anything to add."
The simple answer is that a goal for further collaboration seems to be firmly in place - with artist LLAMA becoming the first LEGO mini-figure to sign a global record deal with UMG - but while we sit in hope for the UMG artist roster to enter the LEGO mold, the LEGO "VIDYO" product will offer kids a safe, creative and unique way to share their very own music videos in a dedicated social community with more collectibles, tiles, mini-figures and stages sure to follow its launch in March.
Read more about:
Subscribe and receive the latest news from the industry.
Join 62,000+ members. Yes, it's completely free.
You May Also Like
Loading..