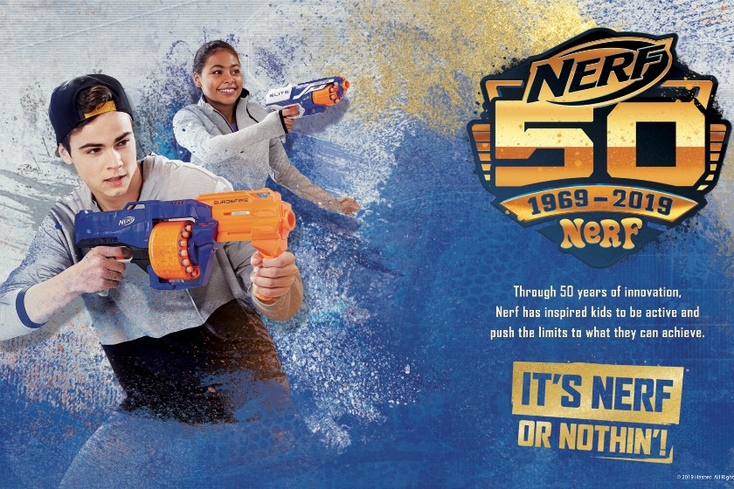 AT SOME POINT
or another, we've all experienced the fun and excitement of a NERF product. Whether being chased around a backyard party by someone wielding a Super Soaker or dodging NERF darts aimed at us by a playful grownup at the office, NERF products are ubiquitous wherever people–young and mature–want to have fun.
Since its inception in 1969 as a humble foam ball, NERF has transformed into a household name and lifestyle brand with decades and decades of product evolutions and brand partnerships that propel and sustain its unrivaled popularity. As Hasbro's NERF turns 50 in 2019, the brand is still growing, boasting a string of powerful licensing partnerships, product launches and brand extensions that further cement NERF's position as a pop culture phenomenon.
"NERF is a prime example of Hasbro's core strategy of reimagining, reinventing and reigniting its brands," says Mel Alexander, vice president, consumer products, North America, Hasbro. "This is a brand with 50 years of history and
heritage to build on and unparalleled performance, power and popularity, particularly in the blaster category. The NERF fan ranges in age and interests. From the front yard to the football fi eld, college to the cubicle, NERF has become a lifestyle brand with years of history behind it."
NERF's licensing journey began in 1997, when the brand struck a deal with Just 4 Fun Kids for 3D keychains, followed by a deal with Stylus in 1998 for novelty pens and tees in 2002. And in 2002, NERF partnered with baseball star Mike Piazza and football star Peyton Manning, further catapulting the brand among adults. In the mid-2000s, a deal with Elan Polo saw the introduction of kids' footwear, and a deal with Houston Harvest brought Easter baskets. Soon after, toy adjacencies were introduced with a line of play rugs from Gertmenian.
Since then, NERF's licensing portfolio has ballooned. NERF was the No. 1 best-selling toy property in the U.S. in 2017, according to the NPD Group. Today, NERF has 73 active partners in all of its global regions (North America, Europe, the Middle East, Asia-Pacific and Latin America) and has secured more than 100 partnerships around the globe since 2008.
Some of NERF's most significant partnerships include Smith & Brooks, which will launch a fashion-forward sports-inspired apparel collection; Gramercy which developed dog toys in the pet category; Party City and Unique (U.S.) and Amscan (U.K.) for party products; Jazwares for targets, tactical gear, storage, accessories and new indoor and outdoor sports and games for the NERF SPORTS segment; Flybar for wheeled goods; and Sakar for consumer electronics. In Columbia, Stilotex launched its NERF collection across 100 stores at four top retailers spanning water bottles, soccer balls and backpacks, with skateboards, scooters and sports equipment to come later...
Subscribe and receive the latest news from the industry.
Join 62,000+ members. Yes, it's completely free.
You May Also Like
Loading..