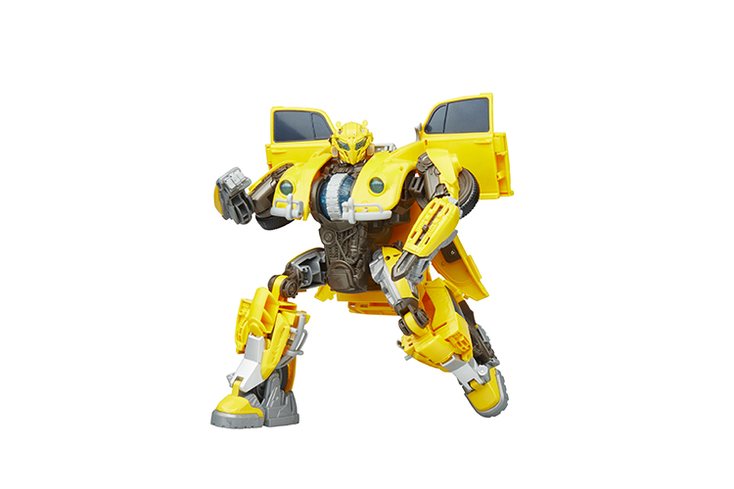 Hasbro's Transformers has enjoyed more than three decades in market, and with that comes a rich and deep fanbase that is deeply ingrained in the entertainment play company's brand blueprint, which is a global strategy that ignites the components of its core IP–storytelling and consumer insights–across specific areas of business including toys and games, digital gaming, immersive entertainment experiences and consumer products.
For Transformers, which will premiere its latest major motion picture in theaters this winter and debut even more entertainment and peripherals alongside, that brand blueprint has never been more present, firing on all cylinders across each major segment of the business and connecting with fans across multiple generations. It's safe to say that the brand more than lives up to its storied motto of "more than meets the eye."
"At the heart of Transformers is what we call our brand essence, which is the idea of 'more than meets the eye,'" echoes Tom Warner, senior vice
president, Transformers franchise lead, Hasbro. "What it really means is that inside of Transformers is something special, and consumers can always expect more, which is really exciting. We try to deliver that across everything we do, from our entertainment to our products, t-shirts... everything across the brand should deliver that 'more than meets the eye' experience."
Leading the charge for the mega franchise is the upcoming film Bumblebee, set to hit theaters in December. Starring Hailee Steinfeld and John Cena, and directed by Travis Knight, the new, family-friendly film takes it back to the '80s and tells the origin story of Bumblebee the Autobot, a not-so-ordinary yellow Volkswagen Beetle.
The film is also providing ample material for a wide consumer product program, which will kick off in tandem with the entertainment and open up the Transformers world to expanded storytelling via products and experiences.
"An all-time fan-favorite character, Bumblebee will be at the heart of our toy and consumer products programs this year, which will drive even further connection between Bumblebee and his fans," says Bryony Bouyer, senior vice president, marketing operations, consumer products division, Hasbro. "Thanks to our great relationship with Volkswagen, we're also able to lean into the vehicle mode for the first time in consumer products. The Volkswagen Beetle will be used in a variety of consumer products including apparel, accessories, bedding and more."
Simba Dickie Toys is on board as a key licensing partner, with a Bumblebee-themed range. Additional partners include Ravensburger for an extended line of puzzles, including a 3D night light puzzle, and a promotion with McDonald's locations in the U.K. for Happy Meals.
Bouyer says that Hasbro has 40 confirmed retail cross-category programs launching around the globe in celebration of the film, with the EMEA region making up about half of those activations. Retailers will have large merchandise displays with feature walls and windows in its Dubai Mall location; while others in MENA will carry exclusive products and activate with in-store events and photo ops. In the U.K., Bouyer says retailers will launch toys and apparel, debuting for the first time girls' nightwear. Additional target markets include North America, Asia and Latin America.
"We're especially excited about collaborations coming out of China for Bumblebee as there is a large Transformers fan base there," says Bouyer. "Those fans give us the amazing opportunity to create programs that are in line with the needs of the Chinese consumer."
And while the tentpole is big news in the Transformers world, it's not all that's on offer from the entertainment side, and certainly not the only way the brand is connecting with its diverse fanbase.
"One of the things that we at Hasbro really lean into is consumer insights," says Warner. "We're constantly out talking to our fans to understand where their headspace is at, and talking to them about trends to understand why and where the brand is growing and how we can grow it. One of the things we have learned is that there is this cross-generational appeal and that each generation of fans want content that is tailored to them."
To that effect, Hasbro has taken Transformers across multiple age ranges and demographics, bringing some type of content to market for every key segment, from the youngest set to adult collectors.
"We think Transformers is for everyone–boys, girls, young, old–there are meaningful ways for everyone to engage with the franchise," says Bouyer. "For adults and kids, Transformers benefits from a wave of Millennial nostalgia as new parents share the toys and brands they loved as children with their own kids. These brands tap into the emotional connection many parents have with the brands, while offering something new to younger generations."
Series such as "Rescue Bots Academy," a brand-new animated series for preschoolers; last month's "Cyberverse" TV series on Cartoon Network, which premiered across all screens in all formats worldwide, a first of its kind launch, says Hasbro; and all the way up to a new adult-targeted animated trilogy, "War for Cybertron," have allowed Transformers to meet viewers wherever they are, continually delivering on their "more than meets the eye" promise.
Publishing continues to expand the Transformers universe as well, fueling the rich world with new stories and characters.
"By their nature, films and episodic TV provide a snapshot of a character's life–moments in time," says Michael Kelly, vice president, global publishing, Hasbro."With books, we are able to expand these worlds and characters by offering stories that fill in the time between on-screen appearances. We can tell events from the distant past, or far into the future, or even just a few hours before or after an event depicted in a film. We have the ability to delve more deeply into characters–what motivates them and makes them tick. In the process, we are able to introduce new settings, new worlds and new characters for our main heroes and villains to interact with. This, in turn, may inspire new directions and new opportunities for broader storytelling within the franchise. And all the while, we are bringing our readers along for new and exciting adventures, answering questions that might otherwise have been left unanswered."
Publishing tie-ins are cycled to the films, certainly, and hit shelves around four weeks prior to major premieres, but Kelly says Hasbro publishes "well over 500 titles per year across our portfolio of brands," putting books on shelf every single month of the year.
Partners for publishing include IDW (comics), Little Brown (movie storybooks, junior novelizations and level two readers) and Bendon (color and activity books) in North America; Wanna Publishing (coloring and activity books and novelty titles) in China; Lake Press (coloring and activity books and novelty titles) in Australia; and Signature and Egmont (magazines, novelizations and color and activity books) in EMEA.
Fashion, too, is a focus for Hasbro, with apparel ranges inspired by the greater Transformers universe planned that span mass to high-end.
Global fashion retailer Benetton will launch its fall/winter collection later this year, which will include a Transformers infants' and kids' offering; while sleepwear designer Peter Alexander featured the Transformers property across its collection. Direct-to-retail relationships are also instrumental for the brand, connecting it to consumers via partnerships with the likes of Zara, who launched a Transformers boys' capsule range in more than 70 countries last year; H&M, which brought Transformers to daywear, nightwear, accessories and footwear; and The Gap.
A fun recent collaboration saw Hasbro pair with Enjoy the Ride Records and Sony Music/Legacy Recordings to release "Hasbro Studios Presents '80s TV Classics: Music from Transformers," a vinyl album with three different collectible color variants. The album launched in March and is a first for Hasbro.
"We all have those special moments, and for a whole generation that was Transformers in the '80s," says Warner. "So to be able to go back and listen to the music that they remember as a kid is awesome. It's a fun snackable thing. All three albums sold out shortly after their release, which is great!"
Lastly, live events are an area of emphasis for the Transformers brand.
"What is great about the idea of attractions, and what they allow people to do, is to be immersed in the fantasy, versus being passive," says Warner. "You can really feel like you are in the universe of Transformers, which live experiences can allow you to be."
Four different Transformers attractions and experiences can be found at Universal Studios parks in Orlando, Fla., Hollywood, Calif., Singapore and Japan. Other live events and attractions include the "Transformers Autobot Alliance Exhibition" in China from Victory Hill Exhibitions; a planned AR/VR experience, also for China; and the first themed hotel from Marriott's Autograph Collection in Shanghai, which is set to open this year.
"What is great is that we have this foundation of great characters to lean into and untold stories that haven't been presented yet that we can continue to mine–it's really endless where we can go, and we will continue to give great storytelling. And that allows us to wrap the blueprint around it," says Warner. "It's an exciting time for Transformers, and the business has never been healthier. We're just at the start of creating the next 30 years and beyond. It's a fun time."
Read more about:
Subscribe and receive the latest news from the industry.
Join 62,000+ members. Yes, it's completely free.
You May Also Like
Loading..