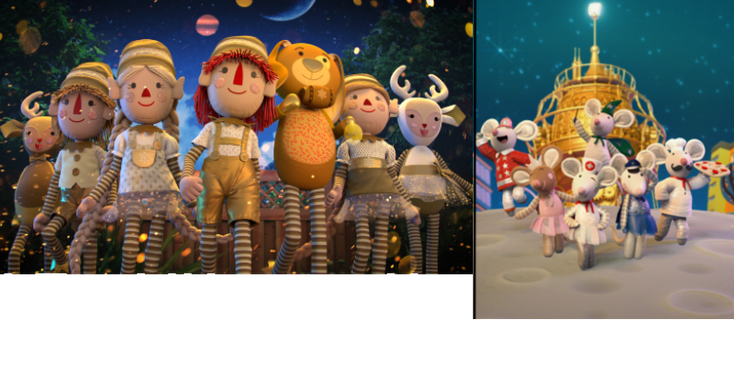 Chilean marketing and licensing agency, La Zona Marketing Global, has been responsible for developing the brands, products and licensing programs for some of the most popular children's brands in Chile. 
Brands such as Ratoncitos Dulces Sueños and Mi Duende Mágico have grown exponentially in the region in less than ten years. What started as toy brands have been expanded with licensing to become a vital property in Chile across various verticals. Bernardita Astaburuaga, partner and business director, La Zona Marketing Global, believes that the brands have become a success in the area because they tap into the importance of family values and the ideas fundamental to what it means to be a kid.
"We think they have become the most popular toys in Chile because both brands are very connected with family values, traditions, and emotions, and because they touch the most inner emotions of little ones as well as grown-ups, with soul and fun," says Astaburuaga in an interview with 
License Global
. 
Ratoncitos Dulces Sueños (Sweet Dreams Mice) was created in 2015 by a cross-functional team in Chile. Over the last five years, the brand has expanded into toys, clothes, digital content, publishing, apps, and events. Now with more than 30 characters in its stable, the brand is looking into expanding into new verticals and expanding the brand globally.
"Our brand has become a remarkable marketing study case, with more than one million plush toys sold only in Chile, achieving the first place in views digital content and social media every launching season," reports Astaburuaga. 
Mi Duende Mágico (My Magic Friend), La Zona's other major brand, is a holiday-focused property that celebrates the bright spirit of Christmas. The IP features 60 characters that represent the season, including pets, elves and reindeers. To date, the brand has been responsible for the sale of over five million plush toys, 30,000 book purchases, and the launch of a show and various apps and apparel in Chile. In 2020, La Zona now hopes the brand will bring joy to consumers across Chile this holiday season following a challenging year due to the COVID-19 pandemic.
"Regarding Mi Duende Mágico, we will bring a piece of happiness after the worldwide crisis by launching the most magical Christmas music collection you have ever seen, with a strong product brochure and shiny contents," adds Astaburuaga. "Elves, reindeers, and pet toys will be part of the new collection, but our star product will be a cute puppy toy [designed to help spread awareness for] children with cancer. All our incomes from the sale of this plush toy character will be donated to a non-profit organization dedicated to children diagnosed with cancer, of some of the poorest Chilean families."
Moving into the future, La Zona has big plans for both properties. The agency is already working on developing TV shows with the first draft of 3D animations already in development. Along with the TV series, La Zona is now looking to work with licensors outside of Chile. The company wants to work with reliable partners to take its big brands into new markets. Already the company has expanded into other Latin American countries due to its partnership with retailer Cencosud. The brands have been displayed in different Cencosud marketing campaigns across Latin America. 
"By working with Cencosud, one of the largest retailers in South America, we have been able to prospect new markets in the region," says Astaburuaga. "But these initial efforts have been not enough for the complete development of our portfolio of contents and product categories. Hence, our reasonable steps should be to first fully grow in the Chilean market, following by Mexico, and then 
conquer the world
." 
Subscribe and receive the latest news from the industry.
Join 62,000+ members. Yes, it's completely free.
You May Also Like
Loading..