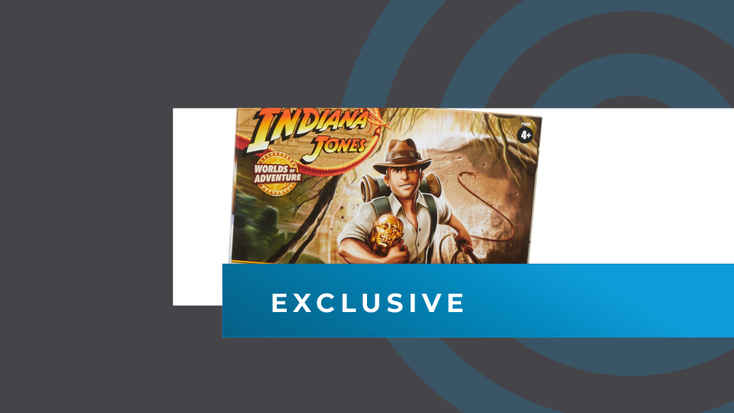 Images courtesy of Lucasfilm
Copyright Hasbro / Lucasfilm
At A Glance
The Hasbro Pulse Indiana Jones Fanstream

In Conversation with Hasbro and Lucasfilm

An Exclusive Look at New Licensees for '23
Due to land in theaters June 2023, "Indiana Jones and the Dial of Destiny" – the fifth in the Lucasfilm franchise – will bring Harrison Ford back to the titular role alongside stars, Phoebe Waller-Bridge, Mads Mikkelsen and Antonio Banderas.   
To celebrate the launch of the latest edition in the long-standing franchise, Lucasfilm has joined forces with Hasbro to create a range of toys and products inspired by classic movie moments and the new events of "Indiana Jones and the Dial of Destiny."  
The Hasbro Pulse Indiana Jones Fanstream
License Global was given exclusive access to key items in the new kids' range, as well as a first look at new detailed figures, the Adventure Series, for nostalgic collectors.   
Worlds of Adventure 
A range designed for the "Indiana Jones and the Dial of Destiny" release, Worlds of Adventure introduces kids to the adventures of the world's most-famous archeologist. Designed for boys and girls aged four and up, the Worlds of Adventure line will be available in
most major retailers this spring, featuring major characters such as Indiana Jones, Helena Shaw (Phoebe Waller-Bridge) and Doctor Jürgen Voller (Mads Mikkelsen). Each figure has accompanying accessories and vehicles, from Voller's plane to motorbikes and horses. 

Whip-Action Indiana Jones Toy 
Designed for kids four and up, Hasbro's 12-inch Whip-Action Indiana Jones action figure features over 10 sounds and phrases with functioning whip action. 
Action-Crackin' Whip 
The Indiana Jones Action-Crackin' Whip is designed to place kids in the world of adventure synonymous with the brand. Kids 5 and up can now play with Indy's automatically retracting and unfurling whip. Available spring 2023, the Action-Crackin' Whip extends to over three feet long and responds to a wrist flick.   

Inspired by the 40-year legacy of the Lucasfilm franchise, the Indiana Jones Adventure Series is a highly detailed line of 6-inch-scale action figures featuring classic movie moments and characters. The first arrivals in the series feature Club Obi Wan Indiana Jones ("Indiana Jones and the Temple of Doom"), with a detachable diamond, antidote, sword and shish kabob; Professor Indiana Jones ("Indiana Jones and the Temple of Doom"), with detachable Grail Diary, torch and shield accessories and Walter Donovan ("Indiana Jones and the Last Crusade"). 

In Conversation with Hasbro and Lucasfilm
Catching up with the teams behind the new lines, Ben Roberts, EMEA Content Director, License Global, spoke with Paul Southern, senior vice president, franchise and licensing, Lucasfilm and 20th Century Studios, Disney Consumer Products, Games and Publishing and Patrick Schneider, director, global brand strategy and marketing, Hasbro to find out more about the movie and the milestone launches.  
Ben Roberts: How is "Indiana Jones and the Dial of Destiny" going to be an on-ramp for new fans, and how are these ranges designed for both the new generation and the nostalgia-driven audience? 
Paul Southern:
"Since the premiere of 'Raiders of the Lost Ark,' fans were enthralled by the adventures in the films and fell in love with the wit, humor and spirit of Indiana Jones that carries over into the latest film installment. We hope fans will rediscover or discover for the first time our storied hero as the Indiana Jones products coming this year celebrate both the classic films and the upcoming theatrical release, giving fans a range of options for their collections."  
Patrick Schneider:
"On the Hasbro end, we are excited that our product line will definitely encompass items from 'Indiana Jones and the Dial of Destiny' but also hit major beats from the classic Indiana Jones films," adds Patrick Schneider, director, global brand strategy and marketing, Hasbro. "We see this come to life in product form as we have brand-new toy expressions that didn't exist 40 years ago, like our Adventure Series line of premium 6-inch scale, highly detailed, super-articulated figures celebrating some of the major characters from the classic films." 
Ben Roberts: How did Hasbro take this opportunity to create something different for kids and adults during a milestone return for the brand? 
Patrick Schneider:
"This has been a truly exciting opportunity to take one of the top entertainment brands in the world – Indiana Jones – and create entirely new product lines at a time when Indy will be on the world stage with the premiere of 'Indiana Jones and the Dial of Destiny,'" says Schneider. "To that end, our products are new for Indiana Jones, there has never been a 6-inch Indiana Jones figure, and we're excited to bring the very first Indiana Jones in 6-inch form along with a strong cast of supporting characters. We've also seen a strong nostalgia trend with retro lines, and Indiana Jones had an iconic Kenner run in the 1980s."  
"It's been really exciting to recreate some of those original figures from 'Raiders of the Lost Ark,' and we're also excited to have never-seen-before figures in Retro styling," adds Schneider. "Of course, there is also our first premium role-play artifact, Staff of Ra, and the all-new Worlds of Adventure line bringing Indy's globe-trotting to kids with figures, vehicles, creatures, environments and more. We think this is the perfect way to pay homage to this beloved brand while marking the latest entry in the saga with all-new product expressions."   
Summary 
Whether it's retro-styled Kenner toys to the detailed Adventure Series for nostalgic collectors or the role-playing, whip-cracking range of toys for new generations of fans, "Indiana Jones and the Dial of Destiny" is due to make waves in licensing as the world's most famous archeologist dusts off his whip for a grand return. 
Retailers and consumers can expect products across a variety of categories including toys, plush, collectibles, costumes, stationary, consumables, consumer electronics, apparel, accessories, footwear, home and more.
License Global was also given exclusive access to the first draft of licensees signed on to create licensed products for the Indiana Jones franchise.
Read the full list of Indiana Jones licensees for 2023 (so far)
. 
Read more about:
Subscribe and receive the latest news from the industry.
Join 62,000+ members. Yes, it's completely free.
You May Also Like
Loading..