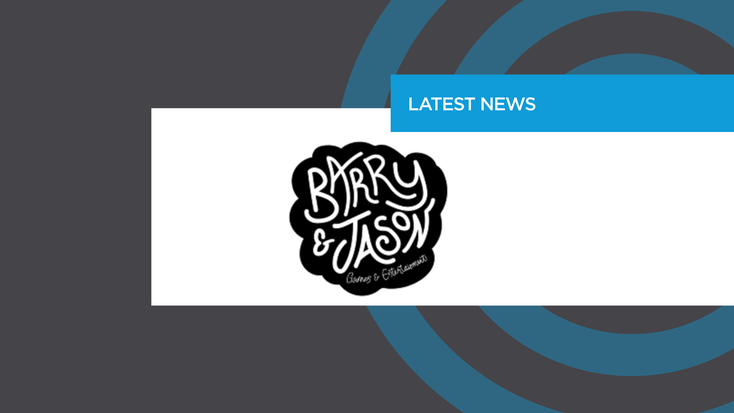 Barry & Jason logo.
Barry & Jason
Whether it's a board game played at home or an interactive experience, games have been a mainstay in households for generations. But games have evolved into so much more than simply bringing people together for an entertaining time; they can be educational in nature or bring beloved characters and stories to life, transporting players into a different reality. 
Barry & Jason, the innovative minds behind Game Night in a Can, Anchorman: The Game and Dr. Biscuit's Radical Road Trip, will return to Licensing Expo in person this year with fan-favorite games, plus new entertainment that's coming down the pipeline for all to see. Barry & Jason will be on hand to discuss how they keep game nights as a fun way to spend a night at home or out and how they are marrying analog games into the worlds of licensing and IP. 
I recently enjoyed sitting down with Barry & Jason to discuss how they took the traditional board game to make it ripe for licensing and are expanding their suite even further with new
games, anniversary games and much more. 
For those who don't already know who you are, who are you and how do you fit into the licensing industry? 
Hello, world! We are Barry & Jason, two best friends who met on the first day of college many years ago and now have our own creative studio where we invent tabletop games, develop game shows and host live game experiences. We have manufactured and published games for the shelves of Target, Barnes & Noble and Urban Outfitters, including party games for "Anchorman: The Legend of Ron Burgundy" and the Bill & Ted franchise. We have also been contestants on 11 game shows between us, including "Jeopardy!" for Jason and "The Price is Right" for Barry. Clearly, we love games! 
Any recent news you can share? 
We are launching the 5th Anniversary Edition of Game Night in a Can with awesome new illustrations from artist, Jade Wolf. We are also premiering our ridiculous new party game, Scribble Hips, with Big Potato Games, and we will be showing a prototype of our new game, It's Tricky, a collaboration with Evan the Card Guy and Wheelhouse DNA. We also recently worked with BBC Studios and Mattel on a game show, which was incredibly fun. 
What drew you to exhibit at Licensing Expo? 
It's a great way to expand our reach by finding other companies to collaborate with, IP to explore and surprise opportunities we may not have even known existed. Everyone does such an incredible job, from all the work that goes into making the show happen to all the exhibitors bringing their A-game. It's really a kind of wonderland for inspiration and creativity. We found all sorts of incredible surprises at the last in-person Licensing Expo. 
What excites you about engaging with your community in person at Licensing Expo this May? 
We are very excited about focusing on location-based experiences this year. We got our start in the toy and game industry by hosting live game nights, which hasn't happened much in the last few years. The upcoming event provides an ideal opportunity to transform our booth into an old-school penny arcade! We will have multiple games for people to play, all of which cost a penny, with our games as prizes. We hope that in a sea of large-scale digital experiences, our analog games will offer something unique and funny. We will also be running the Magical Game-Making Machine multiple times throughout the show, where we pull out a random business card and then create a new game for that brand in three minutes or less. It could result in total glory or epic failure, but we live for that kind of danger. 
What challenges have you faced in the absence of in-person exhibitions and what do you hope to achieve at Licensing Expo? 
We thrive on personal interactions (high fives, secret handshakes, butt bumps, etc.), so the absence of live shows has been pretty detrimental. That said, it also helped us to make an overdue transition from manufacturers into a creative studio, and we're all about that silver lining! For this show, we are hoping to find new partners for our game development and entertainment offerings. And, of course, we're hoping that our ingenious strategy of betting all of our savings on 00 at the roulette table pays off. Wish us luck.  
Read more about:
Subscribe and receive the latest news from the industry.
Join 62,000+ members. Yes, it's completely free.
You May Also Like
Loading..