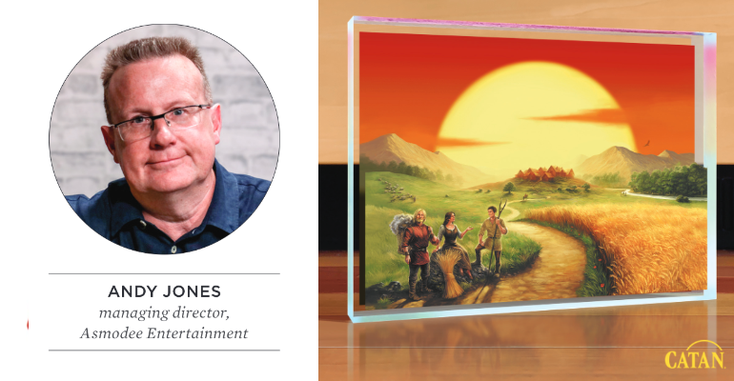 Asmodee is a global publisher and distributor of board games, card games and role-playing games. The French company started publishing and distributing games in 1995 and has grown into a global world leader in the category, with "a game for every gamer." Some of Asmodee's more popular titles are the classic board game "Catan" and family card game "Dobble" (known as "Spot It!" in the U.S.). 
Celebrating 25 years, Asmodee has grown to 18 studios with distribution in over 50 countries. In the last few years, Asmodee added digital games to its roster. This February, Asmodee acquired "Board Game Arena," a digital multiplayer board game platform. This acquisition will accelerate the online release of Asmodee games and grow awareness of Board Game Arena among consumers. Now, its licensing program is making waves.
The company's expanding portfolio has made it a prime brand partner for the licensing space. Last fall, Asmodee and its newly established fiction branch, Aconyte Books, signed a multi-year
arrangement with 404 Editions (part of the Editis-Vivendi group) to publish its range of novels in the French market, as well as launching a partnership with Artovision in the U.S. for multi-dimensional artwork across various IPs. This year, Asmodee launched a partnership with Plainview Shoes for a "Catan" footwear collection. 
Leading this licensing initiative is Andy Jones, managing director, Asmodee Entertainment. Here, he talks about his exciting career trajectory in licensing. 
License Global:
 How did you get your start in licensing? 
Andy Jones:
 I joined Games Workshop in 1986. At that time, the company was not doing any licensing to speak of. I started in telesales then moved to events organization and from there to games design and management at the studio. I kicked o‑  
foreign language versions of some of our games under license, as GW games back then were pretty much English language only. So there were partners like Lemada from Israel, who licensed the local language rights for the Talisman board game, or Disenos Orbitales for Spanish Bloodbowl and Space Hulk editions. Around the same time we set up the first interactive game deals with EA. Other early licensing examples include Warhammer 40,000 collectible card games via Sabertooth Games, a range of inter-active games from Mindscape and the "Warhammer: Mark of Chaos" interactive game from Bandai Namco. 
What were some of the more successful projects of your career? 
On the inbound licensing side, securing the exclusive global rights for "The Lord of The Rings" from both New Line Cinema/Warner Bros. and Middle Earth Enterprises must rank near the top! It was great to secure the movie and literary rights to access the entire universe, whether or not a character made it into the big screen. I also managed to leverage our rights into partworks, too, licensing…
Read more about:
Subscribe and receive the latest news from the industry.
Join 62,000+ members. Yes, it's completely free.
You May Also Like
Loading..