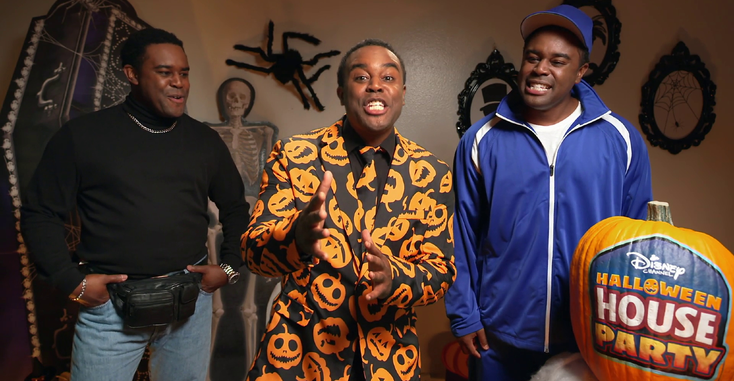 Studios shuttered film and television production during the peak of the COVID-19 crisis and the industry considered ways to shoot safely during this unprecedented time. However, as the saying goes, 'the show must go on.'
As productions began ramping back up, casts and crews began finding unique ways to film socially distanced or in a bubble. One such project was the Disney Channel's new Halloween special, the "Disney Channel Halloween House Party."
Starring Disney Channel stars, including Ramon Reed, Raphael Alejandro, Suzi Barrett, and Caroline Rhea, cast and crew filmed the special entirely socially distanced during the COVID-19 pandemic. Speaking with 
License Global,
 the special's creators Adam Small and Trevor Moore detailed how the unique shoot came together.
"We basically wanted it to feel like it wasn't made in COVID. Like, you would only know if you kind of read this interview where we're like, 'yeah, the actors weren't together,'" says Moore.
The production began in earnest after the
Disney Channel team decided to work with Moore and Small on a sketch special – something that connects with both of their comedy roots. Small and Moore currently run Disney's partially scripted sitcom, "Just Roll with It." However, they each started in the sketch comedy world. Small wrote on "In Living Color" and "MadTV" while Moore was a founding member of the sketch comedy group "The Whitest Kids U' Know." The return to sketch was an exciting aspect of the project for the duo.
"It was fun for us to work on something that was like the first thing we ever did," reports Small. "Going back to our roots."
Small and Moore decided early on to film the special to make it seem like any other production. The plan was to have actors shoot independently at their homes on greenscreens while being provided direction remotely. Editors would then edit the footage together to make it appear like the actors were seamlessly interacting together in the scene.
"We all agreed that we didn't want this sketch show to look like a Zoom [call]. We wanted it to be ambitious and look like they're two people in the same room," says Small. "So, we wrote sketches that were just funny and ambitious production-wise. Then the trick was we've written ourselves into a corner."
One of the shoot's challenges was blocking shots while working with one actor at a time. Moore says that the process meant using angles that made it seem like more energy was in the scene, even without the actual space to create real motion.
"We couldn't have a lot of camera movement, but we didn't want it to seem stagnant," adds Moore. "So we tried to design shots and angles that would keep the momentum and the energy without actually having dolly shots or anything, just because we didn't have the space to do that because we're shooting inside people's homes."
To light scenes was also a unique challenge of the shoot. The cinematographer set up the lights for each set in the actor's homes after being tested for COVID-19 and scheduling a Zoom call between the actors and crew.
"It was always a Zoom call, walking around their house looking at walls and places we could turn into [something]. I mean, it was crazy," says Small.
Despite the challenges of the shoot and novelty of production, both Small and Moore were quite pleased with the final product. Moore found himself blown away by the finished special after editing all the separate scenes with actors together.
"Seeing the final product, we were just blown away at how well it works," says Moore. "I don't know if we just kind of lucked out but it all works really well, and you can't tell all the weirdness that is going on to pull it off."
To see the finished product for yourself, be sure to tune into "Disney Channel Halloween House Party" on the Disney Channel at 8 PM ET on Friday, Oct. 16.
Read more about:
Subscribe and receive the latest news from the industry.
Join 62,000+ members. Yes, it's completely free.
You May Also Like
Loading..