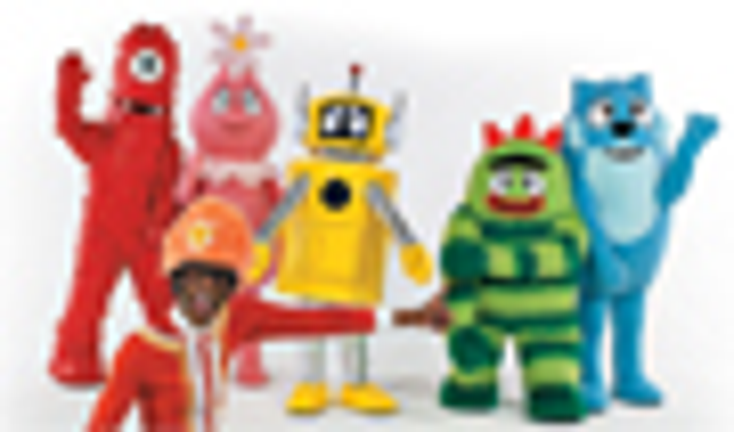 Created for preschoolers, "Yo Gabba Gabba!" finds success beyond its target audience.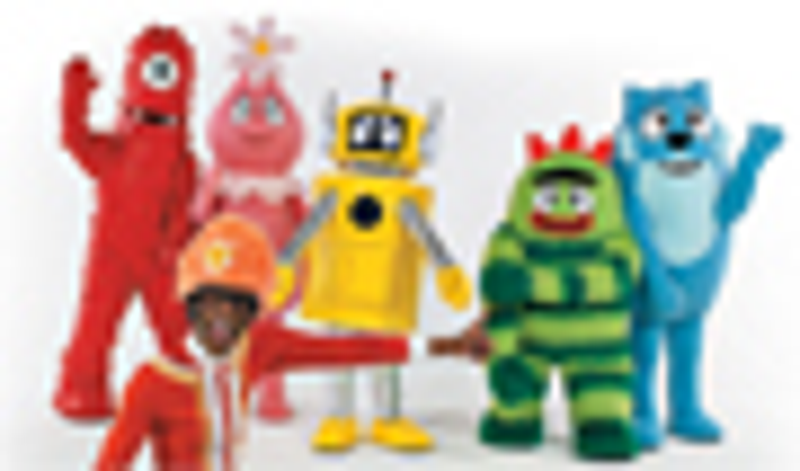 Newsweek
and
The New York Times Magazine.
In the crowded world of children's entertainment, it takes a lot to stand out and be noticed. But that's exactly what producer Wildbrain and creators Christian Jacobs and Scott Schultz have done with "Yo Gabba Gabba!," which began airing on Nick Jr. last August and has since become something of a media sensation with coverage in
According to Michael Polis, chief marketing officer at Wildbrain, Jacobs and Schultz had put together a pilot and shopped it around. Nickelodeon liked what they saw and approached Wildbrain—a renowned production studio that had already spawned a hit with Disney Channel's "Higglytown Heroes"—to produce the series. In August 2007, "Yo Gabba Gabba!" kicked off its 20-episode first season and, says Polis, "the response was phenomenal. Thanks to the Nick Web site and the clips they were running, there was a lot of activity before the show even premiered."
"Yo Gabba Gabba!" is hosted by a character named DJ Lance Rock, and five
toy monsters: Brobee, Foofa, Muno, Plex, and Toodee. It features The MC Bat Commander and Ricky Fitness, two members of The Aquabats, and Adam Deibert (formerly of the Aquabats) as the voice of Muno the Cyclops. The absurd style of humor used in the show is intended, like The Aquabats (another property created by Jacobs), to appeal to adults and teens through its manic, frenzied approach to wholesome messages (as well as its sophisticated—for a preschool property—music), while at the same time carrying all the family-friendly content of the average Nick Jr. program.
With a bona fide hit on its hands, Wildbrain set out to create a comprehensive licensing program. Spin Master was signed on as master toy licensee for mass market and toy chains, including Toys "R" Us. Also signed on were Simon & Schuster for early reader and children's books; Paramount as home entertainment partner; and Nickelodeon as distribution partner for television and music, working with Sony BMG on the music side.
Internationally, RDF is Wildbrain's distribution partner, and Polis says they have been busily closing deals. "We expect to see 'Yo Gabba Gabba!' in the UK, Australia, Canada, and Germany," he says, noting the property's warm reception at last fall's MIPCOM show.
Wearing It Well
The apparel side of things is where "Yo Gabba Gabba!" has really taken off so far. Wildbrain owns Kidrobot, a premier retailer of limited-edition art toys, apparel, and accessories with stores located in New York, Los Angeles, San Francisco, and Miami as well as a Web site—giving "Yo Gabba Gabba!" a natural outlet for its high-end apparel and novelties. "We launched a limited-edition specialty apparel line in November, and it sold like gangbusters," says Polis. The success of this upscale line led Wildbrain to expand to a few exclusive retailers, including Barney's.
Kidrobot also sold a set of figurines of the main cast at $25 a piece, or $125 for the set. "We sold 25 percent of the inventory in the first hour online," says Polis.
Wildbrain has a multi-pronged approach to its apparel business. "We start out with specialty—Kidrobot, Barney's—then move into what we call 'traditional specialty,' such as Hot Topic with T-shirts, backpacks, and novelties, and eventually to mass market with our children's line," says Polis. Apparel partners include Success Apparel, Mighty Fine, and Loungefly, and Polis expects the full clothing line to be in place in all retail segments in 2009.
With approximately 25 licenses signed, including such companies as AME, Basic Fun, Blue Box, and the Betesh Group, "Yo Gabba Gabba!" is definitely on its way. "Its appeal to both parents and kids gives us a great opportunity," says Polis. The show and its Web presence are crossing all audiences from preschoolers to teens and tweens, and hip young adults—the perfect formula for success.
Subscribe and receive the latest news from the industry.
Join 62,000+ members. Yes, it's completely free.
You May Also Like
Loading..