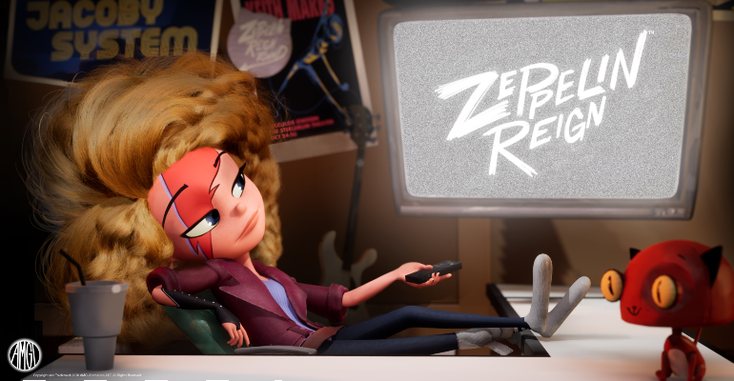 The COVID-19 pandemic has fundamentally shifted the entertainment industry. From production shutdowns to the rise in at-home streaming, the toll on people and businesses has caused studios across the spectrum to reexamine how they work. From Zoom meetings to direct-to-streaming film debuts, the industry is trying new things to be more adaptable and prepared for the pace that is sure to arrive when things open back up again.
Now, as a light at the end of the tunnel slowly begins to emerge, companies are looking to become more efficient and flexible than ever before. While this paradigm shift can be a challenge, some studios are finding their inherent nature is giving them the advantage to get up-to-speed faster than they even realized was possible.
One such studio is AMGI Animation. The self-described 'IP factory,' based in South Pasadena, Calif., has been able to quickly adapt to the new normal by leveraging the vision and expediency inherent in its DNA. AMGI's unique advantage comes from
its technology, business mission and its experienced team of animators that help bring each project to life.
"In a strange sort of way, this shutdown has kind of accelerated our production," Colin Brady, co-founder, AMGI, tells
License Global
. "We were already a digitally based studio, so the transition to working from home wasn't as difficult as we thought it would be. We can still create the characters just as fast as we did before, and all our animators are working remotely, so we are perfectly suited for this."
The group includes alums from Disney and Pixar who leverage real-time rendering technology based on the Unreal Engine to create animations quickly. Using Unreal technology, the team can render projects rapidly from their home workstations in real-time, in an industry that isn't always based on speed to market.
The studio's unique business model also allows AMGI to be flexible and quick to react to the market. After just one year in business, the company has developed eight properties for each demographic of kids' entertainment. Characters range from the young adult music-themed IP "Zeppelin Reign" to the younger-focused "Little Kaiju" property. AMGI is looking to leverage those digital-first characters by extending them into episodic streaming content and licensing across verticals.
"One of the things that struck me when I attended Toy Fair this year was the preponderance of toys that were built on digital influencer initiatives," says Tony Diioia, co-founder, AMGI. "The sheer number of eyeballs that are watching content on these online platforms is really enough to kickstart a full-blown licensing program."
AMGI's fast-acting approach and potential to quickly develop streaming content for new character IP may end up being a significant opportunity for the studio, as distributors look to launch new material following the production stoppage. The company's quick to market model is also powering how it works with licensees and retailers.
AMGI sees the impact of the COVID-19 shutdown as affecting how the industry does business even after companies can begin to reopen. With that in mind, the studio is looking to work with partners who can adapt to whatever the future may bring. Potential partners for the company include retailers and licensees with a robust e-commerce and digital presence.
"Eventually, we are going to come back, but I don't think we are going to come back to exactly how it used to be," adds Diioia. "We think that e-commerce is going to be an accelerator based on what is happening today."
Overall, AMGI believes that it will come out of the COVID-19 shutdown with a business model that has been accelerated, as major industry players look for companies that fit the quick-to-adapt mold.
As everyone learns to readjust to a fundamentally shifted work environment, companies such as AMGI will prove vital for an industry landscape looking to offset the challenges of the shutdown rapidly.
"I think when we look back at this time, we are going to see it as we got a shot of adrenaline when everyone slowed down," adds Roger Paglia, chief executive officer, AMGI. "We are one of the few independent studios still standing, and our whole crew is churning out properties."
Subscribe and receive the latest news from the industry.
Join 62,000+ members. Yes, it's completely free.
You May Also Like
Loading..