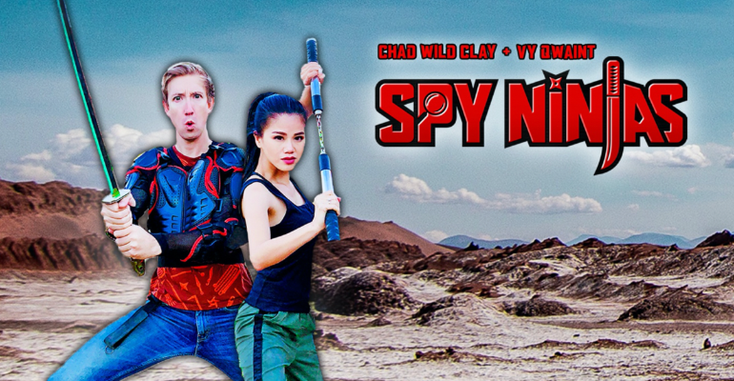 With kids eyeballs moving quickly to YouTube, Netflix, and the onslaught of new streaming platforms, "binge watching" has become the viewing habit du jour and it's starting to feel like it's here to stay.  But with all the great benefits that come with endless streaming options, producers and platforms have struggled with creating the kids version of "water cooler talk" or "class room chatter" about an original show that a community simultaneously watches on a regular basis and discusses the next day. In kids and family content, appointment viewing seemed like a concept of the past, but two YouTube stars, Chad Wild Clay and Vy Qwaint, have been able to resurrect it via their popular series,
Spy Ninjas™
.
Spy Ninjas™
, a serialized, action packed "spy show" that draws an astounding one million views within the first hour of an episode going live on YouTube, airs six new episodes per week, garnering over 400 million monthly views. Viewers are not passively watching the episodes either. Rather,
they are actively working as detectives - as
Spy Ninjas™
- in a hyper-focused and participatory viewing experience. In each 20-minute episode, Chad and Vy consistently prompt their viewers to help them and their cast mates, solve riddles, spot clues, and do detective work as they protect the world and internet from the nefarious hacking group,
Project Zorgo™
.  Let's not forget, the viewers also get to come along and experience the high-octane adventures as the
Spy Ninjas
™ use ninja skills to battle their arch rivals!
The series is programmed across three primary channels,
Chad Wild Clay, Vy Qwaint
and
Exposing Project Zorgo,
with the final sixth episode of the week released on one of the three secondary channels,
Project Zorgo, Regina - Spy Ninja
and
Melvin PZ9 The Best Fighter
. This robust schedule creates a sense of adventure in "real time", whereby fans are continuously tuned-in and focused on gathering evidence and clues spread across the episodes and channels.
But what makes the
Spy Ninjas™
media experience so unique is also quite simple.  While most YouTube channels build their audiences by leveraging the popularity 3rd party brands (
Minecraft
or
Fortnite
game-play) or online trends (
Hot Wheels
Unboxing or Slime-making videos), Chad and Vy drive their original storylines by paying attention to their fans and their reactions to the content.  With each video receiving around 10,000 comments within an hour of upload, it gives the show's producers an incredible sense of what the audience "thinks" is happening in the story and allows the writers to quickly adapt and move the story lines forward in captivating directions.
"We like to think of content like a video game that our audience plays in real time," says Vy Qwaint.  "We fill our episodes with clues, riddles, and the random character that may walk by in the background. Fans comment on everything they witness and even guess the intent of the clues placed in every episode.  Because of our quick turnaround in production, it allows us adapt to the fans' likes, dislikes, and even their theories, and pivot stories accordingly."
"The YouTube Algorithm follows the audience. It learns what the audience wants to watch and measures how satisfied and engaged they are with the content" says Chad Wild Clay. "So we too follow the audience feedback and make sure we never gets too far ahead of ourselves with the creation of our episodes.  The quick turnaround allows us to create a 'conversation' with our fans and also deliver the most engaging experiences for them."
In addition to having a pulse on audience feedback, Chad and Vy are creating innovative ways to drive engagement and interactivity. In July 2019, Chad and Vy uploaded three videos across their channels that focused on
Project Zorgo™
attempting to disrupt
VidCon
, the annual video FanCon. In this plot line,
Project Zorgo™
"hacks" the episodes, with "fuzzed out" scenes, abruptly hiding clues from the audience. However, fans discovered, and commented on, that if a viewer played all three episodes simultaneously, it resulted in one concise episode with all the pertinent clues exposed, allowing the audience to discover
Project Zorgo™'s
scheme to disrupt the event.
And the engagement doesn't stop with kids! There's buy-in from the parents as well.  The largest viewer demographic are logged-in [accounts for] 35-44 year-olds.  Parents are watching the episodes with their children or logging in to YouTube and teeing up
Spy Ninjas™
for their kids to watch. In fact,
Spy Ninjas™
is a bit of a family affair with over 41% of views coming from TV screens.
"It is the next evolution of digital media brands and franchises," says
Spy Ninjas™
global agent and brand manager, Surge Licensing's Elan Freedman. "It lives on all-accessible VOD platforms with functionality for engagement and interactivity, but the series is programmed to incentivize the audience to "tune-in" in daily and actively participate in the drama."
Thus far, the innovative and engaging programming has helped Surge Licensing sign Playmates Toys as the global master toy partner, as well as place the
Spy Ninjas™
episodes on streamers such as Amazon Prime Video, Roku, Apple TV and more.
To learn more about partnership opportunities for
Spy Ninjas
™, contact Surge Licensing by visiting 
Read more about:
Subscribe and receive the latest news from the industry.
Join 62,000+ members. Yes, it's completely free.
You May Also Like
Loading..