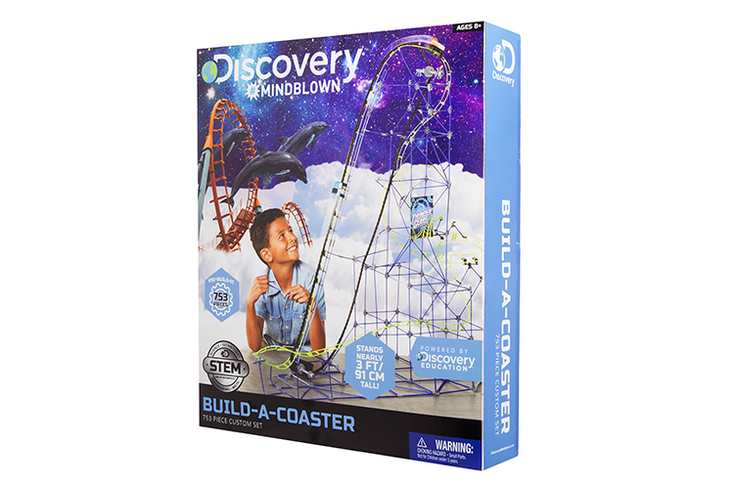 With programming that reaches 3 billion viewers in more than 220 countries, the Discovery name has a broad reach ranging from content to consumer products. Discovery's portfolio of premium nonfiction, lifestyle, sports and kids' content brands has long been a draw for licensing partners, with new collaborations and alliances announced continually.
"Discovery is the No. 1 cable provider in the world," says Leigh Anne Brodsky, executive vice president, Discovery Global Enterprises, Discovery Communications. "The brand is authentic, relatable and informative and our content stretches across every consumer product category."
Brodsky's team at Discovery Consumer Products, the licensing arm of Discovery Communications, recently debuted an exciting new global brand, Discovery #Mindblown, to fill a niche for exploration, curiosity and STEM-based edutainment.
Created with its long-time global toy partner Merchsource, the Discovery #Mindblown program is a global initiative with multiple consumer touchpoints
including toys and games, publishing apps, apparel, digital products and live events. Products will be gender neutral and targeted to kids 6 and older to promote a fun, positive image of STEM.
The new brand draws inspiration from Discovery's STEM programming airing on the Discovery Channel and Science Channel and new shows like "Street Science," and will be supported by Discovery Education's in-school digital curriculum.
"The products will be designed to be 'mind-blowing' because learning by doing is exciting," says Brodsky. "STEM toys are the fastest growing segment in the category, and Millennials are driving this interest since they want their kids to watch and play with brands that have value and are fun too."
Millennials also demand authenticity from brands, an expectation that won't be a problem for Discovery's newest brand.
"Discovery was founded as a company to satisfy people's curiosity, sense of adventure and exploration, so it's in our DNA," says Brodsky. "We've been producing STEM content since our inception and are the No. 1 STEM content provider in the world."
Over the past decade, Discovery and MerchSource have collaborated on high-quality, high-visibility, high-velocity programs at the nation's leading retailers.
"They will continue with our Discovery legacy toy program while they expand into STEM," says Brodsky.
Shark Week's Foray into Fashion
Discovery recently announced a new collaboration for its Shark Week franchise, which celebrates its landmark 30th season on July 22.
"Shark Week is a pop culture phenomenon," says Brodsky.
Each year Shark Week takes viewers on a journey to the depths of the sea to uncover the secrets of the ocean's top predator. This year, Shark Week has evolved to integrate star-studded entertainment with new science and technology, bringing viewers closer than ever to sharks in their natural habitat than ever.
This year, Discovery Consumer Products has teamed with British pop artist and fashion designer Philip Colbert of The Rodnik Band for a Discovery shark collection, which fuses Colbert's bold pop art aesthetic with Discovery's educational and philanthropic initiatives around ocean conservation.
"The partnership with Philip Colbert came about partly due to Colbert's storied fascination with sharks—his previous work featured multiple shark and oceanic designs prior to the creation of the Discovery Shark line," says Brodsky. "Discovery commissioned Philip to create a shark emblem–which we named Phin–to represent ocean conservation."
The fashion collection "with a bite" prominently features a designed shark head on all the designs across men's and women's apparel and accessories, and includes bomber jackets, sweatshirts, dresses, baseball caps, bags and mobile phone cases. Product prices range from $29 to $1,500, and the line will be available at select high-end fashion retailers prior to Shark Week 2018.
"We will be announcing soon that the line will be partnering with a luxury e-commerce partner and a portion of the proceeds will be donated to organizations dedicated to ocean conservation," says Brodsky.
"Say Yes to Prom" Expands Macy's Alliance
Discovery's "Say Yes to the Dress" and "Say Yes to the Prom" TV franchises recently expanded their apparel partnership with Macy's for a bigger and better "Say Yes to the Prom" collection.
Originally conceived in 2011 as a company-wide prom dress drive, "Say Yes to the Prom" has transformed into a nationwide philanthropic initiative, helping to make prom dreams come true for more than 7,000 underserved and academically high-achieving students.
Last year, Macy's created a "Say Yes to the Prom" dress and jewelry line for prom season and featured the collection in 200 Macy's doors and online. This year, the collection will be available in all Macy's locations and will include 28 different dress styles, up from 22 last year. Dresses retail from $129 to $199, while the fashion jewelry and accessories range from $25 to $45. Other services available via the initiative include one-on-one style sessions with Monte Durham of TLC's "Say Yes to the Dress: Atlanta." TLC has teamed up with Seventeen as well to provide a prom for one deserving high school as part of the initiative's inaugural "Win a Dream Prom for Your School" contest.
TLC kicked off the 2018 "Say Yes to the Prom" tour with an all-expenses paid prom in February for the students of New York City's Inwood Academy for Leadership Charter School, winner of the 2018 prom contest. Prior to the event students were treated to a day of shopping with Durham, and free prom dresses and accessories by Macy's. Discovery will follow up the event with a 60-minute "Say Yes to the Prom" special focusing on the students.
Say Yes to the Prom' is the best example of a 360-degree consumer activation with programming, product, advertising, a causal component and lots of social buzz, which drives this beloved franchise to new levels," says Brodsky.
Read more about:
Subscribe and receive the latest news from the industry.
Join 62,000+ members. Yes, it's completely free.
You May Also Like
Loading..