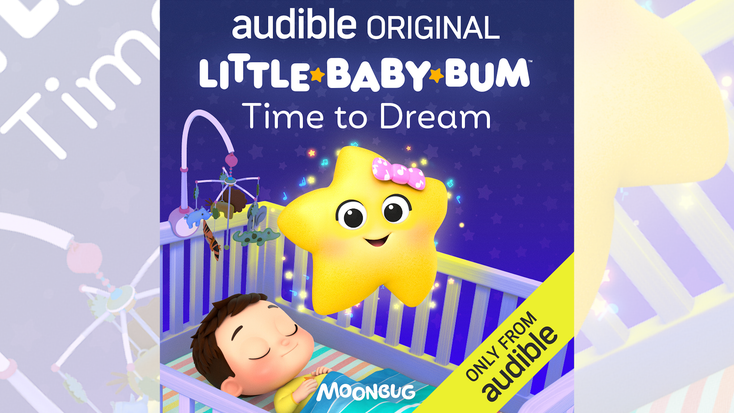 Audible's "Little Baby Bum: Time to Dream."
Moonbug Entertainment
Audible, a global provider of spoken-word entertainment, and
Entertainment, the global entertainment company behind kids' content like "
," have announced two original family listening podcasts, "
Little Baby Bum: Time to Dream
" and "Lellobee City Farm: Grandma Mei's Fantastic Folktales." 
"We're delighted to be collaborating with Moonbug on two wonderfully immersive and engaging family listening podcasts," says Aurelie de Troyer, head, content, U.K. and Canada, Audible. "We're always looking ahead to what our customers need next, and this unique listening experience is the perfect answer for the Audible listener looking to share their love of audio entertainment with their young ones." 
Based on the Moonbug shows, the two series will feature a unique format, blending podcasts and audiobooks to engage parents with young children to help them grow and learn. 
The first family-listening podcast from the deal, "Little Baby Bum: Time to Dream," launched May 4 on Audible. The podcast
focuses on sleep and mindfulness. This series is a collection of "audio-guided journeys" into the nursery rhyme-inspired land of dream time, with episodes featuring a short story followed by a relaxing soundscape. Each 20-25-minute episode has been created for listeners as young as age one and up with the support of Emily Faulkner, sleep consultant at Sleepjoy.co.uk. The first 13 episodes of the series are available now, with another 13 episodes releasing later. 
Releasing on June 8, "Lellobee City Farm: Grandma Mei's Fantastic Folktales" is tailored for family listening with children ages three and up. This series is an immersive storytelling experience that showcases the natural world and cultures from around the globe, created with the support of educational and cultural consultant, Dr. Natascha Crandall. Best friends, Ella and Rishi, play together on Lellobee City Farm, as Grandma Mei recalls folktales collected from her worldwide travels. Mei's stories teach strong moral lessons about community, diversity and nature that she ties into Ella and Rishi's experiences on the farm. Each episode features transportive sound design, with original scores inspired by each story's place of origin.  
The collaboration marks the first venture into dedicated audio experiences for the "Little Baby Bum" and "Lellobee City Farm" brands from Moonbug. Adding to the monthly 200 million audio streams that Moonbug already does, the Audible collaboration signals a continued expansion for Moonbug into the many audio verticals, including music, podcasts and audiobooks. 
"As Moonbug launches its spoken-word strategy, it's incredibly exciting to begin our global collaboration with Audible," says Jon Benoy, managing director, operations and music, Moonbug Entertainment. "With Moonbug being the home of children's preschool audio, we know how helpful a pre-bedtime wind-down is for families and believe that 'Little Baby Bum: Time to Dream' will be an important part of that routine. With 'Lellobee City Farm: Grandma Mei's Fantastic Folktales,' we want to entertain and inspire, as these stories spark kids' imaginations and encourage their curiosity and wonder about the world." 
Both Audible Original podcast series will be available globally and in nine languages (English U.K., English U.S., Brazilian/Portuguese, Spanish, German, French, Italian, Hindi and Japanese) as part of a multi-series deal. "Little Baby Bum: Time to Dream" is available to listen to on Audible now, and "Lellobee City Farm: Grandma Mei's Fantastic Folktales" will be available on June 8 at Audible.co.uk with further episodes for both titles to launch later in 2023. 
Read more about:
Subscribe and receive the latest news from the industry.
Join 62,000+ members. Yes, it's completely free.
You May Also Like
Loading..