As the European football season came to a close, new consultancy Fluid Brand Management kicked off with the U.K.'s biggest teams.
The numbers are astounding, with international television audiences and financials in the billions. So it's reasonable to ask, with the size of and interest in football, why is there less merchandise available than for Dora the Explorer?
This is the question being posed by two licensing veterans who have come together to form Fluid Brand Management to try to redress the balance.
Tom Howgate, former licensing executive with Manchester United Football Club and Nike – which took on all the licensing aspects of the Man U business in 2002 – and football-mad veteran licensing consultant Andrew Lane, have come together to offer consultancy to the U.K.'s top football teams. Lane has worked on every side of the licensing industry, and currently names Hasbro among his clients.
Fluid has seen the potential to work with the U.K.'s top football teams individually to help them maximize their licensing revenues, at the same time as thinking broadly about how the top teams can get together to leverage their
brands' potential. The pair is also looking at other sporting areas, as well as being deal brokers for licensees and licensors in other sectors.
Fluid's first client is Barclays Premier League team Arsenal, for which it is retained to consult on licensing and merchandising. "The club's aspiration is to bring their rights back in house, so we are acting as consultant and advisor, helping Arsenal to do that as well as set up an in-house licensing team," Lane says.
Fluid believes it could help other football brands, too. Unlike in the United States, where the sports leagues handle the rights for the individual teams, in the United Kingdom the individual teams manage their own rights. The Premier League, whose current sponsor is Barclays, is a shareholder's consortium made up of the 20 clubs that play in it, and has made only a few minor deals using the Premier League brand.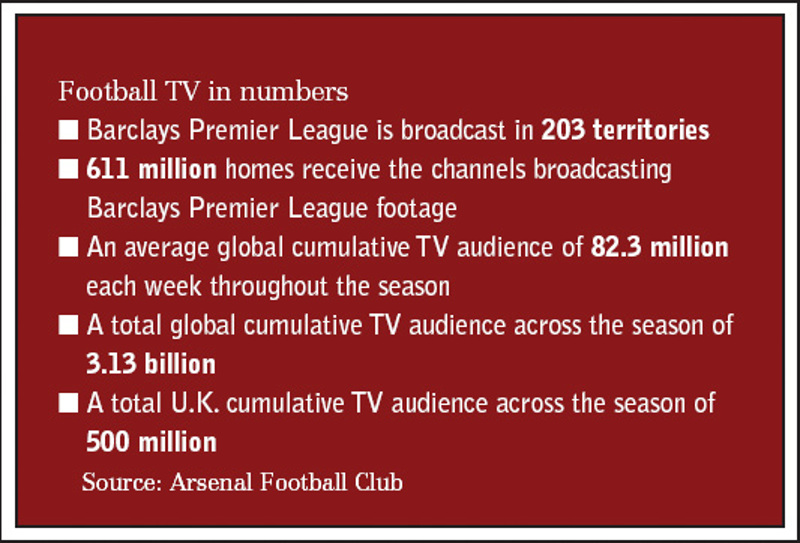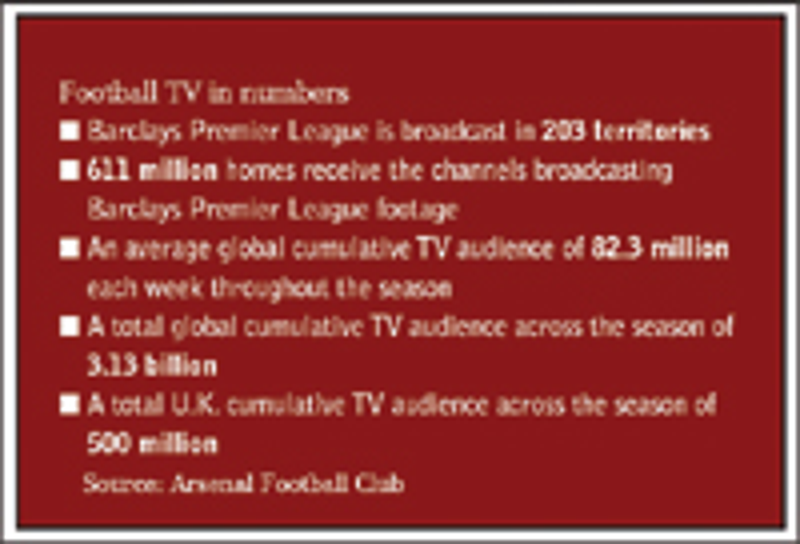 "There is an immaturity in the football licensing field and a lack of experience in making licensing deals," Howgate says. "Manchester United has led the way in football licensing, with a business worth about $126 million at retail, excluding replica strip. But we believe that we can take merchandise out of club shops and onto high streets."
Lane continues: "I'm amazed that you walk in a high street and there are shelves of product covering every sector and category, but when it comes to football you struggle to find anything."
One of the issues for football clubs is that revenues associated with individual licenses are small compared to the kind of numbers that major players deal with – sponsorships, television rights, and even footballers' salaries are all quoted in multi-million pound levels. However, Fluid maintains that licensing could provide significant, additional revenue for clubs, if managed well.
Club product largely comprises replica strip, and a small amount of merchandise sold in club shops within the team grounds. Arsenal has between 30 and 40 existing licenses, including a DVD deal with Granada Ventures for Arsenal matches, which has been renewed recently.
"There's a huge opportunity, but football clubs find the process very complex. We believe that we can fill the gap between the sports brands and manufacturers, retailers and the sports organizations," Howgate says. Preliminary discussions are already taking place with multiple retailers and sports' representatives.
Arsenal is among the four top clubs in the U.K., alongside Manchester United, Liverpool, and Chelsea. Lane says: "These clubs have over 20 million fans, but they don't have any national spread or high street presence. International brands as significant as these are not represented nationally – and they should be."
Lane also sees potential for multi club deals in the games sector – Hasbro's football game Subuteo, for example. "There are huge gaps out there to be filled. It will not be easy, but we're as well positioned as anyone to go out and do it."
Howgate is adamant that Fluid brings an understanding of football values and culture to the job. "When it comes to sport, I want to be authentic, and when you've been on the side of football, as I have, you understand game, and the sensitivity that surrounds the rivalries between clubs."
Fluid Brand Management is not acting as an agency, but as deal brokers across sport and licensing. Lane concludes: "One of the things we both understand is how to do win-win deals, so we can help take the pain out of the process and save clients time and hassle. Our connections across the industry are extensive and we can usually find the right partner for the right brand, whichever side you are on."
Subscribe and receive the latest news from the industry.
Join 62,000+ members. Yes, it's completely free.
You May Also Like
Loading..