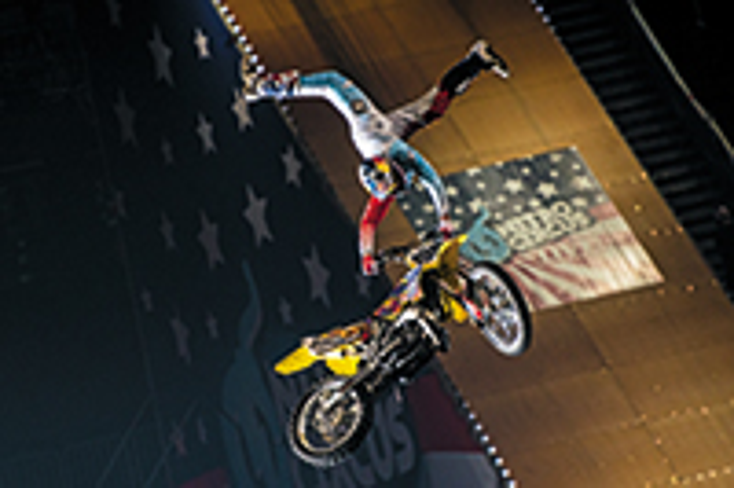 Nitro Circus is on fire, literally and figuratively, as the action sports, cross-platform entertainment company enters North America and licensing for the first time.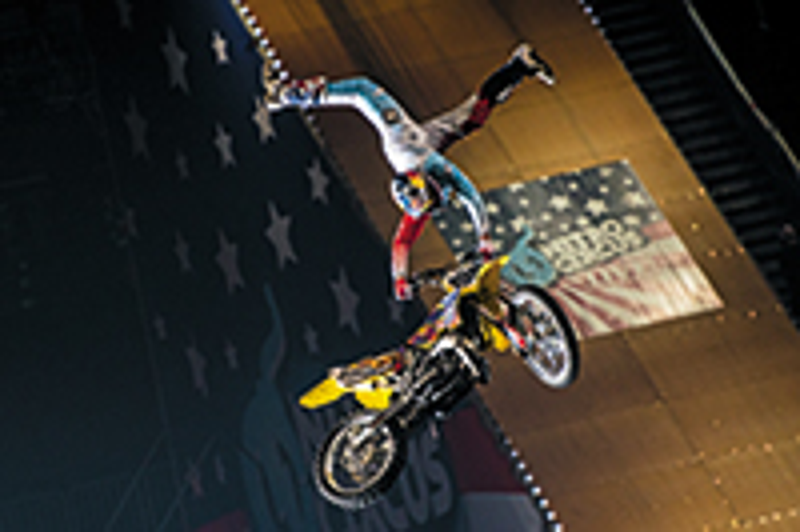 Known for its daredevil athletes and daring live spectacle, Nitro Circus has steadily been building a brand for itself for years, but a strategic infusion of capital in 2013 really set the stage for the newest iteration that is fueling sports fans and driving its live entertainment strategy globally. Nitro Circus events bring together top athletes, led by motorsports star Travis Pastrana, in BMX, dirt bike, skateboarding, inline skating, snow mobiles and more to perform choreographed stunts for live audiences.
As it enters North America in full force this year (the company relocated its headquarters to Southern California from Australia last fall), Nitro Circus is turning its eye to licensing as a means to continually engage its fans and reinforce its messaging.
"The best way to describe Nitro Circus is that we are building the
business to be a leading youth media company," says Peter Maule, global head of licensing, Nitro Circus.
Nitro Circus plans to enter the licensing arena with a focused program that looks to best-in-class licensees in the categories of apparel, footwear, headwear, sporting goods, video games, DVDs and more that will appeal to a male (18- to 30-years-old) and kid demographic. Products will be directly inspired by the athletes that perform with Nitro Circus and their incredible achievements.
"Our fan base is fashion-forward and has a cool factor," says Maule. "Nitro Circus is absolutely authentic–these athletes are putting their lives on the line, so everything is 100 percent real at all times. With that in mind, the brand is also fun, humorous and aspirational."
Likely initial deals will focus on the core categories of apparel, and fulfill product such as t-shirts, hoodies, socks and headwear.
"We're also getting a lot of interest in the toy category," says Maule. "The play pattern of being able to create your own stadium or figures that are modeled after our riders is also a possibility."
Video games, digital and mobile applications are also categories the company is aggressively pursuing for licensing.
Nitro Circus aims to have product in market beginning in 2016, with a focus on specialty and mid-tier retailers first. A planned rollout to mass is likely to come in 2017 or 2018.
"We don't want to de-value our brand coming out the gate," says Maule. "We know we can seed this property intelligently and strategically so that it has a life span at retail for more than just a few years."
To further extend and support the Nitro Circus live events, the company also has several television deals in the works, with 48 hours of planned programming set to air over the next 12 to 18 months.
The first series, "Crazy Train," a competition show that also airs clips of stunts and tricks set to music, will hit TV screens in fall. Nitro Circus has additionally lined up six TV specials that will feature its athletes perfoming never-before-seen, death-defying stunts that aim to topple world records on camera.
"All of the television programs that are in development are to build brand awareness," says Maule. "In the action sports arena, we really don't have any competition that does what we do. We're in a unique position."
Nitro Circus is in the midst of a North American tour, with 25 additional shows set for later this fall. "Nitro Circus–Moto Mayhem," an all-new production, will launch this month, followed by another round of European shows starting in February 2016.
Read more about:
Subscribe and receive the latest news from the industry.
Join 62,000+ members. Yes, it's completely free.
You May Also Like
Loading..