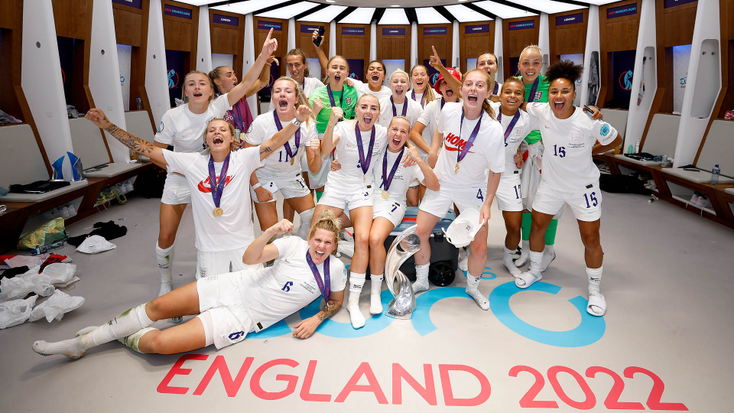 England Lionesses celebrate their 2022 UEFA Women's European Championships success
The Football Association
The ninth edition of the
kicks off in Auckland, New Zealand, on July 20 and runs through to the final in Sydney, Australia, on Aug. 20.
With USA, England, Germany, Spain and France all listed among the favorites for the tournament and in-stadium and televised audience records being broken regularly, particularly in the U.K., the tournament could offer a host of new licensing opportunities for licensees and retailers.
According to
, soccer's European governing body, over half a million people (574,875)attended matches at UEFA Women's EURO 2022, hosted in England, beating the previous record of 240,055, set at the 2017 championships. A record crowd for a women's match of 87,192 saw the host nation, England, triumph over Germany in the final at Wembley Stadium, London. It's not just live crowds that are growing, Broadcast Now reports that the
TV viewing figures for women's sports rose by 131% in 2022.
The report also highlights the number of unique viewers women's sport is attracting, with 8.4 million watching Women's Super League (WSL – the U.K.'s top division of domestic women's football) in 2022, but not watching live Premier League football (the men's equivalent), with 6.8 million watching both. This compares to 5.1 million only watching the WSL in 2021.
With
the U.S. Women's National Soccer Team (USWNT) being four-time World Champions, the popularity of the women's game in the United States is stronger than in most countries. In the U.S., more people, approximately 14.3 million, tuned in to watch the USWNT defeat the Netherlands 2-0 in the 2019 FIFA Women's World Cup Final than watched the 2018 Men's World Cup Final (11.4 million).
"Women's soccer is one of the hottest properties in sports, nowhere more than the U.S," says Ricky Medina, senior vice president, business development & licensing, OneTeam Partners, the group Licensing partner of the U.S. Women's National Soccer Team Players Association. "On the heels of the record-breaking viewership of the 2019 Women's World Cup, new
domestic women's soccer ownership
and
National Women's Soccer League sponsors
have turbocharged investment in women's soccer to deliver more access, content, and engagement to some of the most underserved, fervent fans in sports.
"USWNT fans are highly engaged, willing and able to spend money to access content, and eager to rep their favorite players with officially licensed player merch. Because brands who invest in women's sports have
higher brand affinity with fans
, fans reward brands who invest in women's sports with immediate engagement and spend."
2023 FIFA Woman's World Cup Licensed Merchandising
This all points to the potential for merchandise sales surrounding this summer's tournament. According to
, a global digital sports platform and licensed sports merchandiser, the overall principle for supplying women's merchandise remains largely similar to the men's game, in that success relies on being able to meet changing fan demand and deliver high-quality fan gear quickly and at scale.
"Women's football is one of our fastest-growing categories for licensed merchandise, with sales of women's merchandise having grown by 150% since 2018," says Matthew Primack, senior vice president, international business affairs and development, Fanatics. "Both the recent success of the Lionesses (the England women's national football team) and the growing profile of women's football more broadly have been significant contributing factors to this.
"Most notably, during the 2022 UEFA Women's European Championships, wherein Fanatics ran all official physical retail throughout the tournament, sales of official merchandise at the Women's Euro 2022 retail stores were over 40% up on pre-tournament expectations, demonstrating the rapid growth of the women's game."
What this has led to, according to Michael Lees, licensing partnerships manager, The FA Group, is an increased demand from retailers and licensees to work on products that are marketed toward women and young girls. "Ahead of the Euros there was little appetite for Lionesses-branded products from retailers, but due to the success of the women's team last summer, the upcoming Women's World Cup and the growth of The Barclay's Women's Super League, it's a very different situation now," says Lees. "From a few conversations we've had with licensees, they think we would be seeing even more interest from retail if the tournament was a little closer to home, but they are still pleasantly surprised with the uptake versus years gone by.
"In terms of our approach, one thing we are trying to do as an organization is to ensure that England becomes an all-encompassing term to include all England teams, and that team nicknames are used accordingly when referring to the women's (Lionesses) and men's (Three Lions) senior teams. So, you may see some product in the marketplace featuring both England and Lionesses, which will be mirrored when it comes to a men's tournament (with Three Lions replacing Lionesses)."
"In the build-up to this Summer's World Cup, the U.S. Women's National Soccer Team Players Association (USWNTPA) has built a star-studded licensee roster of 38 licenses (and growing) ranging across jerseys, fashion and streetwear apparel, trading cards, video games, action figures, plush, framed wall art, and more," says Medina. "Demand for officially licensed USWNTPA player products has never been stronger and unlike in past World Cups, supply is at long last set-up to meet the demand of fans."
Demand for England Lionesses Jersey's
Of course, with increased interest and popularity comes steadily increasing consumer demand for England Lionesses kits and merchandise, particularly personalized shirts.
"To service this growing demand, we invest heavily in our product infrastructure and partnerships with many of the world's leading sports organizations, such as the English FA and the DFB," says Primack. "This, combined with the insights afforded to us by our consumer database of more than 90 million sports fans globally, enables us to plan ahead as much as it is possible to do in the ever-unpredictable world of sport. Following the 2022 UEFA Women's European Championships, we saw a major spike in demand for women's merchandise when England defeated Germany in the final. Fanatics was able to service this influx of demand largely due to our agile business model, ensuring that our full range of England 2022 winner's product was live within minutes of the final whistle. As a result, we saw more women's merchandise sold in just four hours following the final whistle than in the seven days leading up to the final."
The new
, which the team will wear during the World Cup, was revealed last month with a switch to blue shorts, rather than the traditional white, a change which came about following consultations with the players over concerns about wearing white while on their periods.
"Along with new kit and Nike training and lifestyle ranges, we will also launch a formalwear range for the women's team in partnership with M&S," says Lees. "Like the kit, the M&S range has been built with players' feedback at the forefront of the product development process. We'll see product placed by our licensees across several mass market grocers and high street stores, of which many are SKUs speaking to women and young girls specifically.
"We've also got a new Panini collection in the works that features both men's and women's players alongside each other. It really comes back to the fact that a lot more retailers will be stocking England Lionesses products during this World Cup, which is a step in the direction for the women's game and our licensing program. The 'every year is a tournament year' mindset is being supported by retailers, licensees, Nike, Fanatics and everyone else involved, it's great to see."
FIFA Woman's World Cup kicks off with co-hosts, New Zealand, taking on Norway at Eden Park, Auckland, on July 20. England opens their account in Brisbane, Australia, when they take on Haiti on July 22, while the U.S. Women's National Soccer Team kicks off later that day against Vietnam. Fellow co-hosts, Australia, begin their campaign in Sydney against Republic of Ireland.
Read more about:
Subscribe and receive the latest news from the industry.
Join 62,000+ members. Yes, it's completely free.
You May Also Like
Loading..