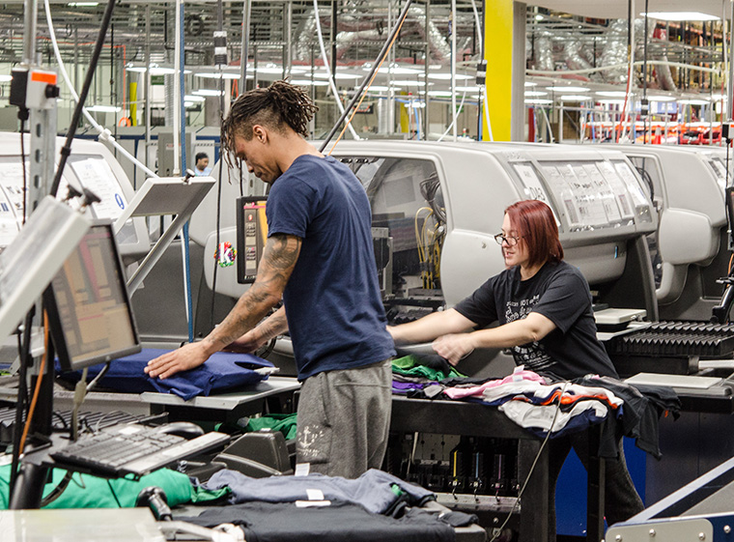 There's absolutely no question—Amazon is changing everything.
From the way customers shop to the quality of product expected, speed of delivery and convenience factor, Amazon has grown to become one of the largest and most influential online retailers in recent memory.
According to the International Licensing Industry Merchandisers' Association's 2017 Annual Global Licensing Industry Survey, online sales accounted for 21 percent of all licensed retail sales worldwide in 2016. But that is just an average, with variants around the globe. When you drill down by region, the U.S., for example, booked 28 percent of sales online, whereas in China, a staggering 41 percent are via e-commerce.
It is without a doubt that Amazon, with its hundreds of millions of customers, has cracked the e-commerce code.
And the online retailing giant has another tool in its offering that is poised to further change how licensors, licensees and content creators in particular garner sales—Merch by Amazon.
Merch by Amazon
is a print-on-demand service fully operated, from beginning to end, by Amazon–they manufacture, sell and ship all product using Fulfillment by Amazon, which gives Prime members free two-day shipping, among other benefits.
"A good way to look at [Merch by Amazon] is this: we provide a full supply chain without you needing to have supply chain management," says Miguel Roque, director, Merch by Amazon.
Merch by Amazon makes it easy for licensors, licensees and content creators to create, promote and sell branded merchandise without risk and without any up-front costs.
And it's not to be confused with the Amazon Marketplace.
"Merch by Amazon differs from the Amazon Marketplace because brands don't need to manufacture or own any physical inventory, rather they rely on Amazon's inventory and accumulate royalties for every product sold," says Roque. "We essentially take a physical product, make it digital and then make it physical when a customer buys it. These products are shipped with Prime, and of course carry the customer service promise that comes with Amazon."
Launched just under three years ago as a service for app developers with the goal to further support them on Amazon by providing a way to get merchandise into the hands fans, the online retailer quickly began to see additional opportunity.
"We noticed that many app developers have a few things in common: a fan base, creativity and design skills and no easy or natural path to get their own branded merchandise into the hands of fans," says Roque. "With that in mind, we developed Merch by Amazon to help developers increase revenue through the sale of branded merchandise designed by them and produced, sold and shipped by Amazon."
It was immediately apparent to the company and its sellers that there was gold in the service.
"Merch by Amazon officially launched in 2015 and immediately took off," says Roque. "In fact, 10 days after launch, we shut down the application process due to an overwhelming response from designers, brands and customers. We stepped back and recalculated what it was going to take to meet customer and seller expectations, then refined our process and infrastructure requirements."
Merch by Amazon is an invite-only model now.
"We use the invite-only structure for a couple of reasons," says Roque. "First, it helps us maintain high standards on behalf of Amazon customers looking to buy branded products. Secondly, it allows us to regulate the amount of sellers joining the platform. Finally, it is important to ensure our capacity meets demand so that we have happy brands and happy customers."
Merch by Amazon works like this: the online retailer makes available pre-defined goods which licensors, licensees or content creators can choose from and then transfer their designs to. Currently, offerings include two types of t-shirts, long sleeve shirts, hoodies, crewneck sweatshirts, PopSockets (mobile accessories) and phone cases. Merch by Amazon says more product and apparel styles will be continually added to increase product selection. As of now, all products are manufactured and produced in the U.S.
Because Merch by Amazon is integrated with
, designs then live on the marketplace as regular product listings. Branded storefront pages (which are optional) enable brands to provide their full assortment of products sold on Amazon, giving the buyer a seamless shopping experience.
"There are many popular branded products that are performing extremely well on Merch by Amazon," says Roque. "For example, Sanrio has a wide assortment of PopSockets across all of their characters. This is alongside other items their licensees are selling and their apparel items from Merch by Amazon. It makes for a great customer experience to find all of these different products in one place."
Popular brands using Merch by Amazon include Sanrio, Disney, Cartoon Network, Activision Blizzard, AMC and many more.
The nature and structure of Merch by Amazon also allows it to be fast and nimble, bringing unique product assortments that are of-the-moment to customers almost immediately.
"Because we provide an opportunity to create, publish and sell content within minutes, timely products tend to do very well. Think pop culture moments like viral quotes and social events, etc.," says Roque. "Designers who are forward looking and can tap into those moments in time have seen amazing success."
The service is a win-win for everyone. Sales insight can be derived from a multitude of data points, allowing the licensors, licensees and content creators to see immediately what is working and what is not. And because the product carries no risk or overhead, licensors, licensees and content creators can also use Merch by Amazon to analyze sales and adjust strategy before delivering large orders to other retailers.
"Brands who are using Merch by Amazon are able to see in real-time what their customers are buying or which colors and sizes are selling. Access to this data can support defining what products you want to offer in other sales channels," says Roque. "The power of this tangible data can drive huge efficiency in the selection mix when there is a requirement to produce merchandise in advance. That's not something brands have been able to achieve, at scale, previously."
An example? Netflix's 2017 satirical crime series "American Vandal." Launched exclusively on the VOD network in the increasingly common single content drop model (meaning all episodes were available at once, allowing for binge sessions), "American Vandal" merchandise was scant, and producers CBS and Funny or Die had no idea what elements from the show were going to resonate with fans and translate to product. But through Merch by Amazon, CBS was able to get product to market and available to customers almost immediately, capitalizing on the short content delivery window and spike in activity.
This ability to test items online and to analyze and better understand customer demand in real-time is critical to brand growth. With brick-and-mortar traffic shifting and the retail landscape changing rapidly, more than ever data is key to defining a brand and delivering on that brand's promise. No more can brands afford to launch a program and wait and see–shelf space is limited and retailers are more measured than ever in what product assortments they are willing to take risks on.
According to Roque, the good news is that experimentation is getting cheaper because of print-on-demand services like Merch by Amazon.
And make no mistake, the print-on-demand opportunity is delivering financially. Merch by Amazon has a clearly defined royalty formula structure that it rolls out to all licensors, licensees and content creators.
"The key difference [between traditional retailers and Merch by Amazon] is that we pay royalties on every product sold based on the retail price, which the brand establishes. Given there is no inventory, inventory risk is mitigated and there are no upfront production costs or having to make assumptions around what customers want. You can take some great creative liberties, and if something sells, you know pretty much in real-time," says Roque.
Merch by Amazon is also positioned, thanks to its bird's-eye view of the marketplace, to identify macro trends across industries.
"Overall, through social media we're seeing that new brands can have very spikey, and sometimes short-lived, demand curves," says Roque. "Additionally, customers more and more require a tailored shopping experience. Customers expect to be able to find exactly what they're looking for, when they want it. This means brands need to expand their selection and ability to respond to the customer's timing in ways previously unanticipated."
Speed is also a huge factor in customer experience, and nobody is better at that than Amazon.
"Two-day delivery is kind of the norm right now, but we're headed toward two-hour and one-hour delivery," says Roque. "That's what customers want, and where the business is headed."
Merch by Amazon is also fundamentally redefining the very definition of what it means to be brand, and how that brand awareness is created in the marketplace. Smaller brands are able to gain exposure, setting them up to capitalize on licensing moving forward.
"The ability to create thousands of products without any risk, learn from what customers want in real-time and action things that are topical within minutes redefines the way a new brand can operate. What previously took months or years can now take literally minutes," says Roque.
Ultimately, Merch by Amazon is offering a platform that is simply delivering on what customers are demanding. And as the average buyer shifts younger, and new generational habits continue to evolve the retail landscape, it is nimble companies and solutions such as Merch by Amazon that are paving the way for innovations yet to come, even for this very service itself.
"What started out as a proof of concept for print-on-demand t-shirts has morphed into so much more," says Roque. "Our product range and capacity to manufacture has grown by leaps and bounds since launch. Now we have become a scalable print-on-demand service accessible to a massive customer base, and for the first time ever, there is a place where a brand can come and launch a product in minutes and have in fulfilled to a customer in two-days with Prime."
Amazon will be heading to Licensing Expo, taking place May 22-24 in Las Vegas, Nev., at the Mandalay Bay Convention Center, as well. Nicholas Denissen, vice president, Amazon, will host an opening keynote panel on Tuesday, May 22, at 8 a.m. local time. The panel discussion, titled "Great Expectations: Pace, Selection, Convenience and the Customer," will speak to how brands can grow their business online and what Amazon is doing to enable that. With the increase in customers' appetite for unique content and larger selection, Denissen and a panel of industry leaders will discuss how together businesses can support and challenge the industry to scale business faster and greater than industry expectations, with clear value for customers.
Read more about:
Subscribe and receive the latest news from the industry.
Join 62,000+ members. Yes, it's completely free.
You May Also Like
Loading..