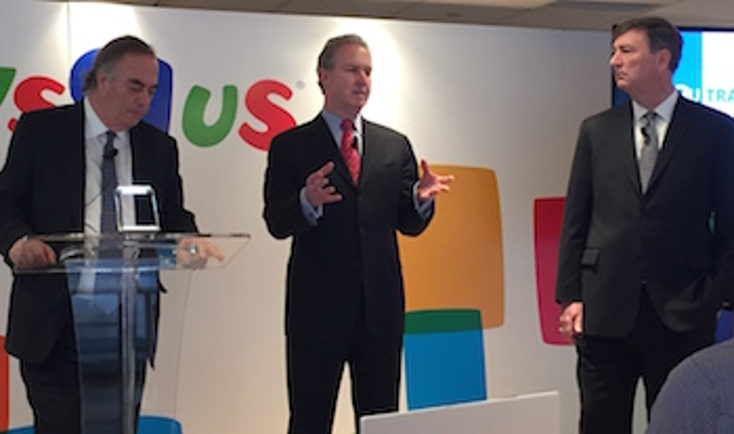 In another installment of what is becoming an informative mini-series of updates on its "Transformation Strategy," Toys 'R' Us executives outlined the retailer's progress and initiatives that are being implemented to improve operational performance and drive profitable growth at a meeting in New York City Tuesday.
TRU executives identified new business priorities, reviewed 2014 financial results and the current status of the flagship Times Square Store.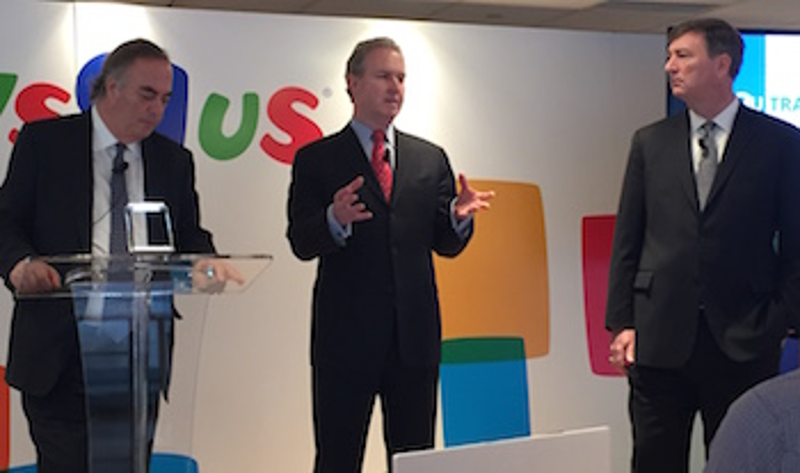 Antonio Urcelay, chairman and CEO; Hank Mullany, president; and Mike Short, EVP, CFO
"A year ago, we introduced a new strategic plan, with initial efforts concentrated on strengthening the foundation of the company so revenue and profits can grow in the future," says Antonio Urcelay, chairman and chief executive officer, TRU. "During 2014, we made steady progress in implementing this plan, successfully delivering on our commitment to slow sales decline, stabilize cash flow and improve EBITDA. We also made significant process and organizational improvements, addressing a number of important executional issues. As a result, during the year, global Internet sales continued to grow, benefitting from our strengthened omni-channel fulfillment model, U.S. margins improved due to disciplined promotional activity and inventory management, and customer satisfaction metrics confirmed that changes we have been making provided a better shopping experience in-store and online. During the year, we also grew our international presence, strengthened our leadership team and formalized a global approach to doing business."
In
2014, net sales increased .5 percent to $12.4 billion, excluding a negative impact of $243 million from foreign currency translation. Operating earnings were $191 million versus a loss of $350 million in the previous year.
With regard to various news reports that it will close its flagship 100,000-square-foot Times Square store, Urcelay says that no final decision has been made and negotiations are still ongoing. "There is a limit to what we can pay for it," he says, "and we have refused to sign a blind lease renewal."
"Our strategy remains the same, but will evolve in 2015 as we continue to strengthen the foundation of the company in order to achieve sustainable growth in the future. We anticipate this will be another year of significant change and we will take aggressive steps in the months ahead to further right-size the cost structure of the business. This includes designing a more streamlined organization that will allow us to create greater operational efficiencies across our global organization," says Urcelay.
During 2015, the objective of the company's "TRU Transformation" strategy will be "to continue to slow the company's sales decline, strengthen margins and improve EBITDA." The retailer will focus on four key priorities:
Continue to transform the customer experience in-store and online. 

This will include store improvements, a new store design and a renewed focus on Babies 'R' Us.

Optimize the e-commerce business.

With a $1.2 billion global e-commerce business, TRU says its focus will be to continue to grow profitably online, further strengthen its omni-channel capabilities including in-store pickup and ship-from-store execution and advance its mobile capabilities. The company reports that 57 percent of Toys 'R' Us U.S. digital visits come from a mobile or tablet device.

Grow internationally and leverage global scale to drive category leadership and differentiation.

With stores in 36 countries, the company expects to continue to grow internationally, particularly in China and Southeast Asia.

Right-size the cost structure and design a more efficient, streamlined organization.

Last year, the company says it identified potential cost savings of $150-200 million primarily in U.S. SG&A and cost of goods. Over $100 million of this was achieved in fiscal 2014 and the additional $50-100 million is expected to be fully realized by fiscal 2016. In addition, the company says it recently identified $50-75 million of potential savings in its international operations, which it expects to achieve by the end of fiscal 2016.
In order to create greater efficiencies across its business in Europe, TRU is moving from a decentralized country-by-country leadership structure to a more centralized pan-European approach, establishing a new European Management Board that will assume overall responsibility for the company's business operations across the continent.
The company also recently completed the refinancing of $1.4 billion of its near-term debt maturities and now has no significant outstanding debt repayments due until 2017.
Read more about:
Subscribe and receive the latest news from the industry.
Join 62,000+ members. Yes, it's completely free.
You May Also Like
Loading..