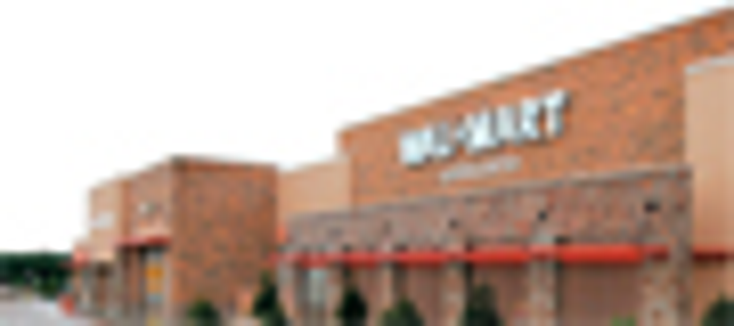 A Quick Reference Guide to Sales, Brands, Licensing, and Merchandising
1. Wal-Mart
United States Sales: $374.5 billion Earnings: $12.9 billion Stores: 6,800 worldwide
The world's largest retailer is a collection of powerhouse global brands, including its own labels and exclusives. Wal-Mart private label brands, driven by price and value, are staple items among consumers worldwide. Equate, Sam's Choice, and Great Value are all dominant labels as are many of its proprietary brands in apparel and other categories.
The company is expanding its presence in the "green" arena, with more eco-friendly lines of bedding, cleaners, and food. There's even milk made without artificial growth hormones under the Great Value name.
Brand shops are prominent at Wal-Mart, particularly for entertainment properties appealing to younger audiences such as High School Musical and Hannah Montana from Disney Consumer Products. Wal-Mart's ability to obtain exclusives on such wildly popular licenses as High School Musical digital downloads have helped the retailer attract a younger, more
contemporary shopper. In addition, the launch this spring of the OP, Ocean Pacific, exclusive collection, in a licensing agreement with Iconix Brand Group, across softlines categories is also another indication of the retailer's brand strategy and younger target audience.
2. Carrefour
FranceSales: $130 billion (€82.1 billion)Earnings: $5.2 billion (€2.3 billion)Stores: 87,422 worldwide (including cash and carry, convenience stores, hypermarkets, etc.)
With more than 87,000 stores worldwide, it's hard to believe that Carrefour Group isn't the world's largest retailer in sales, ranking second after Wal-Mart's mere 6,800 locations. But it's worth noting that Carrefour took the No. 2 spot without opening a single store in North America. Store sizes range from hypermarkets to convenience stores, making Carrefour stores among the most versatile and well known in every category outside the U.S. Interbrands ranks Carrefour the second top-performing retail brand in Europe (after H&M).
And like Wal-Mart, Carrefour is home to private label, national and international brands and is building on this by inking deals with lucrative licensors, most recently Marvel Entertainment. Carrefour now retains exclusive rights for the use of the Hulk, Spider-Man and Iron Man characters on its Marvel-licensed textiles collections that will include school supplies. The first products will hit the French market in November 2008 to coincide with the DVD release of Iron Man. The international roll-out of the line is slated for spring 2009.
3. Tesco
United KingdomSales: $102.6 billion (£51.8 billion)Earnings: $5.5 billion (£2.8 billion)Stores: 3,729 worldwide
Tesco launched its U.S. invasion in 2007 and the world's third largest retailer now has over 60 stores in California, Arizona, and Nevada gradually penetrating local markets.
The U.K.-based retailer goes head to head with Wal-Mart and other global retailers on other fronts as well as boasting low prices, offering consistent, money-saving opportunities and, of course, a strong stable of brands.
House brands play a large role at Tesco including electronics, office supplies, toys, games, gardening tools, and computer accessories while Tesco's Finest, Healthy Eating and Value brands play prominent roles in consumables. In fact, Tesco has put its own name on so many items the chain was named most valuable brand in the U.K. by Intangible Business, a marketing and consulting agency.
Exclusives to Tesco include the growing lines of Florence and Fred (F&F) apparel. Cherokee, a label associated exclusively with Target in the U.S., is heavily promoted in the boys apparel category at Tesco and entertainment properties are scattered across product categories.
Last year saw the addition of Disney-branded foods that go beyond shelf-stable treats into fresh fruits and dairy items meant to promote healthy eating among kids.
4. Metro AG
GermanySales: $101 billion (€64.3 billion) Earnings: $1.5 billion (€983 million)Stores: 2,221
Germany's largest retailer is distinctly, well, German with its unrelenting focus on affordably priced private label products. House brands reign supreme and retail innovations keep Metro AG's Store of the Future among retail's most progressive operators.
After forcing Wal-Mart to beat a retreat in 2006, the chain has suffered from declining sales in Germany and sold off 245 Extra grocery stores. CEO Hans-Joachim Koerber stepped down in September 2007 and Metro is in the midst of a restructuring but still investing in innovative retail. The company's newest incarnation of the Store of the Future opened May 28.
5. Home Depot
United States Sales: $77.3 billion Earnings: $4.2 billion Stores: 2,258
Still the top-grossing home improvement retailer, Home Depot keeps flexing its muscles even in an economy that is hitting the real estate and home building industry harder than most.
In spite of a challenging fiscal year, Home Depot still ranks as the third largest global retailer. And thanks to the housing slump, it's currently refocusing on retail operations and consumer sales versus contractor accounts, making brands even more important.
The chain boasts some of the best-known private label brands including DeWalt, Ryobi, and Behr. Its Eco Options line extends house brands into "green" territory and seasonal efforts include licensed properties in electronics and entertainment.
Disney has a prominent place at Home Depot across multiple categories including paint, home accessories, play structures, and interactive titles. Ralph Lauren branded paint is a staple for the chain and Weather Channel-branded digital thermometers and weather stations are featured prominently.
Home Depot partners with NASCAR, as the Official Home Improvement Warehouse of NASCAR, the exclusive retailer of NASCAR and sponsorship of the No. 20 Home Depot Racing team.
6. CVS Caremark
United StatesSales: $76.3 billion (includes acquisition of Caremark)Earnings: $2.6 billionStores: 6,245
CVS has nearly doubled in size with the acquisition of pharmacy benefit manager Caremark. But at the retail stores, a focus on health and beauty products is driving growth and market share. The chain distinguishes itself with store brands and exclusives that add a higher-end element such as the Lumene and Boots brand beauty products, Skin Effects by Dr. Jeffrey Dover, and 24.7 skin care. Salon brand hair care line Christophe Beverly Hills from celebrity stylist Christophe is an exclusive and was recently expanded with a Purely Natural extension. Playskool Baby Care extends the Playskool brand into baby wipes and diapers and CVS has the exclusive to sell generic ibuprofen under the Nuprin label.
7. Kroger
United States Sales: $70.2 billion Earnings: $1.2 billionStores: 2,486
The largest food retailer in the United States after Wal-Mart, Kroger operates an assortment of supermarkets under more than a dozen names including Dillon's, Ralph's, Smith's and of course its own, Kroger. Marketplace combination formats and Fred Meyer department stores carry global brands such as Nike, Columbia Sportswear, Sony, and Panasonic.
House brands play a large role at Kroger stores, but the chain strikes sizable strategic licensing deals. Aristocat and Old Yeller canned pet food from Disney and Disney's Magic Selections consist of 100 products developed with Disney exclusively for Kroger stores. There's National Lampoon bottled water and flavored water targeting the fraternity set. Kroger is the official retailer of the Daytona 50th Anniversary with cross promotions and a co-branded Web site.
8. Costco
Sales: $64.9 billionEarnings: $1.8 billionStores: 520
Costco's house brands and private label food products are so established that club members are rabidly loyal. The Kirkland Signature line is nearly synonymous with low price and high quality. The company's operating model of carrying a single national brand choice alongside a store-label option helps push consumers toward that lower-price option. But consumer response is often so favorable to the store brand, going back to the national label seldom occurs.
Kirkland brand vodka compares favorably to high-end offerings in the same category, Kirkland wine is garnering a loyal following and Kirkland brand linens rank among the best value in national tests alongside department store labels.
Envision in electronics offers a compelling lower-cost option to higher-end brands and in some cases the addition of a recognized brand is added to the store label—Kirkland Signature by Whirlpool—offers an added level of consumer confidence when buying a big-ticket appliance.
Costco recently joined forces with Martha Stewart in a deal to co-brand Kirkland Signature food items including its holiday ham, soups, appetizers, dips, salads, and baked goods.
9. Target
United StatesSales: $63.4 billion Earnings: $2.8 billion Stores: 1,591
No retailer uses celebrity brands like Target Stores. Ranked ninth on the list among global retailers that have 10 times the number of stores, Target's high rank is attributable to its portfolio of brands, a well-cultivated merchandise assortment and a management team that never waivers from its mission to provide more for less.
At Target, that catch phrase includes a range of product offerings under the stores name in commodities and consumables. The Archer Farms and Market Pantry private labels in food and household supplies have grown into established names in their own right, but it's the celebrity and designer line extensions that really drive store traffic and consumer loyalty.
Michael Graves, Thomas O'Brien, Victoria Hagen, Isaac Mizrahi, Cynthia Rowley, DwellStudio – all represent Target's ability to attract high-end designers as a point of differentiation in a very competitive retail playing field. Cherokee, Eddie Bauer, Mossimo, and Merona are only available at Target.
Exclusive licensing agreements with entertainment properties including Disney's Camp Rock give the retailer an edge among the younger set and its ability to negotiate these deals keeps it a destination for an always evolving list of popular properties.
10. Groupe Auchan SA
France Sales: $57.7 billion (€36.7 billion)Earnings: $1.2 billion (€762 million)Stores: 1,140 (plus 1,448 franchised or associated supermarkets and minimarkets in Italy, France, and Spain)
The third largest retailer in France, Groupe Auchan operates hypermarkets and supermarkets in addition to garnering revenue from real estate and financial operations. Retail initiatives are varied and include deep discounters, drive-through facilities, memberships clubs, and supermarkets. Expansion efforts are physically focused largely outside of Western Europe and the company is busily building and expanding its private label efforts including the Organic and Eco lines, and locally sourced and certified food items from each of the regions the retailer serves. Store brands represent nearly 40% of Auchan's merchandise mix.
11. Edeka Zentrale
Germany Sales: $57.5 (€36.7 billion)Earnings: N/AStores: 13,800
Where other top Germany-based retail chains are looking beyond that country's borders for growth, Edeka Zentrale is increasing its presence in Germany, buying up stores and shedding locations in Austria, France, and the Czech Republic. A strategy that seems to be working for the chain, prompting a mid single-digit jump in sales toward the end of 2007, as the German economy began to improve.
Edeka slashed prices on hundreds of grocery items to better compete with market leader Aldi. Organic and natural foods play an important role in Edeka's business with the chain's own Bio brand Viel Leicht low-fat meats playing a prominent role.
12. Schwarz Unternehmens Treuhand KG
GermanySales: $56.1 billionEarnings: N/AStores: 7,500
Uber secretive, Schwarz operates discount stores, hypermarkets and supercenters across Europe, primarily under the Lidl name. The German-based company is privately held and competitive. A hard discounter, the company offers rock bottom prices on privately sourced products and private label brands.
This is bare bones, no frills retailing. Shopping here is driven by price alone. Exclusive partnerships, global brands, licensed products and entertainment characters are not emphasized.
13. Walgreen
United StatesSales: $53.8 billionEarnings: $2.0 billionStores: 5,997
Walgreen's average store is small, but packs a lot of punch. Back of the store business – pharmacy – is its raison d'etre, but the company has been steadily building front of the store sales thanks in no small part to exclusive brands.
In fact, with pharmacy sales negatively impacted by a lack of new products, a dependency on generics and stiff competition from other retail pharmacy chains. Walgreen is looking to brands for growth.
Walgreen brand products are being re-branded as "W" with new packaging. There's a strong emphasis on skin care with prestige brands exclusive to the chain including "Yes to Carrots," and the introduction this spring of casual apparel under the proprietary Casual Gear label. Licenses don't typically go much beyond the usual entertainment brand extensions in the health and beauty categories and a large assortment of As Seen on TV products.
14. Centres Distributeurs E. Leclerc
FranceSales: £66.0 billionEarnings: £900 millionStores: 628
This unique French co-operative is owned and operated by the Leclerc family and remains among the country's leading supermarket chain. Like many of its European brethren, Leclerc is a low-price leader that aggressively prices its selection of proprietary and global brands.
The retailer's own Eco line offers environmentally conscious products including cleansers and foods, and Issaia is a low-priced line of apparel.
But Leclerc's strong family focus and presence in emerging European markets, including Poland and the Czech Republic, makes it a strong potential partner for licensors including entertainment properties.
15. Aldi GmbH & Co. oHG
Germany Sales: $53.0 billionEarnings: N/AStores: 8,000
Another no-frills retailer, Aldi focuses on low-priced private label products. Through Aldi stores in Europe and the United States, and the boutique upstart and subsidiary Trader Joe's in North America, the company focuses on a streamlined product assortment that offers high-quality food at cheaper prices. Kirkwood, Fit & Active and Crofton are among the Aldi house brands making up the majority of the merchandise mix. National brands rarely make an appearance for longer than a two-week "special item," and heavily promoted licensed properties go against the company's philosophy of keeping down costs. Trader Joe's extends the same value proposition, but to consumers interested in organic and gourmet products at lower prices. The Trader Joe's brand is itself a powerhouse label, available at some European Aldi locations as well.
16. Sears Holdings
United StatesSales: $50.7 billion Earnings: $826 million Stores: 3,847
Sears Holdings is home to some of the most recognizable brands in the United States, most of them proprietary. Die Hard, Craftsman, Lands End, Kenmore – all household names. Between the flagship Sears locations and Kmart stores, the company has such a strong stable of exclusive brands analysts have wondered for years why they don't just close the stores and be brand managers for these product lines. It's an idea recently embraced by Sears Holdings chairman Edward Lampert, who suggested the possibility of marketing proprietary brands beyond the company's stores and restructured management along brand lines for the stated purpose of growing these products.
No stranger to celebrity, Sears and Kmart boast lines by Martha Stewart, Ty Pennington, Rachael Ray, and Jaclyn Smith. Joe Boxer, Covington, Canyon River Blues, and Route 66 are recognizable store brands in apparel. Entertainment properties are prominent in toys, electronics, media, children's, and baby departments, and Sears' ongoing sponsorship of ABC TV's popular "Extreme Makeover: Home Edition" not only gets the Sears name and its brands in front of millions of viewers each week, but brings in exclusive products to stores under the show's name. Sears recently announced a deal with entertainer LL Cool J to devleop an exclusive apparel collection.
17. Rewe-Zentral AG
GermanySales: $48.8 billion (€31.2 billion retail only)Earnings: N/AStores: 12,000
Another closed-mouthed, privately held German retailer, Rewe excels at selling value-priced grocery items across Europe. The group is a cooperative owned by approximately 3,000 collective members operating stores in a variety of names including Billa, Plus, Penny, and Rewe.
Rewe is a hard discounter across all its formats and its merchandise selection is primarily private label; 40 different private label brands across nearly 2,000 categories. Newer lines include the eco-friendly product line Bio in dairy, packaged, and frozen foods.
The chain is focused on expansion in Eastern Europe, primarily in the Czech Republic, Hungary and Russia.
18. Lowe's
United StatesSales: $48.3 billionEarnings: $2.8 billionStores: 1,534
It's been a difficult economic environment for home improvement retailers and 2007 was not kind to Lowe's. Like its largest rival – Home Depot – the chain is focused on sales to customers rather than contractors during the housing slowdown and continues to build on its reputation as the more female friendly, less-rough-around-the-edges home improvement store.
Proprietary brands include Kobalt hand tools, Allen + Roth window treatments, Reliabilt doors, and Valspar paints. Appliances are prominent at Lowe's and a selection of high-end imported brands, including Bosch and Fisher & Paykel, are a point of pride as is its racing sponsorship of cars, drivers and the Lowe's Motor Speedway. Entertainment licenses appear in childrens' décor categories including wall and floor coverings and seasonal items and used opportunistically relative to movie releases and racing.
19. ITM Developpement International (Intermarche)
France Sales: $47.7 billion (€30.5 billion) Earnings: N/AStores: 4,080
Intermarche is a co-operative, a consortium of independent retailers. The thousands of outlets include supermarkets, small groceries, automotive centers, restaurants apparel, home improvement retailers, and home and garden outlets.
But food retailing is the company's largest business, expanding into the emerging markets of Poland, Portugal and Romania. Private label, particularly in natural and organic foods, is priority for the company.
20. Seven & i Holdings Co. Ltd
JapanSales: $45.2 billion Earnings: $1.1 billionStores: 33,000 worldwide
Seven & i's portfolios of stores runs a wide gamut: convenience stores, superstores, supermarkets, department stores, and restaurants worldwide, the company reaches across product categories and demographics. Seven & i offers a little something for everyone.
Some of 7 eleven stores' best-known proprietary brands include Slurpee and Big Gulp beverages and the chain carries licensed merchandise across all snack food and beverage categories. The Seibu department stores are decidedly upscale, with designer brands and celebrity labels. But even with nearly every licensed and celebrity endorsement the holding company plans to focus on private label development going forward and recently launched a line of private label products in grocery.
21. Koninklijke Ahold
Netherlands Sales: $44.3 billion (€28.2 billion)Earnings: $1.2 billion (€797 million)Stores: 3,225
Ahold is aggressively reducing redundant inventory, streamlining operations and emphasizing store brands across all its various locations worldwide. Last year, the company exited Poland and sold U.S. retailer Tops, retaining ownership of Stop & Shop, and Giant Foods. Ahold also owns Internet retailer/home delivery service Peapod, a brand in its own right and one the Dutch retailer is actively using in conjunction with U.S. stores.
Ahold completed nearly 70 percent of its restructuring program in 2007, part of which is to strengthen local branding efforts. In the United States, those include premium-level store brands Nature's Promise and Simply Enjoy.
22. Safeway
United States Sales: $42.3 billionEarnings: $888.4 millionStores: 1,743
The largest grocery chain in the United States, Safeway operates a network of supermarkets in the United States and Canada under a variety of names including Safeway, Domick's, Genuardi's, and Vons. While competitive on price, the company cultivates an image of fresh and wholesome foods with an upscale edge.
House brands range from staple low-cost items to aspirational – Safeway and Safeway Select — and health oriented with the O Organics line now comprised of 329 SKUs. In April, Safeway announced the formation of the Better Living Brands Alliance to expand the O Organics and Eating Right lines across channels and into international markets.
The newly launched "mom to mom" line of baby products features more than 80 items, including diapers, baby wipes, toiletries, lotions, and infant formula.
23. Woolworths Ltd.
Australia Sales: $40.7 billion (Aud 42.5 billion) Earnings: $1.2 billion (Aud 1.3 billion)Stores: 3,000
For the first time, this Australian retailer lands in the Top 25 Global. No relation to the old five and dime know in the United States, Woolworths earns the bulk of its sales from food and liquor via various formats in Australia and New Zealand. Homebrand is the chain's largest private label which has been around for 30 years and has more than 950 SKUs. During 2007, Woolworths introduced two of its proprietary brands into New Zealand stores.
Consumer electronics is a strong product category with the company's Dick Smith, Powerhouse and Tandy electronics stores and the opening of five Croma brand CE stores in India.
The Big W chain is partnering with Quickflix movie rental service and has extensive arrangements with entertainment properties. Labels like Dickies, know for its work wear in the United States, appears Down Under in soft home, and Disney characters adorn everything from toys to children's home furnishing.
24. Best Buy
United StatesSales: $40.0 billionEarnings: $1.4 billionStores: 1,314
Best Buy has barreled past its competition to become the largest consumer electronics retailer in North America, operating stores under the Best Buy and Future Shop names. In China, the retailer operates a single store under its own name and 160 under the Five Star brand.
The chain's power to negotiate exclusive partnerships in its category is unparalleled. Proprietary brands include Insignia, Geek Squad, and Rocketfish and the chains legacy as a leader in entertainment media lends itself to concert promotions, music exclusives, downloads, and product tie ins. Everything from an exclusive live concert video of Mariah Carey to South Park licensed toys. Featured brands are highlighted at
bestbuy.com
, including Nickelodeon properties.
25. AEON Co.
Japan Sales: $36.2 billion Earnings: $480 million Stores: 4,376 specialty
Japan's second largest retail company, operates supermarkets, convenience stores, malls and a stable of specialty shops including the brands J Jill, the Body Shop (in Japan), Origin Sports (the Japanese operator of the Sports Authority), Talbots (U.S.) and Laura Ashley (Japan). Dragged down by its underperforming U.S. segment Talbot's, Aeon is focused on expanding in Asian markets.
There's a big focus on house brands across Aeon's food chains, but not to the same degree as European discount stores. Aeon's Topvalu brand is its most promoted and makes up less than 10 percent of sales at applicable stores.
Subscribe and receive the latest news from the industry.
Join 62,000+ members. Yes, it's completely free.
You May Also Like
Loading..