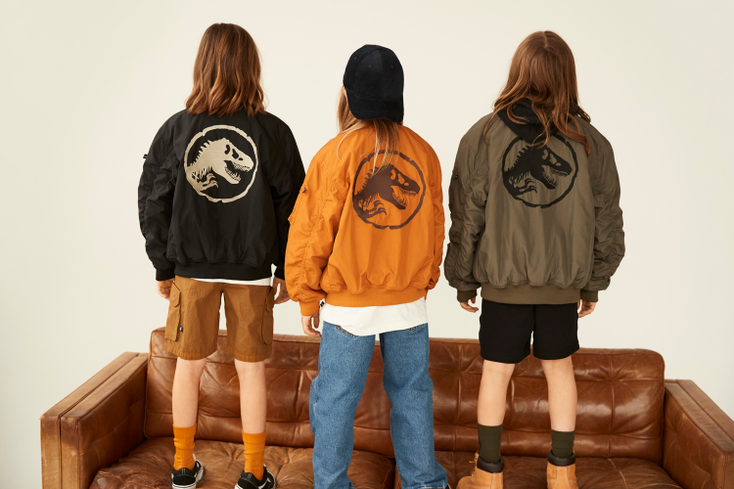 Apparel from the "Jurassic World" Molo collection.
Molo
The much anticipated, and COVID-delayed, sequel to the 1986 original "Top Gun" was held back by Paramount, primarily because it was intentionally shot in "made for cinema" IMAX 4K. The patience paid off, however, with the movie achieving the
fourth highest opening weekend
since the beginning of the pandemic, taking $248 million at the global box office. 
The most recent blockbuster, "Jurassic World Dominion," Universal's latest edition to the "Jurassic Park" franchise, went straight to the top of the box office charts, taking $143 million in its opening week. 
The two films do have things in common – they are action films that appeal to that key 18-49 age demographic and they are deeply rooted in nostalgia – but while "Jurassic World Dominion" is part of a franchise, "Top Gun: Maverick" is not. 
With the "Top Gun" property, Paramount has capitalized on the pull that a modern-day Tom Cruise action movie has, along with giving fans who may not have been able to see the film in a movie theatre,
the full "Top Gun" cinema experience. Cruise's last two movies, "Top Gun: Maverick" and "Mission: Impossible – Fallout," are two of his best reviewed and most successful of his career which bodes well for the next two-part, installment of the "Mission: Impossible" franchise, due for release in 2023 and 2024. 
 "'Top Gun: Maverick' is akin to 'The Force Awakens;' essentially the film is the same as the original [and] has the same characters, but with different actors," says Clarisse Loughrey, chief film critic, The Independent, to BBC Radio 1's Screen Time podcast. "The success of the movie is in the way it interacts well between the old and the new, and its familiarity." 
Perhaps these two recent successes prove that cinema-going audiences are becoming more comfortable with repeats, and franchise owners should renew focus on the "legend of legacy."  
Product programs have been rolled out for both "Top Gun: Maverick" and "Jurassic World Dominion" and the box office success of both movies should equate to shelf success, which is good news after two years of poor box office returns. Earlier this week, License Global reported that "
Top Gun" had signed a licensing deal with Italian production and distribution company, 2Brothers
. The American brand is known for its jackets and clothing inspired by the American aviation heritage. Fashion, particularly for Maverick, is where the likely revenue will be seen, with a host of branded jackets and T-shirts displaying the call signs of the fighter pilots being unveiled in the run-up to the movie's release. 
Despite neither of these movies being child-focused, they still have huge additional retail revenue potential and could be a sign that things are trending back to pre-pandemic consumer habits, content consumption and spending. 
Read more about:
Subscribe and receive the latest news from the industry.
Join 62,000+ members. Yes, it's completely free.
You May Also Like
Loading..